Portable CherryPlayer 3.3.2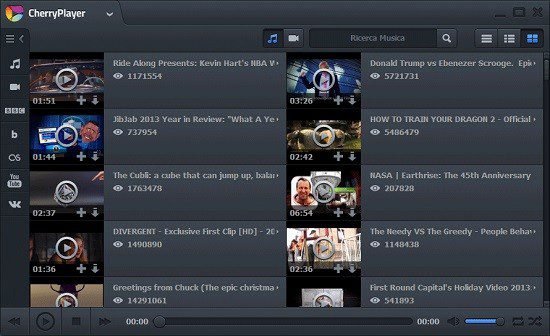 CherryPlayer Portable is a unique multimedia player that combines all the benefits and advantages of a desktop player and the ability to play almost all types of streaming multimedia, such as video, audio, radio, and live broadcasts. Built-in categorized playlists from YouTube allow to be aware of everything that happens in the world of entertainment, sports, movies and more. With the ability to login to user's channel Cherryplayer becomes a real YouTube player.
For gamers there is an opportunity to search and view streams on Twitch.tv with an ability to login to account there. Music fans will find support of SHOUTcast, SoundCloud and VK services. All this with the minimal usage of system resources, built-in codecs, intuitive interface and many other advantages makes CherryPlayer truly unsurpassed by convenience and functionality multimedia player.
Simple player for local and online multimedia
The program is sufficiently simple to work with, functioning much like a regular media player, with the exception that you can also search and find music videos online right from CherryPlayer's interface, and render them with just a single push of a button.
It provides you with default access to YouTube, BBC, Bilboard and Last.fm charts, enabling you to view the various categories of songs and clips, for instance 'Most Popular', 'Hot 100' or 'Top Tracks'.
Download online media to the local disk
In order to download a track, you can simply select it from the program's main window and press the dedicated button, or you can right-click it. You can then choose the 'Download' option from the context menu and save the file to your PC to a location of your choice in a preferred quality, so you can listen or watch it even when you do not have Internet access.
Basic media player controls
The application features all the basic player functions, such as 'Play', 'Pause', 'Stop', 'Next', 'Previous', 'Shuffle', 'Repeat', 'Volume Up' and 'Volume Down'. Additionally, it can work in full screen, windowed mode or minimized to the taskbar.
CherryPlayer can play video and music files in a variety of formats, including AVI, MP3, MP4, WAV, MKV and others, enabling you to render your favorite files with ease. You can add the files individually, by drag and dropping them onto the main window of the utility, but you have the option of loading entire directories of media files.
Conclusion
To summarize, CherryPlayer is a useful and reliable media player that also features downloading functions, allowing you to listen to your favorite songs or watch movies whenever you want, regardless of your Internet connection at the moment.
Main features:
Main window of CherryPlayerYouTube search abilitiesTwitch login window
1. Support of almost all the file formats and codecs, live streaming, IPTV.
2. Free, quick and easy to use.
3. Search and playing music and video from YouTube, Twitch, 4shared, Soundcloud, Zaycev.net and VK.
4. Login to YouTube, Twitch and VK accounts.
5. Built-in playlists of YouTube and Twitch videoservices.
6. Built-in music charts of BBC Radio, Billboard and Last.fm.
7. Built-in SHOUTcast radioservice and radiostations sorted by countries.
What's NEW:
Fixed crash at start playback media without extension
Improved perfomance of loading radio pages
Fix correct parsing music tracks for artist & title
Fixed broken Delete items from the playlist after selecting them with Ctrl+A
Fixed broken order of adding urls from m3u8 fils
Fixed sometimes broken hotkeys work that include "Enter" key
Added support of the "user-agent" option for iptv playback
Fixed an error at multiselection in the playlist
Download CherryPlayer Portable