Portable DiskInternals Raid Recovery 6.8.0.0 (x64)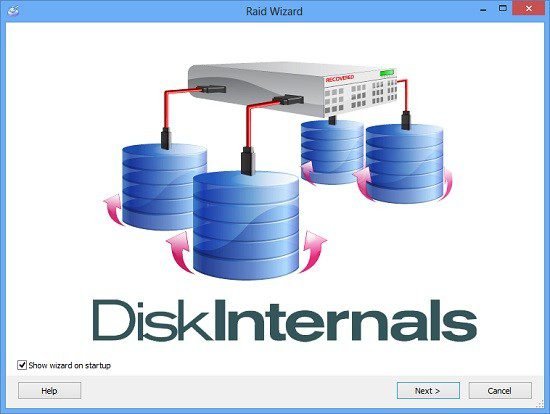 RAID Recovery Portable re-constructs an array from the available hard disks being simply dragged and dropped and detects the right type and size or the array as well as the order of the disks automatically. DiskInternals RAID Recovery™ uses advanced algorithms that allow recovering your documents, pictures and multimedia. No special technical skills are required to recover broken RAID arrays with RAID Recovery™ software. You can store the files on another hard disk or partition, use a virtual disks, or even upload the files over FTP.
The concept of RAID is closely related to a computer's performance and reliability. This is reason enough to be concerned with any issues impacting RAID arrays, with a software utility such as DiskInternals Raid Recovery offering to take this toll upon itself.
As suggested by its very name, the program is dedicated to retrieving corrupted RAID arrays of any type without having to deal with intricate procedures, considering that the whole task is fully automated.
Can automatically salvage corrupted RAID arrays
First things first, users should rest assured that DiskInternals Raid Recovery is easy to install, with its GUI being just as easy to figure out. Aside from that, the integrated wizard simplifies the steps you need to take in order to recover your RAID arrays in no time.
It is important to mention that arrays such as RAID 0, 1, RAID 4, RAID 5, RAID 6, JBOS, and more can be all handled by this software utility. Aside from that, it should be pointed out that Microsoft software raids, which also goes under the moniker of Dynamic Disks, as well as Apple and Linux, known as NAS, are on the list of supported configurations, so you should be covered no matter what.
Lets you recover and back up RAID arrays manually
Users who are fond of experiments are entrusted with a manual mode they can resort to. They simply need to drag and drop an array, with the application being capable of prompting them with various info on their type and size as well as the order of the disks.
As for your options in terms of backing up your files, it should be said that you can save them to a hard disk or partition, mount them to the system as well as upload them to an FTP server.
All in all, DiskInternals Raid Recovery is a user-friendly solution anyone trying to handle damaged RAID arrays should be able to figure out. Users are accompanied by a handy wizard making the recovery process quite transparent and quick, so anyone could take the program for a spin.
Features:
Recovered files can be Uploaded to Ftp or NAS!
Recovered files can be burned to CD or DVD!
Preview recoverable files before purchasing the product.
Easy Recovery Wizard.
Supported file systems: FAT16, FAT32, EXT2, EXT3, NTFS, NTFS 4, NTFS 5.
Recovered files can be saved on any (including network) disks visible to the host operating system.
Creates recovery snapshot files for logical drives. Such files can be processed like regular disks.
Creates Virtual partitions. Such partitions can be processed like regular disks.
Download DiskInternals Raid Recovery Portable