Portable DiskTrix UltimateDefrag v6.1.2.0
UltimateDefrag Portable is designed to optimize traditional mechanical platter based hard drive performance and also includes all the features you need to perform a certain degree of file system defragmentation required to maintain your SSD (Solid State Drive) for optimal performance using our proprietary defragmentation algorithms specifically developed for SSDs.
What's new and new features:
• Entire Code Completely Streamlined And Optimized. We effectively went through all the code line by line to ensure highest quality programming every step of the way. We also improved our approach to some of the defragmentation algorithms. UltimateDefrag is now a native 64 bit application which eliminates the memory limitations of 32 bit programs. UltimateDefrag Portable is now only limited by the amount of memory on your system and/or limits imposed by the operating system.
• Much Faster Analysis and Defragmentation. Along with the optimization of the code, we also were able to significantly improve drive analysis and defragmentation file sorting overhead by around 75% more than the previous version.
• New Defragmentation Methods and Enhancements of Exisiting Methods. We've incorporated a new defragmentation method that enables you to sort files on your drive by size – either ascending or descending size order. Some of the other methods that already existed have been further enhanced and fine tuned
• Solid State Drive Support. With Specific Algorithms For SSD Defragmentation Operations To Minimize Wear Leveling. Even though the general consensus is that SSDs do not need defragmentation and that defragmentation wears out SSDs faster, there are still justifiable reasons to defragment SSDs. You are defragmenting the file system as NTFS sees it and removing a lot of I/O overhead. Our options enable you to choose to either not defragment your SSD, to treat it like a normal drive, or to apply our algorithms optimally designed for SSDs where it moves the least amount of data necessary and to minimize wear and to minimize the rate of refragmentation.
• Command Line Support. The full power and flexibility of UltimateDefrag GUI version can all now be used via Command Line complete with the full array of options and switches.
• Windows Shell support. Within Windows Explorer, you can now right click on any file or folder and perform a number of defragmentation operations on that file and folder without even running UltimateDefrag. Defragment a file or complete contents of a folder just by right clicking on it within Windows and selecting the defragment operation!
• Support For Volume Shadow Copy Enabled Drives. Options to overcome any limitations and issues that defragmentation might encounter on VSC enabled drives.
• More Ways To Select Files. That You Want High Performance From Or To Archive. You can now even decide on the size of the High Performance zone.
• Same Familiar Interface. We have maintained the same Graphical User Interface that you are familiar with.
• Multiple Language Support. UltimateDefrag now supports multiple languages. We are intially releasing an English and a Spanish version. Other languages will be available in the future.
• Many Other Miscellaneous Enhancements And Bug Fixes. We've drilled right down into the code to correct any minor bugs as well as enhance and improve algorithms and performance.
In spite of all of these changes and improvements to the program one thing still remains and that is that optimal hard drive performance for your PC remains the #1 priority of UltimateDefrag. All of the new features simply make it easier and faster to achieve that state.
What's New in Version 6!
UltimateDefrag is now also a fully featured NTFS file compression tool
UltimateDefrag6 now gives you more available space on your hard drive and an average of 50% faster file read performance on regular mechanical hard drives. NTFS compressed files read faster because today's processors can decompress files faster on-the-fly than the hard drive can read them. e.g. it is almost twice as fast to access and decompress a 1 Gb compressed file than it is to access its 2 Gb uncompressed version.
On what are still high cost per Gb Solid State Drives, you get slightly slower read performance on NTFS compressed files, but you can get an average of 50% more space on your SSD. A 1 Tb SSD will be able to store around 1.5 Tb of compressed files.
UltimateDefrag gives you ultimate flexibility on choosing your files for compression using folders and filenames, usage frequency and wildcard file selection or even just by selecting a file from the cluster viewer or defrag explorer. Optionally compress your files while you defragment them. Our proprietary SmartCompress™ option instantly analyzes a file for compressibility and doesn't waste time trying to compress files that can't be compressed, This saves so much time over native command line compression functions.
New Defragmentation methods and enhanced existing ones
We've added new methods of defragmenting your hard drive such as being able to divide your drive into virtual zones. We've also added the ability to compress as you defragment, compress files that are archived to save space or moved to High Performance for even higher performance. Other methods have been enhanced and include a feature to reduce strictness of sorting for faster defragmentation times while rearranging your entire hard drive. The fast Fragmented Files Only method gives you advanced options that let you prioritize which files are given priority which enables you to defragment really quickly and better pack the files for both better performance and less free space fragmentation.
More ways to select files for high performance
We have further enhanced High Performance and Archive file selection options so that now there is literally no limit in the combination of files you choose for High Performance and archive.
Fragmented Files Explorer
Is a very powerful way of selecting and sorting files for defragmentation. You can browse and sort the fragmented files on your hard drive 10 ways and you can select and defragment a select a group of files. For example you may only want to select and defragment the files you used in the past 7 days. Just sort the list, click and then select Defragment Now. Only those files will be defragmented.
The Absolute Easiest Way Ever To Defragment Files In A Folder!
Just go to Command Prompt. Navigate to a folder/directory. Enter the command UltimateDefrag *.* and every file in the folder/directory will be defragmented. Usually in just a minute or two. For subdirectories/subfolders just enter UltimateDefrag *.*\ and all files in all subdirectories will be defragmented. For users who are familiar with creating batch files, you could create a batch file that runs daily in a schedule to defragment all the files in your Windows Directory to keep your Windows tuned for fastest performance – all of the time! You could do the same for your Program Files folder etc etc.
Just installed some new software? Go into its folder and enter the command UltimateDefrag *.*\ and in a few moments your new program will be defragmented and ready to run with better performance right from the word go. Many PC users have no idea that installing new software installs it with many, sometimes tens of thousands, of fragments.
Of course you can also use the UltimateDefrag main program or even within Windows just right click on a folder to defragment from right within Windows Explorer itself.
Many other fine tweaks, new features and enhancements
We've left no stones unturned in giving you absolute ultimate functionality that you would want in a defragmenter and hard drive performance optimizer and have introduced numerous other tweaks and enhancements and improved functionality. This version has evolved UltimateDefrag into as optimal a product as it can be in enabling you to realize the maximum performance possible from your hard drive. UltimateDefrag is Nirvana for system tweakers. You can squeeze literally every millisecond of performance out of your hard drive!
You can also perform compression functions from the Command Line Interface with much more flexibility and functionality than the Windows Compact command.
Not everyone will use the compression features but for those who want the faster performance and/or more space on your hard drive, you now have the option to do so.
What's NEW:
Defragmenting files using the Windows shell now shows count of files remaining and fragments remaining
Upgrade version number of Boot time to be in sync with program version to avoid user confusion.
Minor tweaks and enhancements.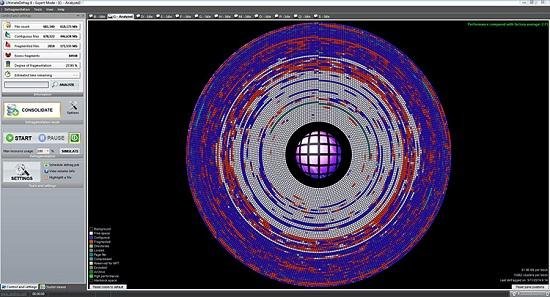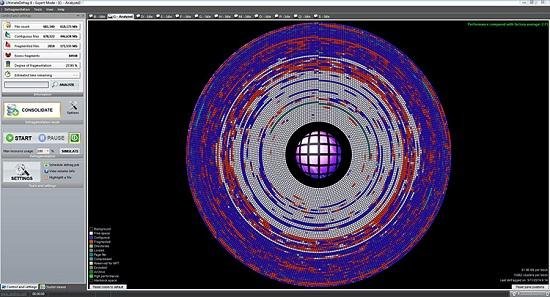 Download UltimateDefrag Portable Software