EaseUS Disk Copy Pro 5.0 WinPE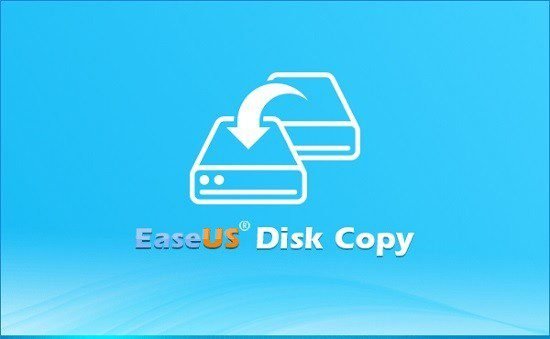 EaseUS Disk Copy can easily upgrade your hard drive from the old disk to a new one or clone MBR disk to GPT disk or GPT disk to MBR. Also, it allows you to clone HDD to SSD for better performance. EaseUs Disk Copy offers a simple solution when it comes to creating a disk backup with the operating system, programs, settings and files. It comes in handy if you want to create copies of your entire hard disks or just individual partitions, also providing options for creating bootable disks.
EaseUS Disk Copy is a powerful and versatile disk cloning software that is designed to help users backup and clone their hard drives quickly and efficiently. Whether you need to transfer data to a new computer, replace a failing hard drive, or create a backup of your system, EaseUS Disk Copy has got you covered.
One of the standout features of EaseUS Disk Copy is its user-friendly interface. The software is designed with simplicity in mind, making it easy for even novice users to navigate and perform disk cloning tasks quickly and efficiently. The intuitive interface allows you to select the source and destination drives, configure settings, and initiate the cloning process with just a few clicks.
Another key advantage of EaseUS Disk Copy is its comprehensive feature set. The software offers a wide range of tools and capabilities that enable users to clone their hard drives in a variety of ways. For example, you can use the software to clone your entire system, clone only specific partitions, or clone your hard drive to a different size or type of drive. With such broad functionality, EaseUS Disk Copy is a valuable tool for anyone who needs to backup or clone their hard drive.
One of the most powerful features of EaseUS Disk Copy is its ability to clone failing hard drives. The software includes advanced algorithms and optimization techniques that enable it to clone hard drives that are experiencing errors or other issues. This means that even if your hard drive is failing, you can still create a backup or clone of your system and transfer your data to a new drive.
Another noteworthy aspect of EaseUS Disk Copy is its speed and efficiency. The software is designed to clone hard drives quickly and accurately, delivering fast and reliable results every time. Whether you're cloning a small partition or an entire hard drive, EaseUS Disk Copy will get the job done quickly and efficiently, saving you time and effort.
In addition to its core cloning functionality, EaseUS Disk Copy also offers several useful features that enhance the user experience. For example, the software includes a sector-by-sector cloning mode that ensures that every bit of data is accurately copied from the source drive to the destination drive. You can also use the software to create bootable media, view disk details, and much more.
Another noteworthy advantage of EaseUS Disk Copy is its excellent compatibility. The software supports a wide range of hard drives and file systems, including popular formats like NTFS, FAT32, and EXT2/3. This means that no matter what type of hard drive or file system you're using, EaseUS Disk Copy can handle the job.
Of course, no software is perfect, and EaseUS Disk Copy is no exception. One potential drawback of the software is its price. While it's certainly not the most expensive disk cloning tool on the market, it's also not the cheapest, and some users may find the cost prohibitive. However, considering the software's comprehensive feature set and excellent performance, many users will likely feel that the price is worth it.
Another potential downside of EaseUS Disk Copy is its lack of cloud integration. While you can certainly clone your local hard drives with the software, it doesn't offer any built-in support for cloud-based backup or cloning. This means that if you need to clone or backup data that is stored in the cloud, you'll need to find alternative methods for doing so.
In conclusion, EaseUS Disk Copy is an excellent disk cloning software that offers a comprehensive feature set, user-friendly interface, and excellent performance. Whether you're a professional who needs to clone hard drives on a regular basis or a casual user who just needs to backup their system, EaseUS Disk Copy has everything you need to get the job done quickly and efficiently. With its ability to clone failing hard drives, advanced optimization techniques, and useful features, EaseUS Disk Copy is the go-to solution for anyone who needs to clone or backup their hard drive. While its price may be a bit steep for some users, the software's excellent performance and stability make it a worthwhile investment for anyone who wants to ensure that their data is always safe and secure.
Run in disk mode or in partition mode
Thanks to its simple interface, it can be handled by all types of users, regardless of their skill level. There are two different modes you can opt for, namely the disk mode and the partition mode. As you can imagine, these have to do with the way the structure of the hard disk is presented. For instance, the latter mode reveals a list of all the partitions for the selected hard disk, along with their file system, their size and the free storage space, their status, and their type (primary or logical).
Create a bootable disk containing your data
The structure of the hard disk is also displayed by the application, meaning you can view all the partition even in disk mode, including the master boot record section.
From the main window you can also create a bootable USB disk, CD or DVD drive, or export data to an ISO image on the hard drive to start a burning session later. Optionally, you can opt for sector by sector copying. Initializing the task is done with the click of a button. There are no other options available, so things are as easy as it gets.
The application carries out a task in no time and uses a low amount of CPU and RAM. No error dialogs were shown in our tests, and EaseUs Disk Copy did not hang or crash. We have not come across any issues.
Features
Copy all of your hard drive: Creating a bootable CD/DVD, it allows you to copy entire disk in case of unknown/proprietary file systems.
Partition copy: Enables you to copy one partition to another partition you want.
Disk copy: Enables you to clone one disk to another sector by sector.
Sector by sector copy: Makes physical 1:1 copies (clones) of hard disks and partitions. This ensures 100% identity to the original.
Safe, simple and fast: It is a very fast and easy way to copy all or part of a hard drive to another hard drive with Disk Copy.
Supports inaccessible disk copy
Supports booting from CD/DVD
Friendly graphical user interface
Relay disk space for insufficient destination
Support hard disks up to 1 TB
What's new
• Solved the problem that in some scenarios the system cannot be started when cloned to SSD (caused by trim)
• Resolved the issue of the system clone being unable to start without bcd bootmgr
• Resolved the issue that partitions not being correctly selected when moving/resizing across disk systems
• Fixed the problem that automatic layout does not work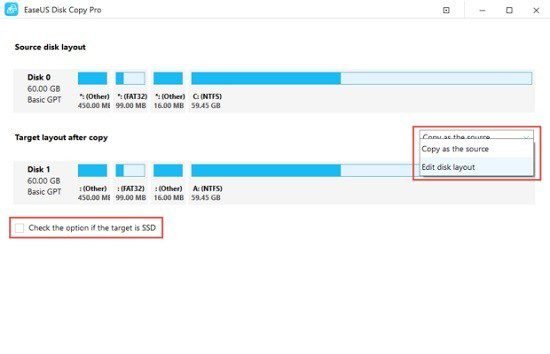 Download EaseUS Disk Copy Pro WinPE