Portable EasyUEFI Technician 4.9.2 + WinPE (x64)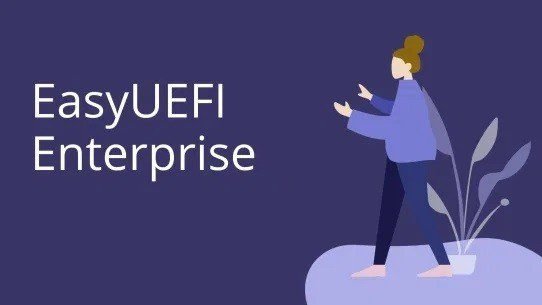 EasyUEFI Portable owns comprehensive EFI/UEFI boot option management functions, such as create, delete, edit, clean up, backup and restore EFI/UEFI boot options, specifies an one-time boot entry for the next restart, or change EFI/UEFI boot order, all these operations done under Windows without entering BIOS setup.
The UEFI standard is used by multiple computers for facilitating the communication between the operating system and the installed devices. It is designed to replace the BIOS interface and provides improved functionality for the end user.
One of the advantages of UEFI is the ability to view boot information while you are running the operating system. This allows the user to view and change boot device order and create new boot entries.
This program is designed to provide you with an easy to use interface for managing the boot options. If you are frequently changing the startup parameters for UEFI-based systems, it can help you access the details about each boot entry.
The main window displays the detected entries and differentiates between the one-time entries and the permanent ones. Additional details about the partition number and location are available in the right-side panel.
In order to create a new entry you need to specify the type, disk and partition that you want to use. The user can also generate a Windows PE image and export it to a bootable USB device that can be used for repairing your system.
Create, Delete and Modify EFI/UEFI Boot Option
Backup & Restore EFI/UEFI Boot Option
Disable & Enable EFI/UEFI Boot Option
Boot Into UEFI firmware settings (UEFI BIOS) From Inside Windows
Specifies an One-time Boot Option
Change EFI/UEFI Boot Sequence
Command line support
EFI system partition management
EasyUEFI Portable also releases a feature which allows you to manage the EFI System Partitions, with this feature you can easily backup, restore, rebuild the EFI System Partition (ESP), or move EFI System Partition from one drive to another.
Backup EFI System Partition
Restore EFI System Partition
Recreate EFI System Partition
Move EFI System Partition to Another Drive
Manage EFI system Partitions
Create Windows PE emergency disk
With EasyUEFI Portable you can also build a bootable Windows PE image file. After building the image file, you can use it to create a bootable USB flash drives or use 3rd-party burner software to burn it to CD/DVD. With this Windows PE emergency disk you can easily fix EFI boot issues or repair efi system partition, such as missing or corrupt EFI boot option, missing or corrupt EFI System Partition.
Whats New:
Windows PE creation improvements
Added support for the latest version of Windows 11 insider preview
Fixed bug: Failed to download WinPE component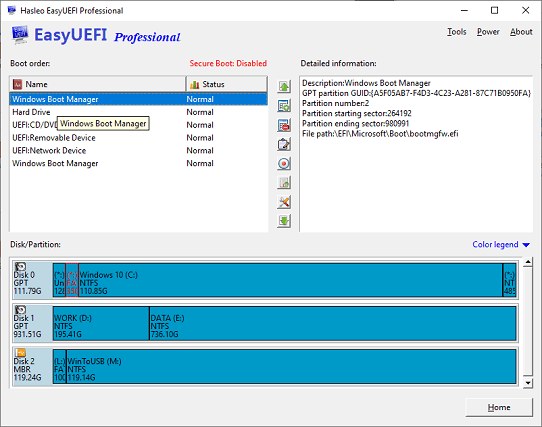 Download EasyUEFI Portable
Download EasyUEFI WinPE