Portable EasyUEFI Enterprise 5.0.1 + WinPE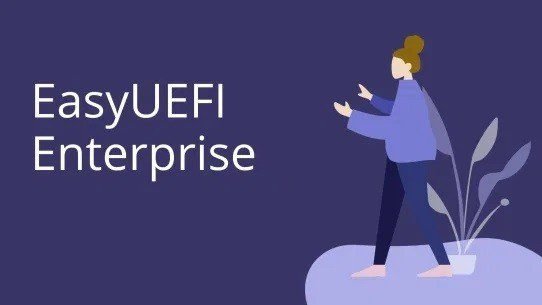 EasyUEFI Portable owns comprehensive EFI/UEFI boot option management functions, such as create, delete, edit, clean up, backup and restore EFI/UEFI boot options, specifies an one-time boot entry for the next restart, or change EFI/UEFI boot order, all these operations done under Windows without entering BIOS setup.
EasyUEFI Portable is a powerful software utility that allows users to manage the EFI/UEFI boot options on their Windows operating system. This software is designed to make it easy for users to modify and manage the boot options on their computer, without having to navigate complex menus or use command-line tools.
One of the key features of EasyUEFI Portable is its ability to create, modify, and delete EFI/UEFI boot entries. This means that users can easily add new boot options, such as Linux or other operating systems, to their computer's boot menu. They can also modify existing boot options, such as changing the boot order or renaming boot entries.
EasyUEFI also includes a range of advanced features that make it a powerful tool for managing EFI/UEFI boot options. For example, it includes a backup and restore feature, which allows users to create backups of their boot entries and restore them if necessary. This is particularly useful for users who need to reinstall their operating system or make other changes to their computer's configuration.
Another key feature of EasyUEFI is its support for both 32-bit and 64-bit versions of Windows. This means that users can use the software on a range of Windows operating systems, including Windows 7, 8, 8.1, 10 and 11.
EasyUEFI also includes a range of customization options, allowing users to adjust the software's settings to their preferences and requirements. For example, users can choose to hide certain boot entries from the boot menu or disable certain boot options altogether.
One of the key benefits of EasyUEFI is its user-friendly interface. The software is designed to be easy to use, with a simple and intuitive layout that allows users to quickly and easily manage their boot options. The software also includes a range of helpful tooltips and tutorials, which provide guidance and support for new users.
Overall, EasyUEFI Portable is an excellent choice for anyone who needs to manage the EFI/UEFI boot options on their Windows computer. Whether you are a system administrator, a power user, or just someone who wants to add new boot options to their computer's boot menu, EasyUEFI is a tool that you should definitely consider.
The UEFI standard is used by multiple computers for facilitating the communication between the operating system and the installed devices. It is designed to replace the BIOS interface and provides improved functionality for the end user.
One of the advantages of UEFI is the ability to view boot information while you are running the operating system. This allows the user to view and change boot device order and create new boot entries.
This program is designed to provide you with an easy to use interface for managing the boot options. If you are frequently changing the startup parameters for UEFI-based systems, it can help you access the details about each boot entry.
The main window displays the detected entries and differentiates between the one-time entries and the permanent ones. Additional details about the partition number and location are available in the right-side panel.
In order to create a new entry you need to specify the type, disk and partition that you want to use. The user can also generate a Windows PE image and export it to a bootable USB device that can be used for repairing your system.
Comprehensive EFI/UEFI boot option management functions, such as create, delete, edit EFI/UEFI boot options, change EFI/UEFI boot sequence, etc.Improved
Backup, restore, rebuild, delete, explore, read and write EFI System Partition (ESP) or move EFI System Partition (ESP) to another drive.Improved
Creation of Windows PE emergency disk.Improved
Command line support.
Supported OS: (U)EFI-based Windows 11/10/8/7/Vista/2022/2019/2016/2012/2008.
EFI system partition management
EasyUEFI Portable also releases a feature which allows you to manage the EFI System Partitions, with this feature you can easily backup, restore, rebuild the EFI System Partition (ESP), or move EFI System Partition from one drive to another.
Backup EFI System Partition
Restore EFI System Partition
Recreate EFI System Partition
Move EFI System Partition to Another Drive
Manage EFI system Partitions
Create Windows PE emergency disk
With EasyUEFI Portable you can also build a bootable Windows PE image file. After building the image file, you can use it to create a bootable USB flash drives or use 3rd-party burner software to burn it to CD/DVD. With this Windows PE emergency disk you can easily fix EFI boot issues or repair efi system partition, such as missing or corrupt EFI boot option, missing or corrupt EFI System Partition.
EasyUEFI Portable Release Note
Fixed bug: Domain users cannot use the software in some cases
Fixed bug: Failed to create WinPE in some cases
Arabic language support
Update Italian translation
Fix other minor bugs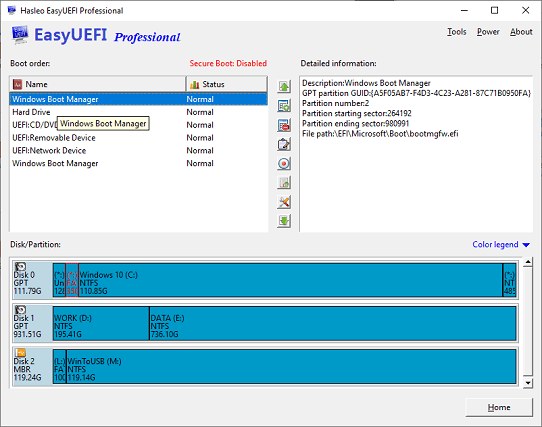 Download EasyUEFI Portable
Download EasyUEFI WinPE (x64)