Portable F-Clone Facial Motion Capture 1.12 (x64)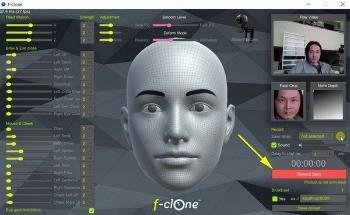 Real time facial motion capture with Kinect and Webcam. F-Clone is the world's first software that uses cutting-edge technology to record facial expressions and movements in realtime/3D with just a Kinect or a webcam.
Add emotions to your character.
With this software, users can create not just games but personal avatars, such as a virtual character to be the presenter in a YouTube video. This means the software can be applied to personal creation and indie animation as well. f-clone is able to export motion data that is fully compatible with Autodesk MAYA, MotionBuilder, Blender and the DAZ Studio, it is widely usable by the many companies, individuals and hobby users.
Technology and functions
f-clone has uniquely redesigned the library it uses to planarly match facial characteristics to images of faces, and has brought together technology in increased speed, 3D transformation, the removal of noise data, smoothing, and simulation of facial muscle movement to bring about real-time markerless facial motion capture with just a webcamera.
Create your avatar video in minutes for youtube
Record 3DCG video in real time with 21 pre-installed character and 17 background videos for youtube or your original animation.
Record motion and sound
You can record facial motion and sound in real time by any webcam you have. No marker required.
Direct avatar record
Direct recording 3dcg video with pre installed 15 character models and 17 background videos.
Broadcast your motion
Transmit the facial motion data in real time with websocket. You can broad cast facial data through internet.
Real or cartoonish?
Switch between real mode and animation mode to create motions suited to your character.
Adjust motion parameter
Fine adjust motion parameters (e.g. keeping just the direction of the head the same)
Export data with several format
fbx, csv, and pz2(compatible with DAZ3D) export for motion. You can read it your 3D software.
Communicate with Unity
Use f-clone's websocket broadcasting function to animate your model in real time.
Fbx to MotionBuilder
You can read optical face motion data through MotionBuilder and attach to your character model easily.
DAZ Studio compatible
You can adapt the motion capture data to thousands of DAZ character models by importing pz2 data.
Blender pipeline
Animate your Blender character model with f-clone Blender pipeline.
Autodesk MAYA pipeline
Animate your character model with f-clone Autodesk MAYA pipeline.
Smooth motion capture
f-clone's motion capture is smooth and high quality. You can use it immediately in your product level movie.
What's NEW:
– Add direct video record mode with 21 characters.
– Face capture accuracy increase.
– Application window size resizable now.
https://uploadrar.com/91nd30qiq8w0/X-112FCFMCx64.rar