Portable Format Factory v5.16.0.0 (x64) Multilingual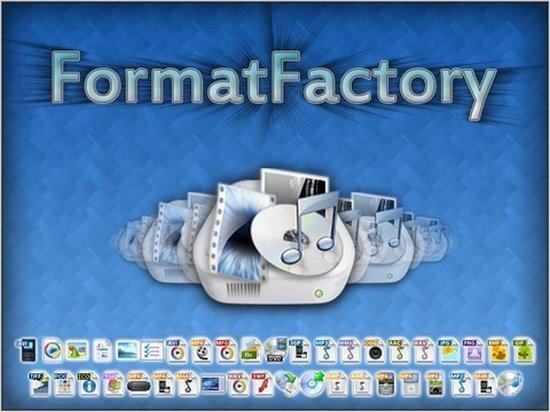 FormatFactory Portable is a multifunctional media converter. Provides functions below: All to MP4/3GP/MPG/AVI/WMV/FLV/SWF. All to MP3/WMA/MMF/AMR/OGG/M4A/WAV. All to JPG/BMP/PNG/TIF/ICO… Rip DVD to video file , Rip Music CD to audio file. MP4 files support iPod/iPhone/PSP/BlackBerry format. Source files support RMVB. Support converting all popular video,audio,picture formats to others. Repair damaged video and audio file. Reducing Multimedia file size. Support iphone,ipod multimedia file formats. Picture converting supports Zoom,Rotate/Flip,tags. DVD Ripper. Supports 62 languages.
There are plenty of tasks which depend on specific types of formats, especially when having to do with multimedia files. Luckily, there are different computer tools to help with choosing the right one.
FormatFactory might very well become a valuable solution to all those who struggle to convert multimedia files because it works on every Windows version out there and has a lot of features.
Support for a wide range of file formats
Before talking about the interface, it needs to be mentioned that the app supports a lot of formats, as FormatFactory is able to convert video files, audio and pictures into all kinds of formats such as MP3, AVI, 3GP, MKV, MOV, MMF, AMR, M4A, MP2, ICO, TIF, PCX, TGA and others.
Clean feature lineup
The interface is both appealing and well organised, and although the app is able to process numerous file formats, it is also incredibly easy to handle. All the main features are nicely organised in the left part of the main window, while the conversion process is detailed in the centre.
In case you are not entirely satisfied with the interface, you can also go for another colour theme, as the application also comes with a few other skins for more exigent users.
Ripping features
In addition to format conversion, the software application can be used to rip DVDs and CDs , or to create ISO files based on user-selected discs. You can even compress the ISO files and generate CSOs, depending on your choice.
Joining options
After or before converting your video or audio tracks, you can choose to join the files and obtain a large one than can be played on your device. FormatFactory can stitch together files of the same format, while still allowing you to adjust the output quality and size.
When dealing with very large files that take a lot of time to convert or join, you can set FormatFactory to shut down the PC when the process ends and you can leave the computer so that you are not compelled to stick around to turn it off manually.
A reliable and efficient converter
All in all, FormatFactory should be your number one pick when converting a file, thanks to the numerous formats it supports, as well as the functions it provides.
Provides functions below:
All to MP4/3GP/MPG/AVI/WMV/FLV/SWF
All to MP3/WMA/AMR/OGG/AAC/WAV
All to JPG/BMP/PNG/TIF/ICO/GIF/TGA
Rip DVD to video file,Rip Music CD to audio file.
MP4 files support iPod/iPhone/PSP/BlackBerry format.
Supports RMVB,Watermark,AV Mux.
Format Factory's Feature:
Support converting all popular video,audio,picture formats to others.
Repair damaged video and audio file.
Reducing Multimedia file size.
Support iphone,ipod multimedia file formats.
Picture converting supports Zoom,Rotate/Flip,tags.
DVD Ripper.
Supports 63 languages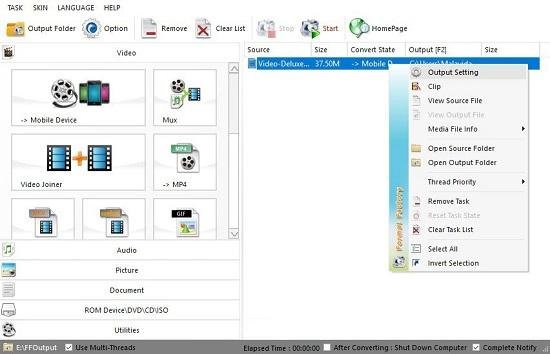 Download Format Factory Portable