Portable LogViewPlus 3.0.16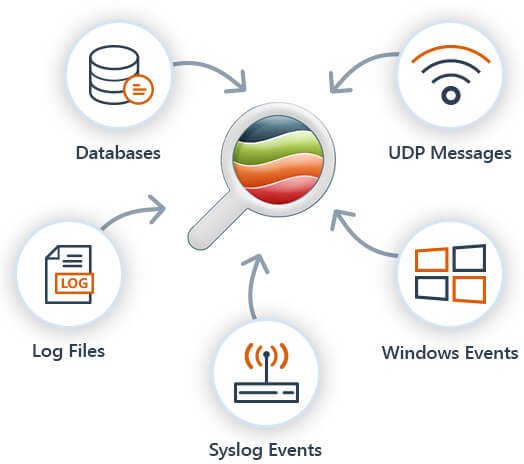 LogViewPlus Portable is a powerful software tool designed to help users easily analyze and troubleshoot log files. It is an essential tool for developers, IT professionals, and system administrators. The tool supports a variety of log files of different formats and can help users find and fix errors, identify performance issues, and optimize system behavior.
Features
LogViewPlus Portable comes with many features that make it a great tool for handling log files. Some of these features include:
Multiple file format support – LogViewPlus supports several log file formats, including CSV, XML, SQL, and JSON. It makes it easy for users to analyze logs from different sources and applications.
Filtering and search – The tool's filtering and search capabilities enable users to quickly locate specific log entries by keyword, date, or other criteria. It helps users identify patterns, trends, and anomalies in log data.
Live tailing – LogViewPlus allows users to monitor log files in real-time. Users can see new log entries as they are generated and filter them based on specific criteria.
Parsing and transformation – The tool also allows users to parse and transform log files, making it easy to extract specific data or modify log entries. Users can create their custom parsers and transformations or use pre-built ones.
Visualizations – LogViewPlus comes with several visualization options, including charts, graphs, tables, and heatmaps. These tools help users understand log data better and identify trends and patterns.
Alerts – The tool also comes with an alerting feature, which allows users to receive notifications whenever specific conditions are met. For example, a user can set an alert to notify them whenever an error occurs in the log file.
Integration with other tools – LogViewPlus can easily integrate with other tools and systems, including JIRA, Splunk, and Syslog. It makes it easy for users to share log data with other team members and tools.
Benefits
LogViewPlus Portable offers several benefits to users, including:
Streamlined log analysis – With LogViewPlus, users can analyze log data quickly and easily. The tool's filtering, search, and visualizations options make it easy to identify patterns, trends, and anomalies.
Faster troubleshooting – LogViewPlus enables users to troubleshoot issues more quickly by providing real-time log monitoring and alerting features. Users can receive notifications whenever specific conditions are met, making it easier to identify and fix issues.
Increased efficiency – With LogViewPlus's parsing and transformation capabilities, users can extract specific data from log files quickly. It makes the analysis process more efficient and helps users find the information they need faster.
Improved collaboration – LogViewPlus's integration capabilities make it easy for team members to share log data and collaborate on troubleshooting and analysis. It can help teams work together more efficiently and effectively.
Cost-effective – LogViewPlus is a cost-effective tool that offers many benefits to users. It can help organizations save time and money by reducing the time it takes to troubleshoot and fix issues.
Conclusion
LogViewPlus Portable is a powerful tool that enables users to quickly and easily analyze log files. Its various features, including multiple file format support, filtering and search, live tailing, parsing and transformation, visualizations, alerts, and integration capabilities, make it an essential tool for developers, IT professionals, and system administrators. With LogViewPlus, users can streamline log analysis, troubleshoot issues faster, increase efficiency, improve collaboration, and save time and money.
Straightforward interface
When booting up, the app greets the user to a clean design starting to a toolbar resembling Microsoft's Office top ribbon, boasting big icons as buttons as useful visual cues for a better workflow adaptation. Log files are opened into a table format, providing a clearer view into the events and executions done by the application in question.
Log entries can be filtered by the text they contain or the time interval in which they took place, which can be life-saving when having to track down a series of errors caused by a particular element. The entries can also be parsed into sub-menus underneath the log file to have an even better view of the situation at hand.
When having to search for solutions, any data line clicked by the user will be displayed as selectable text in a bottom section underneath for easy copying and pasting. Additionally, entire directories can be monitored automatically for detecting changes and newer file versions in order to aid the user in keeping up to date with the latest statistics.
Easily navigate across large files
Tracking where your software went wrong can be made much easier thanks to a built-in bookmarking feature for entries that also lets you add custom text to them when working on documents for long periods of time. Moreover, activities recorded by the log files can also be viewed in a graph layout to check how often your program executed the desired actions.
In order to take advantage of your screen's real estate, multiple log files can be merged into a single view for displaying all their entries concomitantly, which makes it easier to compare records and find inconsistencies.
Finally, in case of having to execute a system shutdown, the current app session can be saved in the form of a "Workspace" to quickly pick up where you left off after restarting the system.
Useful log file viewer with neat organization features
For those testing and debugging applications on a daily basis, or for those who prefer a table view as opposed to Notepad's simplistic approach, LogViewPlus offers all the tools you need to navigate quickly and painlessly through your log files.
What's new in LogViewPlus Portable
New Features
Added support for custom SQL functions through a new plugin type.
Added support for a subquery in a SQL FROM statement.
Added new Negative notifications which fire when log entries are not found.
Added support for WSL file browsing.
Rules can now be temporarily paused.
SQL scratchpad can now execute selected statements.
Created an add-on to support new SQL functions resolve country from IP address.
Added custom SQL functions for working with query strings and file paths.
Added support for SQL Row_Number and Reverse functions.
Added support for SFTP certificate authentication when starting via sudo.
Added 'Older Than Most Recent' as a directory monitor ignore rule option.
Added support for SQL querying column names containing a space.
Added additional product evaluation options.
Added timer to SQL scratchpad. Improved output display.
Removed support for ECC plugin which should no longer be needed.
Added new Open Settings option to hide history items.
Issues Resolved
Fixed major issue with parsing EVTX files where some events could be lost.
Improved exception reporting when reading EVTX files.
Improved exception reporting in file system data source options.
Modified DPI settings to better handle updates to Windows 10.
Columns names with parenthesis will now be escaped for SQL queries.
Fixed issue with status message display on high resolution screens.
Fixed issue with executing a SELECT statement with a duplicate result column name.
Fixed issue with querying integer data containing commas.
Fixed issue with firing notifications on disposed filters.
Fixed issue with invalid SQL prefix.
Fixed issue with SQL STR function.
Fixed issue with SQL CASE statements.
Fixed issue with category names in an invalid format.
Fixed issue with large chart legends. Fixed issue with trying to get an empty distinct id.
Fixed issue with empty chart labels in dashboards.
Improved SFTP authentication logging.
Minor technical changes and bug fixes.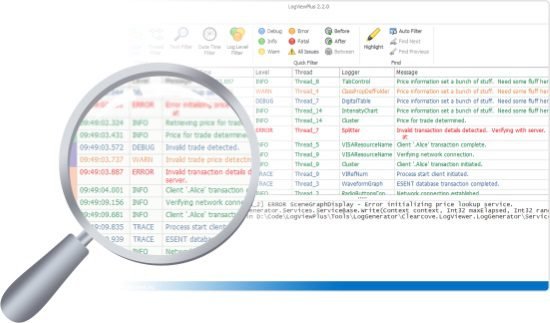 Download LogViewPlus Portable