Medicat USB 20.10.1 (Mini Windows 10 x64)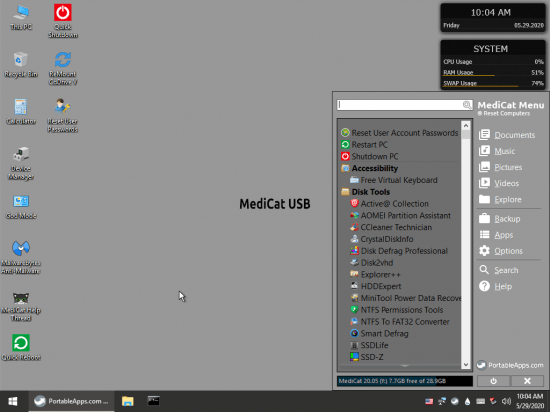 MediCat USB is a bootable troubleshooting environment that ships with Windows PE boot environment, and troubleshooting tools. The author of MediCat DVD designed the bootable toolkit as an unofficial successor to the popular Hiren's Boot CD boot environment. Hiren's Boot Cd has last been updated in 2012, and while it works in many cases, at least some of the software it ships with is outdated and requires updating.
You get to access all sorts of programs right there, and even more if you are using a version of the toolkit that came with PortableApps included (this one). This include many tools that help you troubleshoot issues on a PC; to name a few: EaseUS Partition Master, HDDExpert, NTFS Permissions Tool, backup tools, Dead Pixel tester, CPU-Z, RegAlyzer, Dr.Web CureIt, Kaspersky TDSSKiller, Malwarebytes Anti-Malware, and Autoruns.
MediCat USB is a complete Hiren's Boot Disk replacement for modern computers. MediCat USB aims to replace the discontinued and dated Hiren's Boot Disk. It is geared towards modern hardware, and follows the Ubuntu release cycle with a newly-updated release every 6 months. The author of MediCat DVD designed the bootable toolkit as an unofficial successor to the popular Hiren's Boot CD boot environment. The menu lists the following options in this regard:
64-Bit windows Recovery: Choice of Microsoft or Easy Recovery options for Windows 10, Windows 8.1 and Windows 7.
Hard Disk Tools: includes currently Acronis TrueImage 2017, GParted, Norton Ghost 11.5, Paragon Hard Disk Manager, PloP Boot Manager, SpinRite, SuperGrubDisk, Darik's Boot and Nuke.
Diagnostic Utilities: includes currently Hardware Detection Tool Memtest86+, TestDisk / PhotoRec / LiliPad, Ultimate Boot Cd.
Scan for Viruses: this launches Comodo Rescue Disk currently only.
Remove User Account Passwords: Active Password Changer, Daossoft Windows Password Rescuer, Offline NT Password & Registry Editor, PCUnlocker, Boot Kon-Boot CD.
Featured:
PortableApps
Active@ BootDisk
AoMei Partition Assistant
EaseUS Partition Master
MiniTool Partition Wizard
Parted Magic
Acronis True Image
MiniTool Power Data Recovery
EaseUS Todo Backup
AoMei Backupper
Symantec Ghost
Macrium Reflect
O&O BlueCon
+
AIDA64
Recuva
Speccy
Lazesoft Recovery Suite
CCleaner
Defraggler
SD Formatter
SSDLife
Speccy
AIDA64
Backup and Restore Drivers
Driver Booster
Driver Updater
USB Flash Drive Format Tool
IrfanView
Dead Pixel Tester
Symantec Ghost
MediaCreatonTool
Windows ISO Downloader
WinToHDD
WinUSB
uTorrent
Wise Registry Cleaner
Dr.Web CureIt
ESET OnlineScanner
McAfee Stinger
RAMExpert
CPU-Z
BurnAware
SUPERAntiSpyware
7-Zip
Autoruns
Recuva
PasswordChanger
SUMo
Process Explorer
Unstoppable Copier
IObit Unlocker
Windows Password Recovery
WirelessKeyView
Motilla Firefox
Google Chrome
Opera
ImgBurn
UltraISO
InfraRecorder
Ant Renamer
WinMerge
WizTree
TreeSize
WinRAR
FastCopy
Macrorit Data Wiper
Rufus
EasyBCD
EaseUSPartition Recovery
Macrorit Partition Expert
WirelessNetView
TeamViewer
KeePass
VeraCrypt
Avira PC Cleaner
Emsisoft Emergency Kit
Magical Jelly Bean Keyfinder
Audacity
VLC media player
SumatraPDF
… and many more
What's NEW in MediCat USB 20.10.1
Added:
+ An example menu, so you can edit ventoy_grub.cfg as an alternate menu when you push F6. Can be handy if you need more listings that you may not want shown on the main menu.
+ Menu items (Directories and disc images alike) have been painstakenly renamed by hand in ventoy.json to look much better using aliases, without having Underscores in all the names or brackets around them. The [BIOS] and [UEFI] tags will remain, however… For now.
+ A new "Menu Changes" section has been added to the changelog, going forward. Hopefully to unclutter the "Updated" section a fair bit.
Removed:
– PCUnlocker (without BitLocker Support) was removed because it was just redundant, as the version WITH BitLocker support is the exact same but with the BitLocker feature. So it got removed and recovered a bit of disk space.
Updated:
~ Ventoy to v1.0.26
~ Malwarebytes virus definitions to v2020.10.27.02
~ O&O BlueCon to v17.3.7213 [UEFI]
~ Parted Magic to v2020_10_12 [UEFI]
~ Rescuezilla to v2.0 [UEFI]
~ AOMEI Backupper to v6.1 [UEFI]
~ Macrium Reflect to v7.3.5281 [UEFI]
~ MiniTool Power Data Recovery v9.1 [UEFI]
~ Uitimate Boot CD to v5.3.9 [BIOS]
~ SystemRescueCD to v7.0.0 [UEFI], and comes with a name change of "SystemRescue" now.
~ Super Grub2 Disks to v2.04 RC1 S1 Beta 4, both in .EFI and .ISO formats.
~ A small handful of PortableApps had updates.
Menu Changes:
# ~ Ventoy's newest update allows separate themes for Legacy BIOS and UEFI modes. (A special thanks goes out to GBAtemp member Gremlin220366 for getting this working!)
# Photoshopped together a new M.2 "MEDICAT USB" drive behind the menu.
# The Main Menu now has two separate themes: Red accents to let you know when you're booted into "Legacy BIOS" mode, and Green accents for UEFI mode. The new wallpaper is designed to help you remember at a glance.
# I rounded the edges of the Main Menu for a more pleasant aesthetic, as well as dropping the opacity down by 25%.
Fixed:
* There was some weird persistent line going through the bottom of the Main Menu window, so I fixed it. Turned out to be a missing row of pixels in all 3 of the PNG image files. Looks seamless now.
* Further improvements to overall system stability and other minor adjustments have been made to enhance the user experience.
Requirements: USB stick with minimum 32 GiB.
Note 1: First thing to do is disable any "real-time scanning" in your antivirus software, including Windows Defender. Otherwise you will have applications get deleted from your USB stick during creation, and things won't work properly.
Note 2: Please use imageUSB and follow the instructions (included) to help you make a bootable USB stick successfully.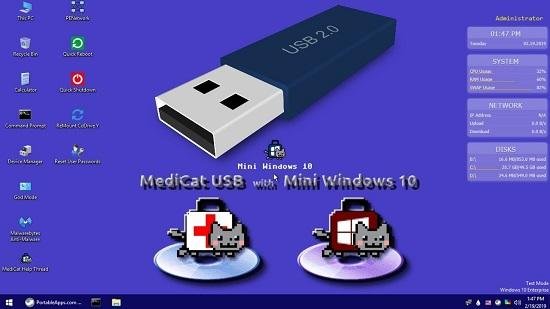 Download Medicat USB
Download Image USB (With Instructions)