Portable Acoustica Mixcraft v10.1.579 Recording Studio (x64)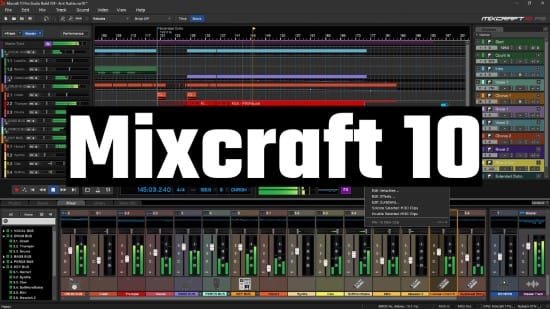 In Tune with You. Mixcraft Portable 10 is the latest version of the renowned digital audio workstation for Windows from Acoustica, designed for musicians by musicians. With its unique combination of ease of use and professional features at an irresistible price, Mixcraft Portable has been a favorite among music enthusiasts and professionals since its introduction in 2004.
With Mixcraft Portable, users can record and mix unlimited tracks to perfection. It features almost universal third-party plugin support and supports audio interfaces and hardware controllers. Mixcraft Portable's loop library has over 7,500 professionally-produced loops, music beds, sound effects, and samples in diverse genres. Additionally, there are a vast library of effects and instruments that include a suite of ToneBoosters reverbs, compressors, filters, equalizers, classic synthesizers, electric pianos, rock organs and sampled instruments.
Mixcraft Portable is also loaded with routing and control features, advanced MIDI routing, and clip-based automation tools. Its Performance Panel is ideal for live performance and loop-based composition, and it is also a feature-packed video editing and scoring environment that offers seamless transitions, titles, and scrolling text. Mixcraft Portable offers an all-in-one solution to all your audio and video editing needs in a single virtual studio package.
Mixcraft Portable 10 includes several improvements that provide users a highly customizable experience that puts them in complete control of their creative process. Menus have been simplified and can now be pinned open. The project start window, plug-in manager, piano roll, automation tools, libraries, and mixer panels have all been enhanced. Additionally, users can customize project settings, plugin collections, and hotkey assignments, and broader support for controller surfaces has been added.
Mixcraft Portable 10 Features
─ Updated User-Friendly Interface: more intuitive, customizable, and scalable
─ Unlimited Audio and MIDI Tracks
─ Over 7,500 loops, sound effects, and samples
─ 16 Virtual Instruments and 36 Effects (24 instruments and over 50 effects in the Pro Studio version)
─ Vocoder Tracks
─ Curved, Tempo, and Pitch Envelopes
─ Per-Track Parametric EQ & Oscilloscope
─ Live Performance Panel
─ Updated Piano Roll, Step Editor, and Music Notation panels
─ Video Editing
─ New – Integrated Mixcraft Portable Store – additional virtual instruments, effects, loops, presets, drum kits, and more, with new content added regularly
─ Improved Plug-In Architecture and Management – Better Search and Organization with an Optional Safe Mode
─ Updated Project Start Window with Live Links to News, Videos, and Updates
─ Master Tempo Envelope
─ Curved Automation
─ Gain, Drive, Parametric EQ, Compressor, Oscilloscope, and Spectrum Analyzer Mixer Panels
─ Tempo-Synced LFOs For Plug-In Automation
─ Rewire Hosting
─ New Controller Scripts API for broader support of MIDI control surfaces and devices
─ Custom Hot Key Assignments
─ Drag-and-Drop Automation
─ Track Regions – easily manipulate groups of clips and tracks, including their automations (Mixcraft Portable 10 Pro Studio only)
─ Advanced MIDI and Audio Output Recording and Routing (Mixcraft Portable 10 Pro Studio only)
─ Natively Integrated Melodyne (Mixcraft Portable 10 Pro Studio only)
─ Audio to MIDI Conversion (Mixcraft Portable 10 Pro Studio only)
─ Supported by the free Mixcraft Portable Remote app for iOS and Android
─ Comprehensive online User Manual with downloadable PDF (English only). Other online translations available.
Latest – Version 10.1 – Build 579
– Fixed filter automation on MIDI tracks
– Fixed two library editing issues related to copying/pasting to the time signature field, and key signature not accepting flats properly
– Fix for Komplete Kontrol VST2 window size
– Fixed a minor painting issue on timegrid at 110% scaling
– Running the rescan-plugins command in preferences or plugin manager will now do a full rescan of all shell plugins (such as Waves)
– Fixed a step editor crash when dragging when choosing a single note. Also no longer closes the dialog after a click.
– Fixed an issue causing no sound or context menu in step editor on the voice buttons on the left; this was related to a fix in 578 regarding tooltips
– Fixed an issue for duplicated audio tracks resulting in an extra MIDI control module
– New Chinese language strings
Download Mixcraft Portable