Portable RAM Saver Professional 23.1 Multilingual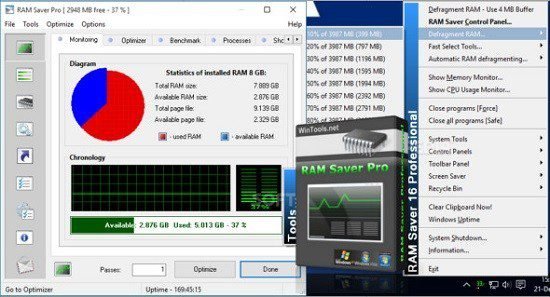 RAM Saver Portable is an easy-to-use RAM optimization tool that makes your computer run faster. Improves operating system performance by making more memory available to applications. With these optimization tricks, even older computers can run your favorite applications and games faster and more efficiently.
The RAM Saver Portable program consists of two basic parts: System Tray – Modules and Control Panel.
Physical memory is a very important component of any system and for anyone who wants their PC to run smoothly, keeping it clean and having as much memory available as possible is essential. Most important. Managing RAM is not a difficult task. Especially if you get a dedicated utility to help you with that.
Among the numerous optimizers available on the market, RAM Saver Portable aims to increase the amount of free memory at any time and provide all the tools you need to monitor and test your RAM.
The application runs minimized in the taskbar, so you can access the main menu by right-clicking his icon in the taskbar. You can also double-click the icon if you want to display the program's main control panel.
RAM Saver Pro's main window allows you to view and select all the commands and functions available in this pack. Neatly organized in their respective tabs, key features include live view and monitoring features with colored graphs showing total, available, and used memory.
The app optimization module allows you to choose the buffer size and refresh rate. When it comes to benchmarking system RAM, you can choose not only the amount of memory to allocate to the test, but also the number of passes.
RAM Saver Portable allows you to see what processes are running and stop unnecessary processes that can clog your PC. It also provides many shortcuts that you can use to access system tools, control panel, screen saver, or recycle bin options, which can also help free up memory. In summary, with the help of this program, anyone can enjoy more free RAM on their computer while also getting useful extras to handle other performance-related aspects of system administration. It is no exaggeration to say that
Main program features:
– System Tray monitor;
– Desktop RAM monitor;
– Desktop CPU Usage monitor;
– specialized Control Panel;
– professional memory monitoring;
– flexible memory optimization with
complete statistics output;
– RAM benchmark test;
– monitoring and control over the
processes which take place in the memory;
– possibility to create "boosted shortcuts";
– common and advanced options;
– automatic and intelligent optimization;
– fast run of tools;
– forced cleaning of Clipboard;
– possibility to close all programs for
full memory release by one click;
– control over Windows uptime;
– suppressing and fast running of screen
savers;
– check the presence of disk in CD-ROM
drive in the moment of computer shut down;
– manipulating with desktop icons;
– forced shut down and restart of computer;
– fast access to Control Panels;
…
RAM Saver Pro will:
– defragment system memory for faster access time;
– increasing the efficiency of your CPU and Motherboard caches;
– recover memory leaks from poorly behaved applications;
– flush unused libraries temporarily out to disk and so on.
Whats New:
+ korean.lng was added
+ lng-files were updated
Download RAM Saver Portable