Portable Reg Organizer 9.11 Multilingual
Reg Organizer Portable is a feature-rich application designed to edit, clean and maintain registry, fix errors in the system, and improve computer performance. The deep registry search feature lets you find all registry keys related to a specific application. The program helps you to edit registry files (.reg) and view their content directly from Windows Explorer. There is also a built-in application uninstaller, allowing you to uninstall redundant applications from the system completely. Another set of features will be useful to administrators, as well as ordinary users.
The registry of a computer is thought to be the backbone of everything that happens when it is in use. It keeps track of app locations and registers certain functions and OS-specific data in a way that your machine understands. When this area is disturbed by a user, the machine's performance suffers immediately. In other words, if you want your PC to run smoothly, you should clean the registry on a regular basis. Reg Organizer is one solution that you can rely on.
Modern, informative interface
The best thing about this app, when comparing it to its competition, is how much information it feeds the user. This means that you'll have a hub that will show you when something doesn't quite add up in your registry. The app has an Express Check area in its main window where it will show the amount of space that can be saved by performing a cleaning operation, the number of items that can be optimized, and the amount of private data that needs to be cleaned. It also displays the need to remove app leftovers.
Other ways of cleaning your PC
The left side of the application will show many other cleaning options. Start by performing a system cleanup, flowed by the private data scan. Fix startup applications clogging your PC when started. Conduct installation/uninstallation and update procedures from this app. Lastly, be careful when editing the registry with this app because if you don't know what you're doing, it might be the end of your machine. Lastly, apply tweaks to your registry, and help your machine find what it's looking for quicker.
Reg Organizer is an application many will find useful, especially since any changes in your OS' files will lead to your registry becoming more and more cluttered. Leaving your registry like that could considerably shorten the life of your operating system, something that Reg Organizer won't allow.
Main Features
Registry editor for viewing and editing the system registry, manipulating the registry keys and values, exporting, importing, copying them, etc.
The registry cleaner of Reg Organizer can detect many types of registry errors. These include searching the registry for invalid references to files, folders and DLLs; invalid uninstallation data; finding obsolete and invalid file extensions and other issues. Reg Organizer can repair many of these registry problems.
Registry search feature can find all keys related to a certain application and delete them, if necessary. This feature can be useful if you manually delete some application that has no uninstall feature. In this case its keys can be left in the registry interfering with the normal operation of other programs. Reg Organizer provides the deepest search and can often find even those keys, that wouldn't be identified by other similar programs.
Defragmenting and compressing the registry: Increase the performance of the registry and consequently the overall performance of your system.
Ablilty to change many undocumented Windows settings (tweaks). In particular, it can accelerate the work of your system by sending the system a command to increase cache memory size or by unloading unused libraries, etc.
Ability to get information about any selected registry key and monitor changes of the specific keys.
Preview of the registry files (*.reg) before adding their contents to the system registry. The files can be viewed directly from Windows Explorer. Reg Organizer presents the file contents in the tree-like form, helping to visualize all keys that will be imported into the registry.
Functional registry file editor, allowing you to edit keys and values, add and delete data containing in the .reg files.
Provide quick access to all of the programs that are automatically started when you turn on or logon to your computer. Using Reg Organizer, you can inspect, edit, or disable such programs.
Registry search and replace mode offers you a variety of options for searching the registry and replacing the records matching the specified criteria.
Built-in software uninstaller. It can take snapshots before and after application installs and eradicate ALL system changes made by an app like it was never installed. Besides, this feature can be used for displaying changes made by the application to each of the system components.
Disk Cleanup tool lets you automatically remove unnecessary files from the hard drive of your computer, and to search for and fix invalid shortcuts.
What's NEW:
The System Cleanup and Private Data Cleanup tools have been redesigned. Some improvements:
You may configure some cleanup locations by clicking the button directly on the corresponding item in the list Previously to do this, it was necessary to go to the settings window.
Optimization for high resolution monitors: The list of cleanup locations now fills the window's space both in width and height.
You can view cleanup locations for which the additional explanation is available by clicking the question mark icon.
Some icons have been redrawn to support the dark theme better.
New cleanup locations added: Additional Web Cache and cleaning the cache of the 4 new applications.
The "System Activity Logs", "Program Crash Dumps" and "Program Error Reports" cleanup locations find more data.
The Private Data Cleanup tool has been switched to multithreaded scanning and has been accelerated. Scanning is now 2-3 times faster.
New tweaks added: "Microsoft Edge: Don't show the page restore request after the browser crash" and "Applications' scrollbar width".
Applications tool: Improvements to the applications traces lookup algorithm.
You may enable the main window's title system look that depends on the theme color by creating in the registry key HKEY_CURRENT_USERSOFTWAREChemTable SoftwareReg OrganizerSettingsEx the integer value SystemTitle equal to 1.
The System Cleanup tool: Chrome, Edge and Yandex browser cleanup has been improved.
Bugs fixed:
The Reg Organizer command did not appear in the Explorer context menu under Windows 11 Insider Preview, Dev channel.
Application installed with tracing did not appear in the installed apps list if they cannot not be uninstalled with the standard uninstaller.
The Previous System Restore Points cleanup location was not cleaned.
The "Always show this screen at program startup" switch in the Express Check and other switches across the program might not work the proper way.
When you pressed the minimize and maximize system buttons in the upper right main window corner, the color was different from the system buttons' color.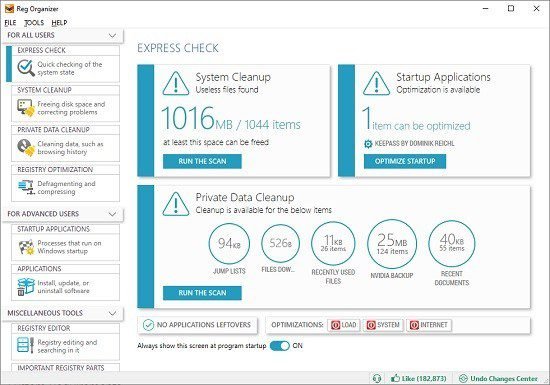 Download Reg Organizer Portable