Portable ScreenToGif 2.35.3 (x64) Multilingual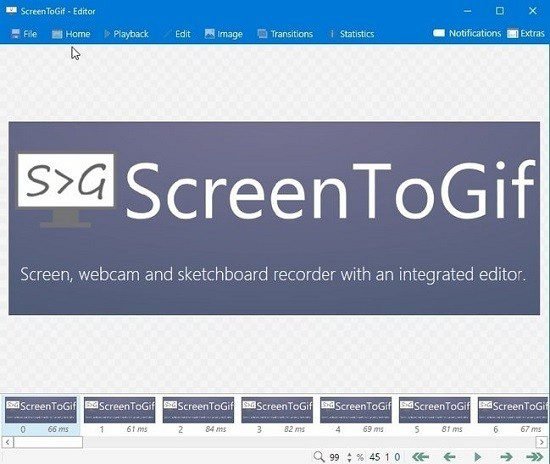 Screen To Gif Portable is a highly intuitive application meant to aid users in generating their own animations. The program features multiple options for customization, such as adding text strings or sepia effects.
A whole world of customization
The application records the current display screen, saves each screenshot as a frame and allows users to edit these pictures before generating the output file.
One of the very nice features of this tool is that the built-in "Editor" is very powerful and allows for a lot of user-customization.
Short text descriptions or captions can be inserted. A really great function is that users have complete control over the display timers. One could, for example, create an animation that displays a certain message for just a few frames.
Importing or exporting frames is also supported, which means that common images (BMP, JPG, GIF and PNG) can be inserted into the newly created animation.
All the basic image modification tools are available
The program is highly flexible and allows users to adjust their screen recordings by adding frame-by-frame crop, rotate and flip effects.
Users that find these options too limiting should also know that Screen To Gif can add sepia, pixelate, blur, negative, color and grayscale filters. And, if all else fails, a "Free drawing" option exists to fully emancipate users' imagination!
An interesting option is the "Speed modifier". This allows users to speed up or slow down their animations. This is a perfect method of blurring out irrelevant parts of the animation!
An overall great program for generating highly customized animations
Screen To Gif is packed with functionality which casual and advanced users will find very nice. There are plenty of features to add particular flavors to output files and the clean interface is really well-suited for the job at hand.
Features
Record your screen and save directly to a gif looped animation or a video.
Pause and continue to record or start over by discard the recording.
Move the window around to record what you want, it stays on top.
You can add Text, Subtitles, Title Frames, Borders, Watermarks, Drawings, etc.
Crop and Resize.
Remove frames that you don't want.
Select a folder to save the file automatically or select one before encoding.
Add the system cursor to your recording.
Very small sized and portable executable.
Download Screen To Gif Portable