Acronis Backup Advanced 11.7.50230 Boot ISO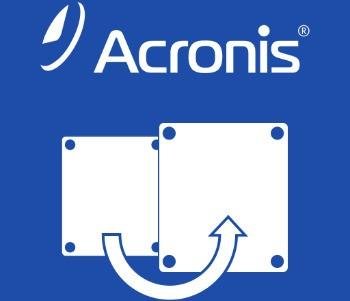 Acronis Backup Advanced delivers best-in-class protection for your entire environment, regardless of your setup: physical servers, virtual machines, workstations, or all of the above. All products in the suite deliver the fastest, most efficient backup and recovery available. When disaster strikes, recover an entire server—with all data intact—in minutes! You can also restore files, folders, and applications to any location in record time. Thanks to Acronis AnyData technology, all products in the suite can work alone, or combine seamlessly under a single management console. The result? Customizable solutions with room for future growth.
– Tailored products support any system type: virtual machines, physical servers, applications, workstations, and more
– Award-winning backup technology captures an entire system in one quick step
– Ultra-fast recovery ensures that you are back up and running in minutes, not hours
– Flexible data recovery can restore anything—from a single email to an entire server
– Multi-destination support can store backup data anywhere (including the Acronis cloud)
– Smart backup features reduce network consumption and storage costs
Create your ideal backup solution. Backed by Acronis AnyData Technology, all Acronis Backup Advanced products can work as a stand-alone solution for a specific system type, or together in any combination for any data, in any environment, across any location. Mix and match products to create a custom solution that protects all physical, virtual, or offsite systems in your company. Regardless of your setup, we will provide exactly what you need including room to grow!
Management made easy. Acronis Backup Advanced lets you manage and monitor all backup activity for all systems via a single, centralized management console. Designed to work with any Acronis Backup Advanced product in your collection, this web-based dashboard provides quick and easy access to all your system backup processes.
Acronis Backup Advanced Key Features:
Disk-level snapshots save complete images of a disk or volume in one simple step (including the operating system, applications, and data). This technology works for both physical and virtual machines.
Our unified dashboard lets you manage all backup operations for both physical and virtual machines from a single, central location. Assign backup plans to one or more machines, review status updates, and receive alerts all from one console!
Business Applications Protection
Our patented disk image technology enables consistent backup of running applications. This allows you to backup Exchange , SQL Server, SharePoint, and Active Directory data as you work. Granular application data may be restored without taking systems offline, protecting your business from expensive downtime.
Compression and Deduplication
Deduplication can be run on either the source or target side to minimize data movement and maximize utilization of storage and network infrastructure. This helps reduce storage costs and minimizes network load.
Multiple Backup Destinations
Store your backups in up to 5 different locations to ensure more flexible, reliable recovery. Combine local disks, attached storage, tape, network storage, and/or cloud locations to minimize your storage costs and provide multiple recovery options in the case of disaster.
All Acronis Backup Advanced products have direct access to secure, offsite storage in the Acronis cloud. Simply add a subscription to your purchase to fortify your backup storage plan and double your data protection.
Now included with all Acronis backup products, this unique data recovery technology gives you the convenient ability to instantly restore backups to any machine, regardless of platform. Now you can restore files, configurations, applications, or an entire system to the same hardware, to different hardware, or to a virtual server all with a few simple clicks!
128 MB of RAM per 1 TB of unique data are required, instead of 3 GB.
No need to allocate the deduplication database on expensive SSD disks. Regular HDD disks can be used without performance degradation.
Recovery from a deduplicated backup is now 40 percent faster.
The backup speed does not reduce as the deduplication database size increases.
The Storage Node startup time on large data sets is reduced to 1-3 minutes.
Validating deduplicated backups and compacting the data store are now 2.5 times faster.
These improvements are effective when v11.7 agents back up to deduplicating vaults created on v11.7 storage nodes. When a new agent backs up to an old vault or an old agent backs up to a new vault, the old deduplication algorithm is used. To apply the new deduplication algorithm to old backups, you need to import the backups into a newly created vault.
Configurable block size for reading and writing to tapes. The default value is taken from the tape device driver.
Hardware Compatibility List (HCL) and Hardware Compatibility Tool are introduced. Hardware Compatibility List contains tape devices with confirmed support by Acronis Backup. To learn if your specific device is supported, use the Hardware Compatibility Tool.
Full support for the LTO-7 technology. See the HCL for the exact names of the tested devices.
It is possible to specify a custom backup location for each machine that is included in a centralized backup plan.
In addition to exporting licenses from the management server to an .xml file, you can export them to a .txt file.
Microsoft Exchange Server support
Agent for Exchange can back up and recover Microsoft Exchange Server 2016 databases. Backup and recovery of Exchange 2016 mailboxes (including mailbox recovery from database backups) are not supported.
Supported operating systems
Support for Windows Server 2016 Technical Preview 4.
Support for Linux kernel version 4.2, 4.3, and 4.4.
Support for Red Hat Enterprise Linux 7.2, Oracle Linux 7.2, ClearOS, Debian 8.2, Ubuntu 15.10, and Fedora 23.
Support for Windows 2000 in Acronis Backup Advanced is limited. Components of v11.7 cannot be installed in this operating system. To back up machines that run Windows 2000, use the agents of v11.5. The v11.5 agents are compatible with the management components of v11.7.
Acronis Backup for Windows Server and Acronis Backup for PC cannot be installed in Windows 2000. To back up machines that run this operating system, use v11.5.
Acronis Backup v11.5 supports Windows 2000 SP4.
It is possible to use compression in combination with third-party hardware or software deduplication (for disk-level backups only). This effectively reduces the storage space occupied by the backups.
More functionality is available via the command-line interface:

Generating management server reports
Deploying Agent for VMware (Virtual Appliance)

Agent for VMware does not back up independent disks and Raw Device Mapping (RDM) disks in physical compatibility mode, regardless of the state of a virtual machine. This limitation is introduced for better predictability of the product behavior.
32-bit Linux-based bootable media was optimized in size by removing the rarely used acrocmd utility.
When a disk backup is mounted in the read/write mode, the respective incremental backup is not created immediately, but after the disk backup is unmounted, instead. While the backup is mounted, the changes are saved in the %Temp% folder.
Actual Version:
Support for new operating systems:

Windows Storage Server 2016
Windows 10 IoT Enterprise edition
Linux kernel versions 4.6-4.14
Red Hat Enterprise Linux 7.3 and 7.4
Oracle Linux 7.3 and 7.4
CentOS 7.2-7.4
Debian 8.6
Fedora 25-27

Support for new virtualization platforms:

Red Hat Virtualization (RHV) 4.0
VMware vSphere 6.5
Citrix XenServer 7

64-bit Agent for VMware (Virtual Appliance). The agent is designed for VMware vSphere 6.5, is provided as a separate .msi file, and can be imported to an ESXi host as an OVF template.
Support for SMB2 and SMB3 in Agent for Linux, Linux-based bootable media, and Agent for VMware (Virtual Appliance). In Windows, SMB2 and SMB3 are natively supported.
https

:

//uploadrar.com/4u5cj59j1ajo/B-11750230ABAU.rar