Portable Ashampoo ZIP Pro 3.05.10
Ashampoo ZIP Portable is no mere ZIP application but a complete, feature-packed suite to compress, extract, send and encrypt your files! ZIP Pro 3 handles a total of 60 archive types. Creating and encrypting archives takes just seconds, thanks to full multi-core support and 256-bit encryption keeps your archives safe. The built-in file explorer supports a classic split-pane view as well as cloud and FTP support—on top of all major ZIP functions, naturally!
Enjoy 100% compatibility with ZIP, ZIPX, RAR, CAB, ISO and over 60 other popular formats! Benefit from live previews and 256-bit encrypted self-extracting archives. Upload your data via FTP and to the cloud or take the traditional route and burn them to disc!
Ashampoo ZIP Pro 3 Portable
World-class software to go: Compress, encrypt or extract your files on the go with ZIP Pro 3 Portable! Simply run the full program from flash drive, external hard disk or via DAV, no installation required.
Ashampoo ZIP Pro Office add-ins
Access the power of ZIP Pro 3 directly in your favorite Office applications. Conserve disk space, protect your documents against unauthorized access and save time with clever automatic features!
Ashampoo encryption suite
Secure your files with FIPS 140-2 256-bit AES encryption for maximum protection. Encrypt your office documents and PDFs to preserve data integrity before and after you've sent them. The software even supports the popular OpenPGP standard so you'll always have the most up-to-date technology!
Ashampoo ZIP Script
The total backup solution: Back up your files and folders instantly and with maximum space savings. Store your files in the cloud, on FTP servers, in your home network or in multiple locations at once—and automatically, thanks to full Windows Scheduler support!
The new command center for your files
Ashampoo ZIP Pro 3 sports fresh visuals and mind-boggling speed! Enjoy up to 300% faster compression and codecs fine-tuned for individual file formats! The new 64-bit engine not only maximizes memory efficiency but also provides possibly the fastest ZIP engine on the planet! Experience lightning-fast compression speeds of up to 400 MB/s and industrial-grade data protection against brute force attacks!
● Possibly the world's fastest ZIP engine
● Up to 70% stronger compression
● Instant program start
● 4K and touch-ready
● Up to 300% faster MP3 compression
● 64-bit architecture for maximum speed and full RAM usage
● Razor-sharp high-DPI mode
● Super-fast TXT/HTML/XHTML file compression
● Advanced Codec Pack support for the world's most powerful compression
● Excel and Word add-ins to compress, send and encrypt document
● Outlook add-in to compress, decrypt and encrypt your mails
● Portable application version included – no installation required
● Split-view Explorer with additional ZIP features
● Supports 4K displays
● Full multi-core support for blazing speed
● Full FTP access
● Burn any file to CD / DVD / Blu-ray
● Easy conversion between various compression formats
● Powerful ZIPX format support – supports all ZIPX formats: LZMA, JPEG, PPMd, BZIP2, XZ and WAVPACK.
● Batch Archive Tool – Automatically create multiple archives from individual files.
● Multi Extract Tool – Extract multiple archives at once.
● Archive Converter Tool – Convert multiple archives from one type to another.
● Upload files to Dropbox, Google Drive, One Drive, Amazon S3, Azure and Box online services.
● FIPS 140-2 validated encryption components.
● Volume Shadow Copy (VSS) – With VSS, you can backup any file/database on the computer, without closing program using it.
● UAC elevation support – supports UAC (user access control) elevation to administrator when it detects the need for admin account in order to read or write in some folder.
● Better integration with WinRAR if installed.
● Beautiful graphical interface, very intuitive and easy to use.
● Full integration with Windows 7, 8 and 10, as well as Windows Server editions.
● Powerful integration with Windows Explorer Shell, both 32bit and 64bit.
● Supports creating and extracting ZIP, 7-ZIP, CAB, TAR (TAR, TAR.GZ, TAR.BZ2, TAR.XZ) and LHA formats.
● Supports extracting from over 30 different formats, including RAR, ZIPX, ARJ, ARC, ACE, MSI, NSIS, CHM, DMG, RPM, CPIO, VHD, XAR, LZMA, LZH, SquashFS, CramFS, Z, ZOO, WIM plus ISO (ISO9660 and UDF).
● Great support for all versions of RAR format, including latest 5.x.
● Powerful AES encryption with 256 bit strength.
● Only utility that reads all types of encrypted ZIP archives (PKAES, WZAES, etc.)
● Virtually unlimited size of the archive, unlimited size of files inside archive and unlimited number of files inside archive when using ZIP and 7-ZIP formats.
● Integrated Preview that supports many different image, text and other file formats. Preview files without ever extracting them from archive.
● Repair ZIP Tool – Repair broken ZIP files.
● SFX Wizard – Create powerful SFX – Self Extracting Archives.
● Write Multivolume ZIP – Split existing ZIP files into multiple volumes.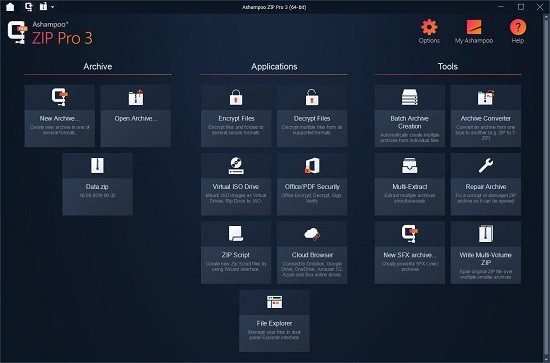 Download Ashampoo Zip Portable
Download – 51.5 MB
Mirror – 51.5 MB