Portable CrystalDiskInfo & CrystalDiskMark 8.12.7 Multilanguage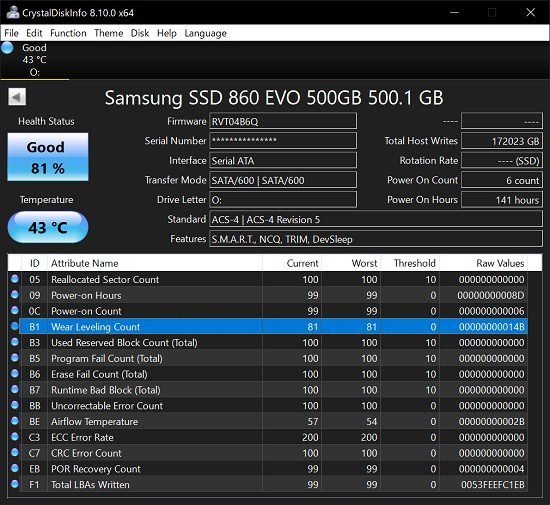 CrystalDiskInfo Portable is a small utility to monitor the status of hard drives, monitors the status of hard drives that support SMART technology Monitors and provides an overall assessment of "health" of your drive. Also displays detailed information about the hard drives installed in your computer (flash, serial number, a standard interface, the total time, etc.), and also displays the attributes of the parameters of SMART self-test (read errors, performance, start / stop spindle, seek time, the number of on-off cycles, errors and many other sectors).
CrystalDiskInfo Portable is a HDD / SSD utility which support SMART (Self-Monitoring, Analysis, and Reporting Technology). This includes such details as current drive temperature, firmware version, number of failed read or write attempts, how long the drive has been running and how often it's been started and stopped, and so on. As various factors approach thresholds of danger, CrystalDiskInfo will alert you, letting you know it's time to make backups while you still can.
Key features:
show S.M.A.R.T Information
show HDD Information
change dialog design
internationalization
What's NEW:
Improved Apacer SATA SSD support
Improved VMware, Parallels and QEMU NVMe drive support
Improved NVMe SSD health status report
Improved Micron SSD support
Improved Windows 11 support
Improved High Contrast Mode support
Fixed Save as Image
Fixed UI bug
Assessing the performance of various hardware components is a job for specialized software utilities that can thoroughly test several parameters before reaching a qualified conclusion. For hard disk drives, one of the possible choices is CrystalDiskMark Portable.
Quick and easy deployment
The application runs through the setup process pretty fast. Except for destination directory, there isn't anything else to configure. However, pay attention every step of the way, because you might end up with a different homepage and other applications installed as well.
Put your HDD under the scope
This application was developed to help you get to know your HDD, so it has the power to measure sequential and random read/write speeds while displaying all details to the user with the help of a simple interface. The whole look is designed to make the app very user friendly, so all the information you'll get after conducting the tests will be displayed in the main window.
Gets the job done fast
Speaking about the test, CrystalDiskMark needs just a couple of minutes to perform all the benchmarks. In order to get the most accurate results it's recommended to close all the other apps before hitting the start button.
Uses little system resources
This tool doesn't put your processor and RAM under a tremendous stress, but it's better to have no documents open while CrystalDiskMark performs a test, be it a sequential read or write or random 4KB/512KB reads or writes.
You can manually select the number of test runs, the size of the test and the drive that will be analyzed and then press the corresponding button to start all the tests.
Download CrystalDiskInfo & CrystalDiskMark Portable