Portable EVGA Precision X1 v1.1.1 (x64)
EVGA Precision X1 Portable will allow you to make fine-tuned adjustments on your graphics card, including GPU Clock Offsets, Memory Clock Offsets, Fan Speed, voltage and much more.This latest version of Precision XOC has been revamped with NVIDIA graphics cards in mind and combines all the best of EVGA Precision and the EVGA OC Scanner giving you excellent overclocking features as well as built-in automatic tuning.
EVGA Precision X1 allows you to fully fine-tune your NVIDIA graphics card for superior maximizing cooling and performance. True enthusiasts know to go with the number one choice for GeForce overclocking; EVGA Precision.
Make tweaks to your Nvidia EVGA or non-EVGA graphics card
If you do have an EVGA graphics card, then the program gives you the possibility to take advantage of RGB LED controlling when dealing with multiple cards, maximize clocks using a K-Boost function, as well as to view an OSD (on-screen display) when playing games compatible with DirectX 12.
Although it has fewer features available for Nvidia non-EVGA graphics cards, EVGA Precision XOC is capable of tweaking voltage and frequency points independently and dynamically. It also has a linear mode to facilitates one-click overclocking.
Maximize cooling and increase GPU performance
Unless you're certain of your GPU's capabilities, you can turn to the scan mode to autodetect the optimal voltage and frequency curve. Multiple profiles are supported (up to 10) with keyboard shortcuts, in order to quickly apply various configurations. During gameplay, screenshots can be taken in BMP and JPG format.
As far as the startup mode is concerned, you can tinker with the power and temperature target, as well as GPU and memory clock offset. Settings can be restored to default anytime with the click of a button.
Key Features
Brand new GUI that is faster and easier to use.
Real-Time wattage monitoring (on supported EVGA graphics cards).
Full support for GeForce RTX graphics cards (GTX support coming soon)
RGB LED Control supporting graphics cards and/or NVLink Bridge.
LED Sync that syncs with other EVGA RGB components.
Dynamically set independent voltage/frequency points for ultimate control.
New OC Scanner for finding the best stable overclock.
On-Screen-Display (OSD) shows your system vitals at a glance.
GPU Clock, Memory Clock and Voltage Control.
Custom fan control and fan curve.
Profiling system allowing up to 10 profiles with hotkey.
In game screenshot function.
+ More!
Whats New:
Improves compatibility with GeForce Game Ready Driver 457.09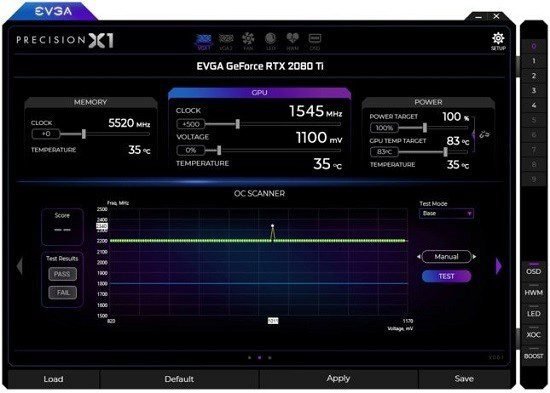 Download EVGA Precision X1 Portable