Portable Total Commander 10.00 Multilanguage
Total Commander Portable is a file manager for Windows similar to the Windows Explorer. But Total Commander uses a different approach: it has two fixed windows side by side like a well-known file manager for DOS.
Customize the way files are displayed
The main window features a simple, classic design that poses no accommodation problems. By default, you gain access to two file explorers that display elements in a detailed view. You can change how files and folders are displayed, as well as further enhancing accessibility by enabling a tree explorer.
You are given the possibility to run multiple instances of the application in order to allow fast and efficient manipulation of files. You can easily edit, copy, move, delete files, as well as create new folders or enable synchronization.
Keep important files safe
In addition to basic management, the application comes equipped with a few extra tools. You can take advantage of an integrated archiver in order to protect your files, but the setting panel lets you define external programs for archiving as well. For even more security, files can also be split into multiple parts and later on combined, or even have them encoded using various algorithms.
Make it suit your style and needs
Customization is also available, with the possibility to have the upper toolbar fitted only with functions you frequently use. Moreover, you can add shortcuts to external applications, notepad being added by default in case you quickly need to write something down.
An integrated, powerful search engine
In case you simply can't spot the desired file, an integrated search engine is sure to fetch it. A small window is brought up with settings the let you fully configure search criteria. You can issue a simple process by specifying name and location, or snoop through advanced settings or even previous search sessions.
Features of Total Commander Portable:
Two file windows side by side
Multiple language and Unicode support
Enhanced search function
Compare files (now with editor) / synchronize directories
Quick View panel with bitmap display
ZIP, ARJ, LZH, RAR, UC2, TAR, GZ, CAB, ACE archive handling + plugins
Built-in FTP client with FXP (server to server) and HTTP proxy support
Parallel port link, multi-rename tool
Tabbed interface, regular expressions, history+favorites buttons
Thumbnails view, custom columns, enhanced search
Compare editor, cursor in lister, separate trees, logging, enhanced overwrite dialog etc.
Unicode names almost everywhere, long names (>259 characters), password manager for ftp and plugins, synchronize empty dirs, 64 bit context menu, quick file filter (Ctrl+S)
USB port connection via special direct transfer cable, partial branch view (Ctrl+Shift+B), and many improvements to ftp, synchronizing and other functions
And many more!
New functions in Total Commander Portable:
General:
Directories created by MacOS on ExFAT flash drives are now shown in TC. They were not shown because they had the inavlid attribute 8: Volume label
Always show hidden directory "AppData" in c:\Users\<user profile> even with hidden files disabled
Allow user to install key file automatically when double clicking on it.
Add a "Zone Transfer" data stream when downloading files via anonymous FTP (Ctrl+F), or HTTP (Ctrl+N) from outside the intranet, like web browsers
When unpacking files internally or via plugins, copy "Zone Transfer" data stream from archive to unpacked files, just like the Explorer
New zone transfer option can be disabled via WantZoneData=0
Always look for key file also in c:\totalcmd, even if Total Commander is installed elsewhere
User interface:
Allow to use "Windows Hello" on Windows 10 to securely store master password until TC is closed. Use fingerprint, face or pin to connect again
Use mouse wheel to scroll through directory tabs (like in Firefox) when not using multi-line tabs
Zoom thumbnails with Ctrl+Mouse wheel between 10% and 200% of the size configured in Configuration – Options – Thumbnails
Load thumbnails from EXIF data (preview image) from JPG and various camera RAW formats: Canon RAW 1-3, DNG, Fuji, Nikon, Olympus, Panasonic, Pentax, Sony
New option "Return to locked tab root directory on tab change" in Configuration – Options – Folder tabs
Show "!" prefix when current dir differs from locked dir on tabs which are locked with directory changes allowed
New option to only execute command line when it is focused (Configuration – Options – Layout)
When closing TC while there are unpacked temporary files, show the user the first 3 file names and their origin
Drop file from outside (e.g. virtual folder in Explorer) to read only directory (e.g. c:\windows): Better dialogs to allow overwrite and copy as admin
Automatically scale dialog boxes with the chosen font if the font needs more space than the default font
Ctrl+L on single file now also shows the Zone.Identifier stream data for that file
Save displayed file types (e.g. *.txt) separately for each tab. Configuration – Options – Folder Tabs – Save displayed file types separately for each tab
Ctrl+U and Ctrl+Shift+U now also swap the displayed file types if DirTabFilters=1, because they are part of the tab
Directory menu (Ctrl+D): Option to hide menu items which begin with a user-defined character, by default a question mark '?'
View modes, Auto-run commands: Put '-' at the start of the command field to not execute commands on tab change, only on directory change
For locked folder tabs with directory changes allowed, show both the current directory and the locked directory if they are different
Saving settings:
When user cannot save settings (e.g. in Configuration menu or main settings), offer to copy ini files to user profile
For plugins in write protected directories, intercept calls to CreateFileA/W and all INI functions, and redirect write calls to %APPDATA%\GHISLER\redirect
Disable redirection of plugins: Add 8192 to RestrictInterface in wincmd.ini or registry
Specify different ini locations for specific plugins: wincmd.ini [ReplaceIniLocation] (see help)
Lister:
New DirectShow media player in Lister, replacing the old one based on Video for Windows (can still be chosen via configuration)
Support full screen playback via double click or Alt+Enter, leave the same way or with ESC
Change audio and subtitle streams via context menu
Configure preferred DirectShow filters via Lister configuration (3rd Tab)
Show chapters as tickmarks below seek bar, jump there with Ctrl+PageDown/Ctrl+PageUp
Buttons to jump backward/forward by x seconds (default 10s and 60s, configurable via right click)
Preload DirectVobSub filter if the source filter has a pin "Subtitle"
Allow to use LAV filters and ffdshow filters without installing them, by putting them in subdir filter32 or filter64, respectively
Save last playback position of the last played tracks longer than 10 minutes
Keep sound pitch constant when changing playback speed, using custom DirectShow filter based on open source SoundTouch.dll
New option "Additional multimedia file types" and "Additional Irfanview/Xnview file types"
Search:
Internal regular expression library updated to latest version (faster, more functions)
Warn user when he enters a text in "Find text" which cannot be converted to ANSI and/or ASCII (if checked)
Synchronize dirs:
Allow to use regular expressions and saved searches, with options where to apply them, e.g. one side, both sides, etc. via button [1x]
New context menu items to show file context menu and file properties, and to edit left/right file
Show exclamation mark in button "Singles" or "Duplicates" if it isn't down when opening the dialog
Compare by content:
Show extra listbox with the two lines from the current cursor position for easier character by character comparison
Show progress dialog when pasting large text buffer takes more than 2 seconds, allows to abort paste, but doesn't revert it
Focus the bottom 2 line compare list directly with Ctrl+Tab
Bottom 2 line compare list can be scrolled with cursor left/right, page up/down, home/end, and the mouse wheel
Ctrl+Mouse wheel now scrolls the two line panel at the bottom even when the mouse isn't on it. Ctrl+Alt+Mouse Wheel still scrolls by page
FTPS/HTTPS:
Support for OpenSSL 1.1 and newer. The main dll must be named libssl-*_*.dll / libssl-*_*-x64.dll (with *_* the version number, e.g. 1_1), the libcrypto*.dll must NOT be renamed!
Verify checksums:
Support checksum created from a stream, showing up as "<checksum> -" (checksum followed by two spaces and a dash)
In checksum files created by other programs, more OpenSSL format types are supported: SHA224, SHA384, SHA3-224, SHA3-256, SHA3-384, SHA3-512
Internal commands:
LOADLIST listfilename loads list of files/folders from text file.
cm_ZoomIn and cm_ZoomOut to zoom thumbnails (like Ctrl+Mouse wheel)
cm_syncchangedir: Do not enter a directory when it doesn't exist on the other side. Only turn off cm_synchangedir when the user tries again
Support parameters 0 (or none)=toggle, 1=set, 2(or -1)=reset for the following internal commands: cm_*Comments, cm_*DirBranch, cm_*DirBranchSel, cm_ToggleAutoViewModeSwitch, cm_SyncChangeDir, cm_SwitchLongNames, cm_SwitchHidSys, cm_SwitchHid, cm_SwitchSys, cm_Switch83Names, cm_FtpHiddenFiles, cm_SwitchDirSort, cm_SwitchOverlayIcons, cm_SwitchWatchDirs, cm_SwitchIgnoreList, cm_SwitchX64Redirection, cm_Vis*
Command LOADSEARCH <saved name> (e.g. on button): Put one equal sign = in front of name to start searching immediately, two == to start and feed to listbox after search
Improved ZIPFROMLIST command: The file list name can now contain Unicode characters, and the content can be ANSI, UTF-16 (with byte order marker BOM) or UTF-8 (with or without BOM), and the archive name can now also be put in the parameters field.
New commands to write file list with details and column headers to file/clipboard
Support parameters 0=toggle, 1=set, 2(or -1)=reset also for: cm_SrcQuickview, cm_LeftQuickview, cm_RightQuickview, cm_SrcQuickInternalOnly, cm_LeftQuickInternalOnly, cm_RightQuickInternalOnly, cm_SeparateQuickview, cm_SeparateQuickInternalOnly
New internal command OPENATTRIBUTES <parameters> Change attributes: +s (subfolders), +a/-a +r/-r +h/-h +s/-s +dDate +tTime +L +L2 Plugin_settings
Placeholders for commands in button bar/start menu:
All placeholders in button bar or start menu like %N, %P now support substring fields in the form :~start,end, e.g. %N:~2,5 (5 characters from the second) or %N:~-8,5 (5 from the 8-last)
Placeholders %S, %R, %P%S and %T%R now support appended text for each file. The parameter must be in double quotes, e.g. "%P%S.bak" would append .bak to each name
New placeholder %B for part of path (including branch view paths): %B or %B0 parent, %B1 grandparent etc. %B-, %B-1, %B-2 same but without branch view
New placeholder %Bt, %Bt1 etc: Parent, grandparent directory of target folder
New placeholder %B+ for part of path (including branch view paths), start counting from the beginning: %B+ drive with ":", %B+0 drive without ":", %B+1 first subdirectory, %B+2 second subdirectory etc.
Content plugin fields:
3 new internal fields: tc->ZoneId, tc->HostUrl and tc->ReferrerUrl read these fields from Zone.Identifier stream data. ZoneId is set to 0 if not present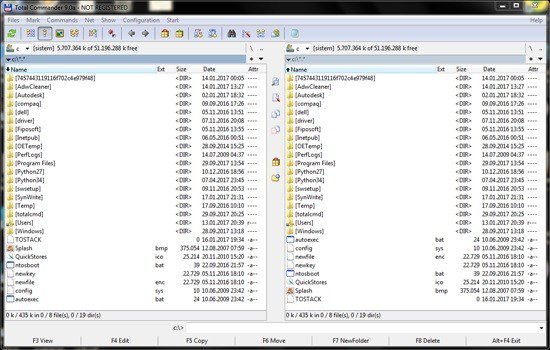 Download Total Commander Portable