Portable TV 3L PC 3.1.1.0 (x64)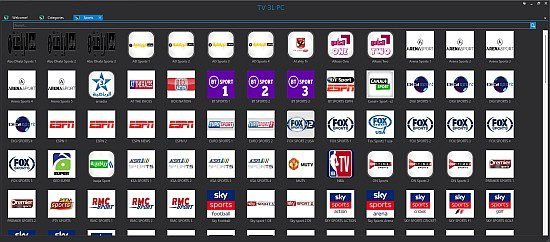 TV 3L PC Portable is a reliable software that enables you to watch live television channels right from your desktop. The software can retrieve live feed from several TV channels and render it for you through its integrated media player. You may watch live shows or pre-recorded movies, as well as stream a channel over the LAN.
A large selection of TV channels
TV 3L PC offers a wide range of options when it comes to watching TV channels. It requires Internet connection in order to access the live feed and render it for you in its interface. While the software can bring you international television channels, it focuses on the Arabic-speaking countries, since the available shows are predominantly in this language.
The list of TV channels includes hundreds of entries and can be sorted into categories, such as news, movies, sports, documentary, drama, comedy or children. Several channels are distributed in real time, while the movies or series are takeovers from YouTube and other video hosting websites.
Live player and creating the favorites list
You may easily add several channels to a separate, personal list, in order to quickly identify them at any time. Simply select a certain channel and click on the star shaped symbol in the top-right corner of the window. Additionally, you may sort the channels alphabetically, search for a particular one and set the software to automatically load the data when starting.
Moreover, after installing, TV 3L PC also acts as a live chat room, where you may communicate with other users. Both the chat area and the TV player may be viewed and used in separate windows. Also, you may pause or resume the playback in case of movies or pre-recorded series, but these functions are disabled in case of the live transmission.
TV player on your computer
TV 3L PC is a stand alone software that enables you to watch TV channels and pre-recorded movies on your computer. The software allows you to create a list of favorites, as well as browse through the multiple categories of shows, movies, sports, documentaries or children series. Also, you may pause and resume pre-recorded shows at any time.
Download TV 3L PC Portable