Portable Word Artist 4.0 (x64)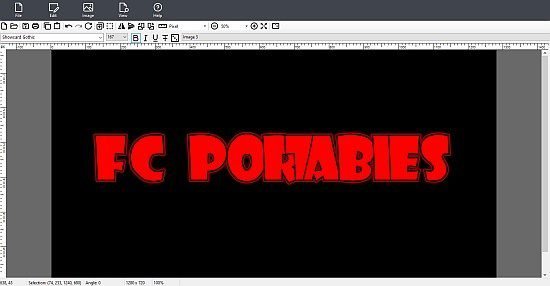 Word Artist Portable contains many text styles and effects. For example ABC blocks, Buttons, Newspaper and Magazine cutouts. Bronze, copper, silver, and gold effects. Retro, Pop Art, Seventies, and Cartoon. Other effects include Chocolate, Cow, Cracked, Dollar, Elephant, Fire, Gingerbread, Giraffe, Grass, Jute, Leather, Leaves, Leopard, Magma, Metal, Moon, Paper, Rock, Sand, Sky, Stone, Tree, Water, Waterdrops, Wood, Woven.
You can rotate text and place text in a Circle with relative ease. Adding a drop shadow is an easy way to give a flat text a natural looking 3D effect.
Nowadays, people prefer to add a touch of personality to everything they do and compose, including their preferred pictures. In addition to the well-known image editors, there are also specialized tools that let you add text to a photo.
Select the desired word format and tone
The main purpose of Word Artist Portable is to provide such simple means to insert words with custom styles, like ransom, 3D, news, articles, and more. The layout is modern and nicely organized, with the quick toolbar in the upper part of the window, templates, color palette, and shadow highlighting, on the right side. For the app to start, .NET Framework needs to be present on the computer.
All you have to do is load your favorite image from the computer in one of the supported formats, like JPG, JPEG, GIF, PNG, BMP, or ICO. The next step is to write the sentence or term in the right panel, and choose the desired style (e.g. ice, hot, holiday, invert, Google, silver, gold), along with its size, font, and style. You can pick up to three different colors for the text, and one for the shadow background.
Adjust the picture length and easily fix mistakes
In addition, the tool lets you enable round join, bend inside or outside, and change the angle, by dragging the slider. From the shadow tab, you are able to modify the blur and strength. The output may be saved to JPG, BMP, PNG, and TIFF image formats.
If you are not happy with the result, the undo and redo arrows help you go back to the previous design, while the reload function, resets the image. To move the text, just drag it to the proper position. What's more, the photo can be flipped horizontal or vertical, rotated to specific angles, and resized to the desired dimension.
To sum it up
Taking everything into consideration, Word Artist is a fun and useful program that comes in handy to everyone who wants to enter styled text over images. It comes with an extensive collection of word designs.
Download Wotd Artist Portable