Portable IK Multimedia AmpliTube 5 Complete 5.3.0B (x64)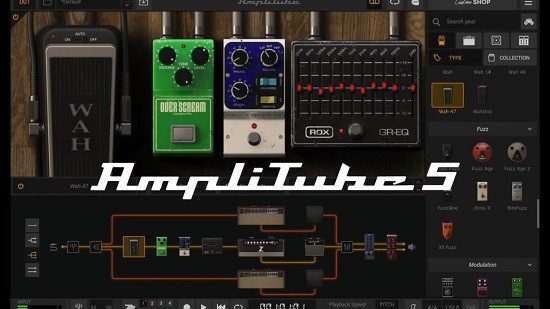 AmpliTube Portable is a guitar and bass tone studio for Mac/PC that works as a standalone application and as a plug-in for your favorite DAW. AmpliTube recreates the entire guitar/bass signal chain from instrument to recording device, and does so in a very realistic and intuitive way. But it also does it in ways you never dreamed possible.
Legendary guitar/bass gear on your Mac/PC
Captures the sound, feel and vibe of over 400 of the most sought-after guitar & bass gear ever.
Developed with top brands & artists
Official gear from icons like Fender®, Mesa/Boogie®, Orange®, Slash, Brian May, Joe Satriani and many more.
Covers the entire signal chain
Stomps, amps, cabs, speakers, mics, rooms and rack FX all in one interface, all routed the way you want.
All-in-one recording & performance studio
With an 8-track recorder + DAW, looper, tuner, practice tools and live features all in one.
Powerful recording in your favorite DAW
Works as an AAX / VST / AU plug-in to create killer guitar tracks anywhere.
The most realistic tones ever
IK's DIM™ and VIR™ technology ensures AmpliTube nails the tone and feel of every piece of gear like never before.
What's NEW:
AmpliTube 5.3 brings MESA/Boogie 2 making available 4 new officially certified amps and 5 cabs within AmpliTube 5's streamlined Custom Shop.
IK's groundbreaking new AmpliTube X-GEAR pedals are now available inside AmpliTube 5. Demo X-SPACE, X-TIME, X-DRIVE and X-VIBE right in your studio. Save presets and transfer back & forth to the physical units.
AmpliTube 5 also premieres a re-engineered Cabinet section with all-new DSP. IK's new Volumetric Impulse Response (VIR™) uses 600 IRs per speaker, 1,200 IRs for a 2-speaker cab and 2,400 IRs for a 4-speaker cab, capturing a massive 3D array of mic placement options, plus all the interactions between speakers, cabinet and floor for a completely true-to-life sound.
AmpliTube's movable microphones now truly shine, with an easy-to-use grid that lets you snap to a precise IR point or seamlessly blend between multiple measurements.
Best of all, we've re-measured over 100 cabinets in AmpliTube 5 Max, refreshing every single cabinet for a massive 143,000 IRs in all. How'd we do it?
We created a custom made, fully automatized, robotic measurement system. This let us re-capture and analyze every cabinet in AmpliTube 5 Max with ultra-consistent, millimeter accuracy, using a range of microphones, for up to 600 measurements per speaker, 2,400 per cabinet and a massive 143,000 IRs in total. It's a technological breakthrough when it comes to ultra-realistic sound and the most advanced and most comprehensive cabinet section ever.
AmpliTube 5 boasts an all-new, fully-scalable GUI to adapt to any display size, including the latest Retina displays.
AmpliTube 5 features a new, completely customizable gear chain. Beyond mono & stereo, AmpliTube 5 now supports wet-dry-wet configurations and other advanced series & parallel routing.
The overall chain now supports up to a massive 57 simultaneous models across Stomps, Racks, Amps and Cabs. And setup is a breeze – just drag & drop any model into place, to build or re-position even the most complex rigs in seconds.
With the massively expanded signal chain options in AmpliTube 5, you need a better way to mix and record that sound as well. So AmpliTube 5's studio section adds a new Mixer window, letting you blend the sound of your cabinets and microphones, plus DI signal. With panning, levels, busses and 23 built-in effects, some derived from T-RackS 5, it's a powerful tool to put a final studio sheen on any track.
Over 130 brand new gear models, including 2 new stomps, 5 acclaimed amps, and 23 racks FX derived from T-RackS and redesigned specifically for AmpliTube 5, 2 new rooms and over 100 completely re-captured cabinets.
AmpliTube 5 also revisits all the original AmpliTube legacy gear, adding not only a fresh new look, but optimized internal gain structure and superior power amp – speaker interaction to maximize their realism and feel.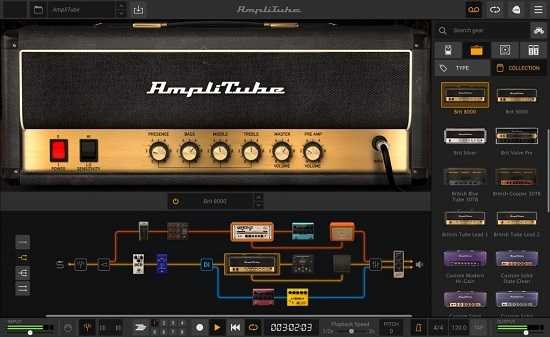 Download Amplitube Portable