Portable AVZ Antiviral Toolkit 5.50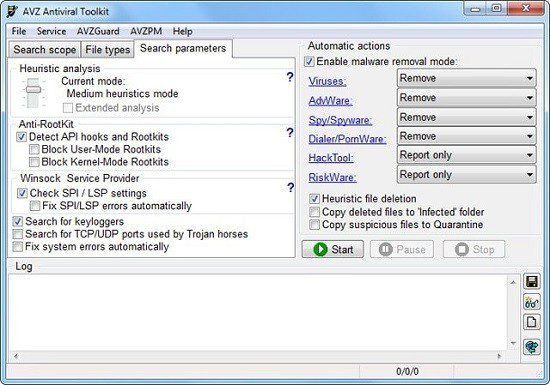 AVZ Antiviral Toolkit Portable is a security tool ready to protect your computer against all kinds of threats. It is capable of detecting adware, viruses, spyware, dialers or pomware, as well as files that might pose a risk to your system and heuristics. Moreover, it runs scripts to automatically take action on suspicious files by sending them to quarantine or deleting them directly.
It was designed to run a complete system diagnostic that can offer additional information to the Kaspersky Lab technical support. In other words, if you go to Kaspersky's tech support, they might ask you to generate a report based on AVZ's analysis.
Comprehensive security solution to keep your PC safe
AVZ Antiviral Toolkit can perform an in-depth analysis of your system, covering not only key areas, but much more. The scan starts with the running processes, continues with services, drivers and autoruns, registry entries, opened ports, installed Internet Explorer extensions, scheduled jobs, protocols, handlers, control panel applets and, finally, a diagnostic of your network traffic.
During the scan, it creates a quarantine section and automatically moves files that it considers to be suspicious and dangerous to it. You can browse the quarantine area but it is advisable that you do not restore files inside it, as they might harm your computer.
Features a plethora of system control tools
But it's not all about the malware scanner, although a scan alone could tell you if there is something wrong with your PC. AVZ Antiviral Toolkit Portable has to offer much more than that. It features integrated process, services and drivers managers to give you much more control over your computer. It also comes with registry, cookies and file search tools.
Furthermore, there is a dedicated function for handling programs that are configured to boot alongside Windows, as well as various other tools to organize IE extensions, downloaded programs, running ports, shared resources, and more.
One interesting feature is the file authenticity checker, which searches for matches of the analyzed file in the Microsoft Security Catalogue and the Trusted Objects Database.
A reliable system checking and anti-malware solution
Due to the fact that the scan is very thorough, it is highly recommended that you close unneeded processes before running it, so as to avoid putting a strain on your computer. Moreover, you shouldn't use your PC and make changes to files, just to make sure AVZ Antiviral Toolkit checks every bit during a drive scan.
Even with a reliable antivirus solution, sometimes malware might still reach your computer, so running a full, in-depth scan of the system might be required from time to time. AVZ Antiviral Toolkit Portable is one of the best tools that you could use in that endeavor to keep your computer secure and working as it should.
Download AVZ Antiviral Toolkit Portable
Download – 11.8 MB
Mirror – 11.8 MB