SecuPerts First Aid Kit 1.0.0 Boot ISO Multilingual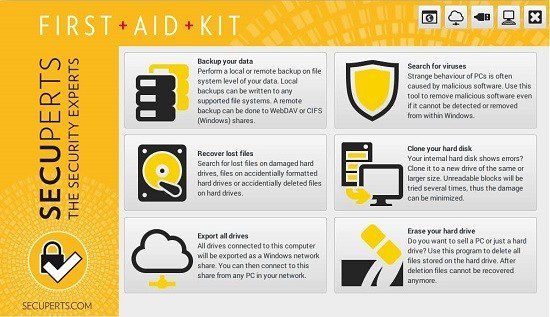 The First Aid Kit for your data and your Windows installation! Protect yourself from data loss and Windows problems. When simply nothing works any more or troublesome viruses and Trojans are making your life miserable! Be prepared for emergencies – with the SecuPerts First Aid Kit!
Are you in danger of data loss?
Has your computer been behaving strangely lately? Is your PC really slow? Or has Windows stopped responding?
Back up data
Back up all your data. Locally or on the network, including Cloud support (WebDAV or CIFS shares). We recommend: Regularly create a complete image backup of your entire hard drive!
Clone hard drives
Is your hard drive displaying errors? Clone any hard drive to an at least equally large drive – corrupted blocks are read multiple times and can often be restored.
Virus Scan
Erratic behavior on the part of PCs is often caused by malicious software. Find and remove it, even if these pests can't be deleted in Windows! Contains technology from Avira!
Share drives
All drives connected to your computer can be shared as Windows network drives, giving you access to them from any computer on the network.
Recover data
Track down and restore accidentally deleted files such as photos, videos and text documents on your disks. Also helps in case of accidentally formatted hard drives!
Delete a hard drive
Looking to sell a computer or hard drive? Can't remove a persistent virus from your hard drive? With the First-Aid Kit, you can irreversibly delete all saved data.
The SecuPerts First Aid Kit
Your Windows doctor and emergency physician for data in danger of being lost!
Typical uses include
– Windows doesn't boot up anymore
– You misplaced your computer's password
– Trojans, malware, viruses or other malicious programs prevent you from being able to access your computer
– You want to recover your data!
Please note
If you want to back up data, the backup should always be done on a separate disk. When you load our software from a DVD, you'll need e.g. an external USB hard drive. If you load our software from a USB stick, the free space remaining on the USB stick itself is reserved for data recovery.
Our software uses about 5 GB of space per USB stick. So a 16GB USB stick offers over 10 GB of space to save or back up your data. Consequently, we recommend that you start with the First-Aid kit on a USB 3.0 64 GB stick. That way, you can store all your important data directly on the stick – and lightning fast, thanks to USB 3.0.
The SecuPerts First Aid Kits
Offers ultimate protection for other difficult situations as well
Edit registry
The First Aid Kit also features a Registry Editor. This allows you to undo incorrect changes or settings in Windows' registry.
Emergency workplace
PC down at work, but you desperately need to use it? Our Emergency Desktop can help: from e-mail, word processing, spreadsheets to multimedia features…it's all included.
Remote maintenance
If you need help using our software, thanks to the "TeamViewer" software you can have a friend or acquaintance view your computer over the internet.
Key features
– Data recovery at file level from external drives, internal drives, network drives or cloud storage when Windows will not start but the file systems are undamaged / slightly damaged
– Data recovery at file level of shadow copies (normally hidden) on NTFS drives
– Data recovery at block level from corrupt file systems, accidentally quick-formatted storage devices or bad blocks
– 1:1 cloning of hard drives – also works with damaged hard drives that already have bad blocks
– Virus detection – even when particularly stubborn malware deactivates the virus canner in Windows, the virus scanner can help in a live system
– Secure deletion of data from hard disks before a computer is sold or thrown out, to prevent data falling into the wrong hands
– Network data recovery when Windows will not start and no external hard drive is available – enable access to a hard drive on a malfunctioning PC with the First Aid Kit and use another Windows or Mac computer to find, view and copy folders and files
More rescue tools
– Reset forgotten Windows passwords
– Reset shell entries in the Registry (e.g. ransomware, shell experiments)
– Registry Editor
– Convert hard drives to images for virtual machines (e.g. when a computer is about to be replaced but some old Windows programs will still be used)
– Backup data on DVD
– Detailed recovery at block level
– Locate partitions (e.g. when an attempt to change partitions goes amiss)
– Detailed health reports, particularly for hard drives and SSDs Remote access (client and server) – if you don't know what to do, simply ask a friend to help, or conversely, solve your old Auntie's PC problems using TeamViewer, SSH or VNC
Desktop mode
– No problem if Windows Recovery is very slow or it's time for a new installation. First Aid Kit offers a fully-functional desktop with a mail client, a browser, office applications, a media player and even games, which avoids the necessity to get Windows working properly again in a hurry or to access the internet with a possibly insecure system.
– Bonus: When installed on a USB device, the home directory can be encrypted and stored on the USB device so that login details (e-mail) can be saved, IMAP caches are always available and Firefox Sync can be used to synchronise bookmarks and passwords with the desktop browser.
– Additional products: Truecrypt, Passwort-Manager, Hex-Editor, FTP-Client
Download First Aid Kit Boot ISO