Portable GoldWave 6.77 (x64)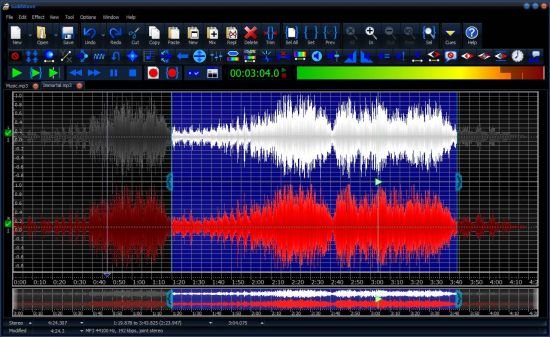 GoldWave Portable is a comprehensive digital audio editing software that offers a wide range of features and capabilities to its users. It is designed to provide all the tools needed for professional audio production, music composition, and sound design.
The software is suitable for both novice and professional users who want to edit, process, and record audio files. Its user interface is easy to navigate, with a clean and intuitive layout that allows users to quickly access all the tools they need.
GoldWave Portable supports almost all popular audio formats, including WAV, MP3, FLAC, AAC, and many others. It also offers advanced features such as real-time previewing, noise reduction, audio restoration, and audio analysis.
One of the most noteworthy features of GoldWave is its ability to process large audio files with ease. The software can handle files up to 4GB in size and can even edit multiple files simultaneously.
In addition to basic editing functions such as cut, copy, paste, and delete, GoldWave offers a plethora of effects and filters that can be applied to audio tracks. These include EQ, compressor, reverb, chorus, flanger, and many others. Users can also create their own custom effects using the built-in Effect Editor.
GoldWave's batch processing feature is particularly useful for users who need to apply the same effect or filter to multiple audio files at once. This feature saves time and effort by automating repetitive tasks.
The software also includes a spectrum analyzer that provides a detailed visual representation of audio frequencies. This feature is extremely useful for audio engineers and producers who need to analyze audio signals in detail.
GoldWave's recording capabilities are also impressive. It can record audio from any source, including microphones, line-in, and streaming audio. The software also includes a timer function that allows users to schedule recordings in advance.
Another notable feature of GoldWave is its support for VST plugins. Users can extend the functionality of the software by installing third-party plugins that offer additional effects and filters.
In terms of usability, GoldWave offers a range of keyboard shortcuts and customizable hotkeys that allow users to quickly access frequently used functions. The software also includes a comprehensive help system that provides detailed instructions on how to use each feature.
Overall, GoldWave Portable is an excellent choice for anyone who needs a powerful and versatile audio editing software. Its extensive feature set, reliable performance, and user-friendly interface make it a top choice for both amateur and professional users alike. Whether you're editing music, creating sound effects, or producing podcasts, GoldWave provides all the tools you need to achieve your goals.
Play all your favourite songs
Watch real-time visuals. Listen to the audio while fast-forwarding or rewinding. Change the playback speed to hear your music in a whole new way, or to learn a song by ear, or transcribe dictation.
Record any source
Select the microphone, line-in, streaming audio or what you hear (loopback) built-in inputs. Connect a turntable to record LPs, a cassette deck to record tapes, a receiver to record radio, or a high-end USB microphone to record your own music, speeches, or reports. Set a timer to start recording at a certain day and time. Use level activated recording to continue and pause recording automatically whenever the signal is above or below a given level.
Edit audio with all the familiar commands
Includes Cut, Copy, Paste, Trim, Replace, and Overwrite. GoldWave's fast virtual editing means you can slice, dice, and merge large audio files in seconds. Mix and Crossfade songs together with just a few clicks. Combine audio for podcasts, radio spots, PowerPoint presentations, or music for dance programs, figure skating, gymnastics, and aerobics.
Apply over 40 different audio effects
Adjust bass or treble with the Equalizer. Even out volume levels with Auto Gain. Easily fade in and out background music with Voice Over. Replace profanity with beeps or other sounds with Censor. Add echoes, reverbs, flangers, and much more. Change the pitch of your voice or make it sound mechanical for unique video game expansions. Preview effects real-time before processing them. Most effects include presets for commonly used settings so you don't have to be an audio expert.
Remaster old vinyl or tape recordings
Use Noise Reduction and Pop/Click filters to clean up the audio and take out the buzz, hiss, crackle, and clicks. Use the Spectrum Filter for precise control over frequency and tone. Remove offsets and long silences.
Analyze audio with real-time visuals
View spectrograms, bar graphs, waveforms, level meters, and other useful graphs. Instantly see any audio problems during recording and playback. Isolate that high pitch whine or low rumble by sight, making filtering much easier. Demonstrate engineering and mathematical concepts, such as filters, Fourier transforms, and signal processing. Analyze human speech, bird song, whale song, engine noise, and other interesting sounds.
Includes a collection of powerful tools
Copy audio directly from an audio CD with the CD Reader tool. Join many files together with the File Merger tool. Generate your own sounds and effects using the Expression Evaluator tool. Chain together effects for faster processing or create new effects using the Effect Chain Editor tool. Bookmark places within the file using the Cue Points tool, or split a long file into pieces defined by cue points. Create audio versions of websites, books, and other text documents with the Speech Converter tool so you can listen to them while doing other things. Dictate into a microphone to transcribe the text. Proofread your writing.
Process hundreds of files in a few clicks
Use Batch Processing to process and convert your complete library of songs: match volume levels of different songs, boost the bass, trim leading and trailing silences, convert to MP3, and much more. Supports iTunes, m4a, wav, wma, mp3, ogg, aiff, au, vox, FLAC, and even raw binary data. Entire folders and subfolders can be processed with just a few clicks and the entire hierarchy preserved. Advanced users can take advantage of the power and flexibility of command line processing.
Very configurable
Assign your own keystrokes for almost any function in the program. Perfect for anyone with fast fingers or visual impairments. Arrange the windows, tool bars, effect bars, and controls the way you want. Change colours of the waveform and some of the visuals. Create your own presets for effects. Add plug-ins for more functionality.
GoldWave Portable can do:
• Play, edit, mix, and analyze audio
• Record audio from cassettes, vinyl records, radio, etc. through your computer's line-in
• Record dictation through a microphone or play dictation back at a slower speed for transcription
• Record and edit audio for podcasting
• Apply special effects, such as fade, equalizer, doppler, mechanize, echo, reverse, flanger, and more
• Digitally remaster and restore old recordings with noise reduction and pop/click filters
• Make perfect digital copies of audio CD tracks using the CD Reader tool and save them in wma, mp3, ogg files
• Edit music for dance programs, figure skating, gymnastics
• Analyze human speech, bird song, whale song
• Demonstrate digital signal processing with filter effects and the expression evaluator tool
• View a variety of real-time visuals and VU meters
• Convert files to/from different formats, such as wav, wma, mp3, ogg, aiff, au, vox and even raw binary data
General Features:
• Multiple Document Interface for working with many files in one session
• Huge file editing: 4GB and beyond (NTFS only)
• Configurable RAM or hard drive editing
• High quality: 24 bit, 192kHz
• Real-time visuals: bar, waveform, spectrogram, spectrum, VU meter, …
• Fast non-destructive editing. Cut, copy, delete, and undo take only a fraction of a second, regardless of the file size
• Multiple undo levels
• Many effects: distortion, doppler, echo, filter, mechanize, offset, pan, volume shaping, invert, resample, equalizer, time warp, pitch, reverb, volume matcher, channel mixer, …
• Effect previewing and presets
• Audio restoration filters: noise reduction, pop/plick, smoother
• Supported file formats (wav, mp3, ogg, aiff, au, vox, mat, snd, voc, raw binary data, text data, and more)
• File format plug-ins for the next generation of audio compression, such as WMA, Ogg Vorbis, and FLAC.
• DirectX Audio Plug-in hosting
• Effect chain editor
• Audio CD Reader
• Batch processing and conversion
• Drag-and-drop cue points, with auto-cue and file splitting features.
• Direct waveform editing with the mouse
• Customizable tool bars
• Customizable waveform colours
• Several built-in accessibility features and keyboard shortcuts
Goldwave Portable Release Note:
 Added language info in About form.
Added confirmation when dragging-and-dropping more than 10 files.
Added ISO-8859-1 / ANSI option to CD ID form to allow proper reading of older non-UTF8 CD database entries.
Reworked Multi Device Recorder to resolve numerous issues.
Added cue export prompt to File Merger.
Integrated BPM Counter plug-in as Tempo visual and added difference calculation between two tempos.
Fixed bugs: 'Skip' settings translation, Digital Time alignment, clipboard rate in some effects.
Download GoldWave Portable