Portable JJazzLab 3.2.1 (x64)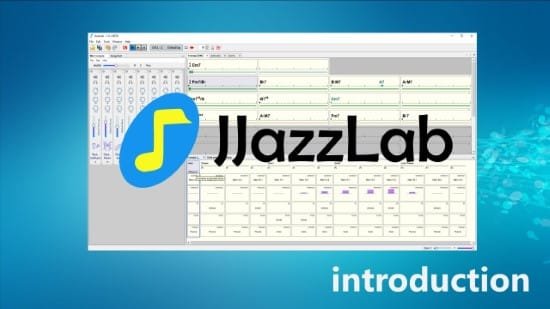 Music is an important part of a lot of people's lives, so it makes sense to have numerous software solutions dedicated to various audio tasks. JJazzLab is one of the utilities created for those who need to create backing tracks for their songs.
Explore sample tracks
If you are a novice, it is recommended to explore the sample songs, in order to fully understand and appreciate the functions of the application. Furthermore, you should take the time to follow all the instructions related to installing and configuring the app when you first launch it (you might be required to download additional libraries).
Once the main window is up and running, you can select one of the available songs and analyze it, get familiarized with the track's parameters and start adjusting them little by little.
Create backing tracks
The main purpose of JJazzLab is to help you generate backing tracks for your solos and improve your skills while also having fun improvising. You can use this app to build up the song's feel with rhythmic accents and chord anticipations, just like you would do if you were playing with a real-life band.
When you want to transpose a song, you only need to mark all the needed chord symbols (either all of them, or only a few), then right-click and initiate the transposing.
Practice your instrument
Alternatively, you can practice your instrument by selecting only a few chord symbols to start with, then choose the rhythm and begin exercising. When you are ready to move on to more advanced settings, you can move sections around the song structure or add intensity variations.
A simple and powerful user interface
You want to practice your instrument on a few chords ? Type in the chord symbols, pick up a rhythm, and press start, it's a matter of seconds. You want more variety ? Use the song structure editor to reorder sections or introduce rhythm and intensity variations.
Based on the JJazzLab-X open-source platform
JJazzLab relies on JJazzLab-X, the open-source platform dedicated to backing tracks generation. JJazzLab-X is designed so that third-party developers can easily extend it with new features and new rhythm generation capabilities.
Release Note:
Learn faster with tempo auto-increase
Select some measures you want to practice, JJazzLab plays them slowly then gradually increase the tempo at each loop.
Toggle compact/full view in song structure editor
Use the new button (or press V) to switch between the full view or the compact view which hides some rhythm parameters.
New Drums Transform rhythm parameter
For example make the hi-hat louder in the intro song part, or add a tambourine phrase in 1-click.
New Custom Phrase rhythm parameter
For example use your own bass line for the chorus song part.
Notes viewer
See notes of the selected chord symbol on a piano keyboard or using guitar diagrams. See real-time notes from the backing track.
User tracks
For example add a melody to your song.
(Pseudo) Arranger keyboard mode
Select a song part, press the Arranger Play button and JJazzLab will recognize the chords received on Midi input and update the backing track accordingly.
Improvisation help
JJazzLab generates guidelines in your chord leadsheet for selected improvisation exercises.
And many more…
Midi remote commands, Midi file export via drag & drop, adjust audio latency, new keyboard shortcuts, etc.
Download JJazzLab Portable