Portable JPG To PDF Converter 6.6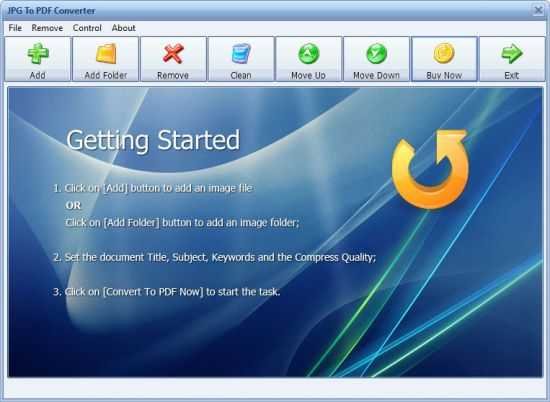 JPG To PDF Converter Portable is a handy and powerful windows utility that quickly convert multiple images into a single pdf document. With JPG To PDF Converter users can create pdf files from image formats like JPG, GIF, BMP, TIF, PNG and PSD.
Features
The PDF format is one of the highly accepted formats in the digital media. The JPG to PDF converter software is a windows utility that offers an option to convert JPG images into a single PDF file.There are a wide range of applications of using this software. For example, most of the presentation in the business world and universities are in PDF formats. If you like to attach the images to the PDF file, then you would need this conversion software.
Simple User Interface
JPG To PDF Converter is made from complex programming but the interface offered to the user is very simple. All it takes to convert the images from various formats such as GIF, JPG, TIF, PNG and others to a single PDF file is just a few steps away. The required images need to be added to the software and the specifications for the output file can be selected. Then by the click of the 'Convert' button, the images are quickly converted to one PDF file.
Customization
Apart from just converting the files from other image formats to a single PDF file, JPG To PDF Converter also offers the feature of customizing of the PDF file. This is highly helpful in making good presentations of PDF files. The title of the PDF file, the subject and the creation date can be changed according to your requirements. In case you wish to change the keywords used in the PDF file, using the JPG to PDF converter software the keywords used can be changed. The images in other formats are large in size and hence would be difficult to share. Using the JPG to PDF convertor software, the PDF quality can be adjusted during the conversion process. When you choose the high quality PDF option, more pixels are added to offer better clarity to the images in the PDF file.
Supports Many Formats
JPG to PDF converter supports many image formats such as TIF, PNG, GIF and others. Each format offers its own quality of image.These high or low quality images can be converted and compressed into one PDF file by using this convertor software.The software offers a compression rate of 2.6% and a batch mode can be selected to convert multiple images at the same time to one single PDF file.
Download JPG To PDF Converter Portable