WinPE Nasiboot v16 Pro 2022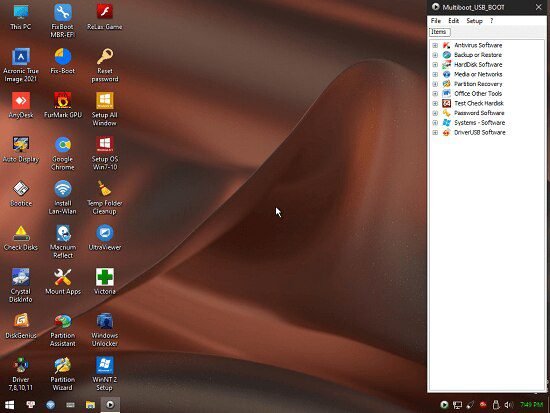 Nasiboot 2022 is a multipurpose Boot disk to use to boot into WinPE in case of emergency when our computer has a problem. Can't get into windows or fix various problems It is bootable in both Legacy and UEFI versions. There are two versions of WinPE to choose from, Win10PE x64 and Win11PE x64. It is a bootable disc that includes all the necessary programs for troubleshooting computer problems such as data recovery, hard disk management, backup, hard disk health check, Windows password change. And so on, etc. This boot disc is made by Vietnamese, but the UI inside of both Windows and program is almost 99% English, but there may be one or two small software programs in Vietnamese. but the main program will be all english
Features:
Support boot standard Legacy and Uefi according to Microsoft standard

Run the setup.exe file from the installer supporting Gen 11,12 and pass By pass Window11

All WinPEs are built from the latest Windows.Win10PE is built from 21H2 19044,Win11PEE is built from Window11 22000,376

Get sound on Gen11 and 12 with Touchpad integration on all new models
Automatically receive Wifi and enter the password if the password is saved on the device.
Super small WinPE kernel and very fast Boot can run Ram from 512m to 1gb
And more.
Nasiboot Plus Extended Features
Integrations: Camera, Mtp_Phone Connection, Rndis-Share DT, Bitlocker, Direct X, Net Framwork, Visual C++, Iscsi Server Connection, 50 Machine Support, Gen11, 12, AMD Raid, SMB1_Network Sharing, Sound Microphone, AutoNumlock PC or Laptop etc.
– Support for iSCSI disk storage technology
– Support SMB1 LAN Sharing
– Support printer, fax, camera, camera
– Support Phone Connectivity (MTP) Phone Data Exchange
– Support connect to phone (RNDIS). General access to the telephone network
– Support for Bitlocker and Disk Fix
-Blooth share support
– Test microphone support
– Support for Netframwork 2.0, 3.5, 4.8 using finicky tunneling software products like Ultraivieu, easyBCD, .Vvv.
– Fix Visual C++ version V10. Photostore launch, Office 2010.
– DrexX sound support, play games
– Lenovo toupad support. And Raid Amd
– Rst V19 update for Intel 400 500 600 chip
– Autonumpock for desktops or laptops
– Separate integration of USB 3.1, 3.2 and M2
Nasiboot v16 Pro features
-All software is updated and new software is integrated with new code
-Support to install Windows 7-11 with 1 Click and after installation will automatically install Network Driver, Sata, ahci, Toupad only with the new version
– Integrated Micorsoft Net Framework hard no longer eats into Ram
-Integrating Visual C++ 2005 to 2021 for graphics software
– Integrated Camera ,Ultrawier,,Microphone,Mstsc ,Apps store contains nearly 2000 SOFTWARE
-Team Viewer, IDM automatically catch Link Youtobe,Appstore,Office 2007,photoshop
– Support connecting phone and sharing network from phone to computer
– Supports ISCSI disk storage technology to connect to the server
– Support Phone connection(MTP)Share data via phone
– Support phone connection (RNDIS).Share phone network
– Support Function Unlock Bitlocker(Need Key),On and Off Bitlocker and Fix disk
– Support DrexX audio, play games (Install Vga Driver)
– Support on Toupad Lenovo and Raid Amd, Gen11 and 12
– Update Rst V19 for intel chip gen 400,500,600
– Autonumpock desktop or laptop, automatically connect to Wifi, fill in the password with the sound kernel on Gen11
– Integrated USB 3.1,3.2 M2 Toupad and Sata Intel and AMD separately
– Installing VGA Driver with Intel, AMD, Nivia series
What's NEW:
-Fix errors in Report software from brothers and update new Apps
-Change the whole PE Component structure and how to install DRIVER AND APPS
-Add Bitlocker On and OFF function on WinPE (Note not to abuse On Bitlocker function)
-Update all Microsoft Drivers to add digital signatures to be able to install any Windows 10 and 11
-Separate APPS On to reduce RamPE to speed up boot, along with Right-click menu to adjust DPI resolution for SD,HD,FHD,2K,4K,8K
-Repair Code to install Window7-11 automatically 1 click after installation will install Driver Toupad,Lan,wlan,Sata etc.v
-Added Driver Mod USB3-SATA-AHCI-NVME For Win7,8 installed for high configuration machine (Note only applies 1-click installation of Nasiboot)
-Added driver Intel, AMD standard Microsoft updated 2022 and removed its Driver
– Intel and AMD 11th and 12th generation RAID hard disk mode support
– Support: Intel_11, 12th generation platform laptop touchpad
-Add the function of Installing Window 10.11 on Gen 11,12 from Setup.exe to bypass By Pass ,Bitlocker and install Driver Gen1,12 by yourself (Note: Wishing to bypass Bitlocker only test a few cases that have not been tested thoroughly)
– Fix Admin switch on Winpe11 as fast as PE10
-Update Bootx64.efi,Grub4EFI of Linux to support good BOOT on new machine
Download Nasiboot WinPE