NHV BOOT 2023 v1500 EXTREME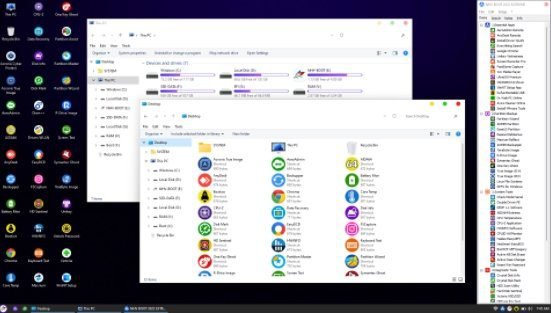 NHV BOOT 2023 Computer rescue toolkit with modern design, extremely fast boot speed, compatible from old computers to the latest computers. NHV BOOT 2023 brings many advanced features to everyone to be able to solve computer problems, especially suitable for Engineering – IT. NHV BOOT every detail is meticulously cared for by the author with an intuitive interface aimed at all users.
NHV BOOT WinPE is a powerful tool that can help you diagnose and fix issues with your computer. This tool is designed to run from a bootable USB drive, and it provides users with a variety of diagnostic and repair options.
When you first launch NHV BOOT WinPE, you'll be greeted with a simple interface that presents you with several options. One of the most important features of this tool is its ability to scan and repair your computer's hard drive. Whether you're dealing with corrupted files or bad sectors on your disk, NHV BOOT WinPE can help you get your system back up and running.
NHV BOOT WinPE also includes several other useful tools, such as a registry editor, a file manager, and a command prompt. These features can be especially helpful if you need to perform more advanced tasks, such as editing system files or running commands to troubleshoot specific issues.
One of the greatest advantages of NHV BOOT WinPE is its versatility. It can be used on any Windows-based PC, regardless of the make or model. Additionally, this tool supports both 32-bit and 64-bit systems, so it can be used on older machines as well as newer ones.
Another key feature of NHV BOOT WinPE is its ability to detect and remove viruses and malware. By scanning your system for malicious software, this tool can help you eliminate threats that may be slowing down your computer or compromising your personal data.
Overall, NHV BOOT WinPE is an essential tool for anyone who needs to diagnose and fix issues with their computer. Its intuitive user interface, comprehensive diagnostic tools, and ability to run on any Windows-based PC make it a reliable choice for both novice and advanced users alike.
Modern design
NHV BOOT 2023 with a completely new and modern design style. Every detail is carefully taken care of
Cross-platform support
NHV BOOT 2023 supports cross-platform from old to new computers. Support Windows, macOS, Linux operating systems
Premium features
NHV BOOT 2023 is full of the most advanced rescue features. Full professional software
WinPE boot speed
NHV BOOT 2023 with very fast boot speed. WinPE works extremely stable . Guaranteed processing
Optimizing the experience
NHV BOOT 2023 is designed to suit all types of users. Always bring the best experience!
SPECIAL FEATURES NHV BOOT
– Support booting according to 2 boot standards UEFI and Legacy
– Includes versions of Win11PE (64-bit) Win10PE (64-bit) Win10PE (32-bit)
Full of advanced rescue software, always updated with new versions
– Supports all generations of computers from the old to the newest
– Very fast boot and loading speed on all WinPE versions
– WinPE interface is designed to be intuitive, synchronous, and modern
– Support to install Windows 11 bypass with Setup.exe. Bypass TMP 2.0 and Secure Boot
– Supports NVME hard drive recognition of Intel Gen 11 AMD 5000 Series computers
– Automatically add NVME IRST Intel Gen 11 driver when installing Windows with Setup.exe
– Identify Apple SSD hard drives, TrackPad, Wifi on new MacBook laptops
– Supports reading and writing APFS macOS, Ext4 Linux partitions
– Support to unlock Bitlocker in WinPE requires a password or recovery key
– Supports unlocking computers with passwords, fingerprints, Microsoft accounts and Domains
– Win11PE (64-bit) Win10PE (64-bit) with many features automatically recognize LAN + Wifi
– Win11PE (64-bit) Win10PE (64-bit) can be used well on UEFI 2GB Ram machines
– NHV BOOT has support for the latest 11th gen Intel CPU laptop touch screen
– Have Anydesk and AeroAdmin to help control remote support connection via WinPE
– Support UEFI 32bit boot with Win10PE 32bit for some supported machines (secure boot is off)
– Modern Wifi connection interface, connection speed is much faster than other boot versions using PE Network
– Support to receive touchpad for the latest laptops gen 11 or older
– Support to receive Intel Gen 11 and AMD 5000 Series laptop audio
– Modern boot menu and app icon design, completely different from other boot versions
Full of advanced features suitable for Engineering / IT and everyone
– Regular update support to ensure that the software in NHV BOOT is always the latest
Extreme Edition:
Support booting according to 2 boot standards UEFI and Legacy

Supports all generations of computers from the old to the newest

Boot speed on all WinPE versions is very fast

WinPE interface designed intuitive, synchronous, modern

Support to install Windows 11 bypass with Setup.exe in

ISO

file

Identify hard drive NVME Laptop Intel Gen 11+ 12+ AMD Series

Automatically add NVME Intel Gen 11+ 12+ driver when installing Windows

Modern Wifi connection interface. Internet connection speed is very fast

Support to receive touchpad on most new or old laptops

Advanced rescue features, full software and tools

Support most WiFi + LAN drivers. Networking in WinPE

Change the background image on all versions of WinPE

Support reading and writing APFS macOS partition, Ext4 Linux

Screen Recorder (screen recording) WinPE

Unlock Bitlocker WinPE required ( Password , RecoveryKey )

Support to receive Intel Gen 11+ 12+ & AMD Laptop sound

Unlock password, fingerprint, Microsoft account & Domain

Compatible with most Apple computers (MacBook, iMac…)

Boot UEFI 32bit with Win10PE 32bit for some supported machines

Support regular updates. Update new features

User manual or technical support NHV BOOT 24/7
What's NEW:
WinPE is more optimized, more features and guaranteed stability
Support viewing .tib .tibx file content ( Acronis ) in WinPE
Upgrade LAN + Wifi driver package to the latest version
Update VMware Tools 12.1.0 ( EXTREME version only )
Anydesk 7.1.13 .
AIDA64 6.88 .
AOMEI Backupper 7.2.3
FastStone Capture 10.1 .
CPU-Z 2.06 .
CrystalDiskInfo 9.0.1a
Hard Disk Sentinel 6.10 .
HWiNFO64 7.51 .
Macrium Reflect 8.1 7544
R-Drive Image 7108 .
EASEUS Partition Master 17.8 .
AOMEI Partition Assistant 10.0
Acronis Cyber Protect Home Office 40338 .
TeraByte Image for Windows 3.60
WinNTSetup 5.3.1 .
APFS for Windows 2.1.110 .
Linux File Systems 5.2.1183
DiskGenius 5.5.0.1488 .
IceCream Screen Recorder 7.25 .
HWMonitor 1.51
EasyUEFI 5.0.1 .
SoftMaker Office 2024 .
Snappy Driver Installer 1.23.5
Download NHV Boot Extreme