Portable App Builder 2021.53 (x64) Multilanguage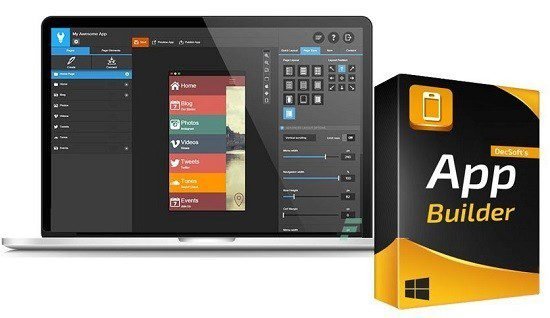 App Builder Portable is an advanced yet user-friendly software utility whose purpose consists of helping people create their own HTML5 programs, even if they lack advanced knowledge in the field, as they will not be required to write a single line of code, if they do not want to. App Builder provide us with dozens of visual and non visual controls we can simply drop it in the application's designer. Timers, HTTP Clients, Text Inputs, Push Buttons and many more controls ready to use.
Initially intimidating yet accessible interface
In what concerns its appearance, the tool may seem a bit cluttered at first, seeing how all of its panels, 'Tools', 'Actions', 'Objects', 'Views', and others, are displayed on the right, left and lower edges of the main window, thus leaving little space for the working area.
However, all the panels can be pinned or unpinned from the window, allowing users to place them anywhere on the screen. Once developers figure out which components they have the most use for, they can easily close all others.
HTML5 visual app design with nothing but a couple of mouse clicks
App Builder Portable relies on the concept of visual programming, thus requiring no code writing to take place. It allows users to create applications in any set of height and width values, centered horizontally or vertically, as well as make them scalable.
With the help of the 'Tools' and 'Actions' panels, users can insert various 'Containers', 'Buttons', 'Inputs', 'Contents', 'Tasks', 'Databases', 'Media', 'Non-Visuals' or 'Design' elements, as well as 'Timer', 'Views', 'Control', 'Arrays', 'Watcher', 'Variables', 'Sensors', 'Strings' and other 'Functions', with just a click on the targeted item, then on the working area.
Each new item can be customized in terms of 'Behaviour', 'Style', 'Hover' and 'Focus' preferences. Once users consider they have finalized their application, then have the option of debugging it, from the 'Run' menu, to identify any possible issues, then they can 'Build' it, generating the output result.
If you want to create modern desktop and mobile apps you're in the right place! DecSoft App Builder is a professional visual development environment to create HTML5 apps, WebApps, Progressive WebApps, Web Extensions and Hybrid apps for the modern mobile and desktop browsers, as well platforms like Google Android, Apple iOS and Microsoft Windows.
Languages
The DecSoft App Builder apps are based in HTML, CSS and Javascript. These are the languages that you must know (more or less) in order to create modern apps that run in all the mobile and desktop browsers, as well platforms like Android, iOS and Microsoft Windows. All with the same base code! This is a big reason to choose DecSoft App Builder.
Visual designer
App Builder Portable provide us dozens of visual and non visual controls ready to be placed in the application's designer. Simply drag and drop the control that you need into the designer and then place it where you wanted.
Contextual help
DecSoft App Builder has a contextual help that point you exactly to the control, property, event reference, etc. Just press the F1 key where you are in the IDE. For your convenience, the help is also available online in: getappbuilderhelp.com
Apache Cordova
DecSoft App Builder is integrated with Apache Cordova and prepares for your app the right config file, platform icons, splash screens, batch files, shell files and JSON files. DecSoft App Builder integrates also the officials Apache Cordova plugins.
Quick code list
The DecSoft App Builder code editors provides the Quick code list for your convenience. The Quick code list helps you to write Javascript code more faster, providing all the available controls properties, methods and more.
App Files manager
The DecSoft App Builder IDE incorporates the right Files manager for your app, so you can link Javascript and stylesheet files, but also add images, other files (like JSON files) and even entire directories, to be available in your app at runtime.
User Functions
In addition to the available app methods and the methods provided by the app views, app dialogs, app frames, the Apache Cordova plugins methods, and, all the possible controls that you can use, its also possible to setup your own User Functions in order to be available for your app at runtime.
Auto scale apps
There are many themes availables for your app, and, you can also set the fixed and scaled styles, even at runtime. The auto scale style made the app properly show in different screen sizes.
Whats New:
* Fix an bug if we try to access the app variable (properties, methods, etc.) from an app user function called from the app's Mounted event. Before this fixed error we can't access the app variable (properties, methods, etc.) from an app's user function if this function is called from the app's Mounted event.
* Fix an annoying bug which causes that the IDE main form caption change to the number of app user function's arguments total and index when we click into the arguments list of the user function: this information is useful for the IDE internal debugging purpose, but not in other case, like in a program release.
* Remove Apache Cordova StatusBar plugin: "app.cordova.statusbar.styleBlackTranslucent" and "app.cordova.statusbar.styleBlackOpaque" deprecated methods. We can use the already available method "app.cordova.statusbar.styleLightContent()" instead of the deprecated methods.
Download App Builder Portable