Portable Universal Viewer Pro 6.7.8.0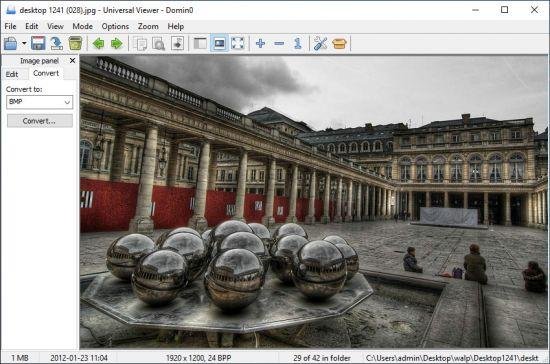 As the name implies, Universal Viewer Pro is a software program which allows you to view the content of various file types, including PDF, RTF, BMP, JPG, GIF, DOC, XLS, AVI, MPG and MP3, just to name a few.
The interface of the program is clean and pretty intuitive. Files can be loaded into the working environment by using either the file browser, folder view or "drag and drop" functionality.
So, you can use the standard select, copy and paste functions, as well as search and go to. Universal Viewer Pro provides several viewing modes for files, according to their type – text (e.g. word wrap, encoding), image (e.g. show EXIF details, center picture) or Internet (e.g. offline browsing).
In addition, you can switch to full screen mode, make Universal Viewer Pro stay on top of other applications, manage plugins, customize the toolbar and configure user tools, zoom in and out, as well as manually edit the initialization file.
Universal Viewer Pro contains user documentation, has a good response time, and supports keyboard shortcuts. We have not come across any issues throughout our evaluation; Universal Viewer Pro did not hang, crash or pop up error dialogs. To conclude, Universal Viewer Pro comes packed with the necessary and suffice elements for viewing the content of a wide range of file types.
Supported file formats are:
Images: all major graphics formats: JPG BMP ICO GIF PNG WMF TIFF PSD…, over 40 formats. Also RAW images from 400+ cameras are supported.
Multimedia: all major media formats: AVI MPG WMV MP3 MP4 FLV MKV…, over 170 formats.
Word: file types of MS Office Word: DOC DOCX.
Excel: file types of MS Office Excel: XLS XLSX.
PDF: Adobe PDF format, plus DJVU XPS CBR CBZ.
RTF: Rich Text format.
Internet: all file types supported by MS Internet Explorer: HTML XML MHT…
Text: text view for unknown file types. Files of unlimited size can be shown (even 4Gb+ sizes are allowed). All major text encodings supported. Unicode/UTF-8 views are present.
Plugins: all file types supported by Total Commander Lister plugins.
For Word/Excel/PDF files, no additional software is needed to view these files. MS Office/Adobe Reader/etc may be not installed at all. For multimedia files, no external codecs are needed too.
Universal Viewer Pro differs from the Universal Viewer Free, it has more powerful viewers. Additional features/changes are:
support for Word, Excel files (including DOCX XLSX). MS Office not needed.
preinstalled PDF plugin. Adobe/Foxit Reader not needed.
new multimedia player, which supports over 170 formats. External codecs not needed. (UV Free only shows multimedia files which are supported by Window Media Player engine).
support for complex RTF files (with images, tables…).
support for RAW-images (from 400+ cameras).
image panel with "Convert to" feature.
options added:

option "Fit window to media size" for media mode
search option "Highlight all matches" for text mode
Whats New:
Added: High-DPI support
Fix: Removed leftover NavPanel toolbar icon
Download Universal Viewer Portable