Portable TreeSize Professional 9.0.2.1843 (x64) Multilingual
TreeSize Professional Portable is a powerful and flexible disk space manager for Windows 2003/2008/XP/Vista/7/8/10/11. Find the largest folder on your drive and restore megabytes of your hard drive. TreeSize Professional displays the sizes, used and wasted space, file counts, 3D graphs, last access dates, file owners and permissions, NTFS compression ratios, and much more for multiple selected folders or drives. display.
It can also be used to scan your entire drive, server, or network looking for old, large, temporary or duplicate files. Search results can be moved, deleted, or exported. The application has an intuitive interface similar to Explorer, is fast, multi-threaded, supports Unicode and scheduled scanning.
You can print detailed reports or export collected data to Excel, HTML, XML, or text files. TreeSize Professional can be launched from the context menu of any folder or drive.
Why TreeSize Professional Portable:
– Manage and clean up disk space efficiently
– Visualize disk usage
– Detailed analysis, right down to the lowest directory levels
– Find and remove redundant files
– Numerous export and reporting options
– The versatile duplicate file search
Manage disk space and scan your hard disks
Find the largest folders on your drive and reclaim valuable disk space. Use TreeSize Portable as your disk cleanup tool. Find space pigs and remove them. Graphical analysis allows you to quickly visualize disk space usage. TreeSize Professional displays folder size and used storage space, owner and permissions, last access date, NTFS compression ratio, and more information for the selected folder or drive.
Search for Redundant Files
The integrated versatile file search helps you find old, big, temporary, and duplicate files on drives, entire servers or the entire network. Search results can be moved, deleted or exported to a ZIP file.
Print, Export, or Compare Results
You can print detailed reports and charts or export the collected data to many different formats such as XML, XLS, TXT, CSV and many more. Compare XML reports or take shapshots of your disk space usage to track its development over time.
The application has an intuitive Explorer-like user interface and supports drag and drop operations. It is fast, multi-threaded, and supports Unicode- and NTFS-specific features. TreeSize Professional can be started from the context menu of every folder or drive.
Efficient Disk Space Management from all perspectives
– See the size of all folders including their subfolders and break it down to the file level.
– Visualize disk usage in the pie or bar chart.
– Tree maps visualize hierarchies and sizes of subfolders in the selected directory.
– Detailed view with single files and additional information (e.g. date of last access).
– Statistics about file types and file owners for every branch.
– Filter the file system tree on the left by a certain user or file type.
– See a list of the 100 largest files.
– Distribution of occupied disk space by file age.
– Scan FTP, WebDAV, and SharePoint servers.
– Disk Space Management on smartphones and mobile devices.
Versatile File Search
– Integrated file search.
– Fully customizable file search.
– Archive, copy, or move the results of the TreeSize File Search, for instance lar, old, or temporary files or files of a certain type.
– Search multiple drives, whole servers and even your entire network neighborhood.
– Search results can be exported, moved, deleted or passed to any executable file or script.
– TreeSize offers a powerful duplicate file search, optionally with MD5 or SHA256 checksums. TreeSize also enables you to easily deduplicate files using hardlinks.
Exporting and Reporting
– TreeSize enables you to export scan results (showing the directory structure) to many different formats such as Excel, XML, HTML, text/CSV file, clipboard, or email.
– Export a list of all files in the scanned folder and its subfolders, for example for use in a database.
Track Growth
– Save the data to an XML file and load it again later.
– See which folders have grown: Compare a saved XML file to a current version of the file system branch, TreeSize Professional displays the difference between the two scans.
– Take snapshots of the current state of disk space usage and compare them with snapshots Windows takes automatically.
Customized Analyses & Views
– Configure displayed columns for the details view, Excel export, text file and printed reports.
– Include and exclude certain files or folders in your scans.
Scheduled Scans
– Command line options allow automatic and scheduled scans of your hard disk (e.g. overnight) and generating reports.
– Comfortable interface simplifies creation and editing of scheduled scans and exports as Windows tasks.
High Performance thanks to Multithreading
– Browse the results during scanning.
– Scan and view several folders at the same time.
– Automatic adjustment of the number of threads that are used for a scan.
Full NTFS Support
– Unicode file and folder names are supported.
– File based NTFS compression.
– Hardlinks and Alternate Data Streams (ADS).
– File paths longer than 255 characters will be found and processed correctly.
– Analyse NTFS permissions.
Perfect Integration with the Windows Explorer
– Explorer context menu supported inside the TreeSize window.
– TreeSize Professional can be started from within the Windows Explorer.
– Drag and Drop is enabled.
– On a Windows Core Server TreeSize can serve as a graphical user interface.
Full Network Support
– TreeSize Professional Portable offers full support for network drives and scans UNC paths like Servershare.
What's NEW in Treesize Portable:
The export from TreeSize is now much faster if it contains the individual files as well as the folders.

TreeSize now also supports the upload of large files (>250MB) to SharePoint.

An unhandled error when scanning Outlook mailboxes has been fixed.

When scanning file systems with symbolic links and mount points, it could happen that a link was incorrectly not followed. This error has been fixed. Unfortunately, this can cause an endless loop again under certain circumstances when scanning user profiles in the file system. If this happens to you, you can exclude the affected paths from the scan using an exclusion filter in the options.

A possible unhandled error when scrolling within lists in dark view has been fixed.

TreeSize now supports folders in SharePoint libraries that have a '+' in their name.

The File search results now returns correct values for the 'Path' and 'Folder Path' columns when searching 'This PC'.

An error could occur when exporting a scan to an index file (.sqlite) with the option to group scans enabled. This error has been fixed.

Security update: Freely configurable content for HTML export is now masked to prevent the introduction of third-party data (cross-site scripting).

When exporting the Details list with many elements, the application could freeze temporarily. This problem has been fixed.

Under certain circumstances, the installation could hang after accepting the license terms. This error has been fixed.

TreeSize can now create new folders with any special characters in the name in SharePoint libraries.

Other minor fixes and improvements have been made.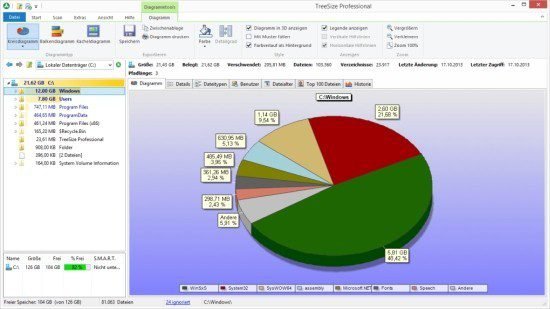 Download TreeSize Professional Portable