Portable TreeSize Professional 8.1.0 (x64)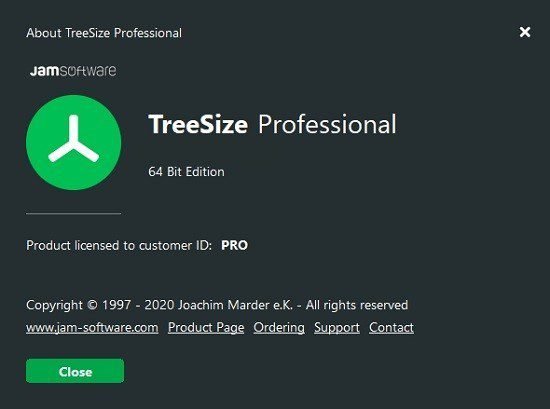 TreeSize Professional Portable is a powerful and flexible hard disk space manager for Windows 2003/2008/XP/Vista/7/8/10. Find out which folders are the largest on your drives and recover megabytes on your disks. TreeSize Professional shows you the size, allocated and wasted space, the number of files, 3D charts, the last access date, the file owner and permissions, the NTFS compression rate and much more information for several folders or drives you choose. It also lets you search drives, entire servers or the entire network for old, big, temporary and duplicate files. The search results can be moved, deleted or exported. The application has an intuitive Explorer-like user interface, it is fast and multi-threaded and supports Unicode and scheduled scans. You can print detailed reports or export the collected data to Excel and to an HTML, XML or text file. TreeSize Professional can be started from the context menu of every folder or drive.
Why TreeSize Professional Portable:
– Manage and clean up disk space efficiently
– Visualize disk usage
– Detailed analysis, right down to the lowest directory levels
– Find and remove redundant files
– Numerous export and reporting options
– The versatile duplicate file search
Manage disk space and scan your hard disks
Find out which folders are the largest on your drives and recover precious disk space. Use TreeSize Portable as a hard disk cleanup tool: find space hogs and remove them. Graphical analyses provide a quick visualization of disk space usage. TreeSize Professional shows you folder size and allocated disk space as well as owner and permissions, the last access date, the NTFS compression rate, and much more information for selected folders or drives.
Search for Redundant Files
The integrated versatile file search helps you find old, big, temporary, and duplicate files on drives, entire servers or the entire network. Search results can be moved, deleted or exported to a ZIP file.
Print, Export, or Compare Results
You can print detailed reports and charts or export the collected data to many different formats such as XML, XLS, TXT, CSV and many more. Compare XML reports or take shapshots of your disk space usage to track its development over time.
The application has an intuitive Explorer-like user interface and supports drag and drop operations. It is fast, multi-threaded, and supports Unicode- and NTFS-specific features. TreeSize Professional can be started from the context menu of every folder or drive.
Efficient Disk Space Management from all perspectives
– See the size of all folders including their subfolders and break it down to the file level.
– Visualize disk usage in the pie or bar chart.
– Tree maps visualize hierarchies and sizes of subfolders in the selected directory.
– Detailed view with single files and additional information (e.g. date of last access).
– Statistics about file types and file owners for every branch.
– Filter the file system tree on the left by a certain user or file type.
– See a list of the 100 largest files.
– Distribution of occupied disk space by file age.
– Scan FTP, WebDAV, and SharePoint servers.
– Disk Space Management on smartphones and mobile devices.
Versatile File Search
– Integrated file search.
– Fully customizable file search.
– Archive, copy, or move the results of the TreeSize File Search, for instance lar, old, or temporary files or files of a certain type.
– Search multiple drives, whole servers and even your entire network neighborhood.
– Search results can be exported, moved, deleted or passed to any executable file or script.
– TreeSize offers a powerful duplicate file search, optionally with MD5 or SHA256 checksums. TreeSize also enables you to easily deduplicate files using hardlinks.
Exporting and Reporting
– TreeSize enables you to export scan results (showing the directory structure) to many different formats such as Excel, XML, HTML, text/CSV file, clipboard, or email.
– Export a list of all files in the scanned folder and its subfolders, for example for use in a database.
Track Growth
– Save the data to an XML file and load it again later.
– See which folders have grown: Compare a saved XML file to a current version of the file system branch, TreeSize Professional displays the difference between the two scans.
– Take snapshots of the current state of disk space usage and compare them with snapshots Windows takes automatically.
Customized Analyses & Views
– Configure displayed columns for the details view, Excel export, text file and printed reports.
– Include and exclude certain files or folders in your scans.
Scheduled Scans
– Command line options allow automatic and scheduled scans of your hard disk (e.g. overnight) and generating reports.
– Comfortable interface simplifies creation and editing of scheduled scans and exports as Windows tasks.
High Performance thanks to Multithreading
– Browse the results during scanning.
– Scan and view several folders at the same time.
– Automatic adjustment of the number of threads that are used for a scan.
Full NTFS Support
– Unicode file and folder names are supported.
– File based NTFS compression.
– Hardlinks and Alternate Data Streams (ADS).
– File paths longer than 255 characters will be found and processed correctly.
– Analyse NTFS permissions.
Perfect Integration with the Windows Explorer
– Explorer context menu supported inside the TreeSize window.
– TreeSize Professional can be started from within the Windows Explorer.
– Drag and Drop is enabled.
– On a Windows Core Server TreeSize can serve as a graphical user interface.
Full Network Support
– TreeSize Professional Portable offers full support for network drives and scans UNC paths like Servershare.
What's NEW:
With our brand-new Consultant License, you can now manage your licenses even easier! The Consultant License is a so-called Named User License. The license is assigned to one person in the licensee's company. This has the surplus value for the named user that he may install the software one after the other on any number of machines in your own company or at different customers', for the period of use. This makes license management less complex. Especially IT-Admins or technicians who work on a variety of different systems will benefit from this new option. Please check our full license agreement for more details or visit our Shop to obtain a license.
Starting with the upcoming version 8.2, TreeSize will no longer support Windows 7 and we will also no longer provide a 32-bit version. For customers who still need one of both, V8.1 will still be available for download in our customer area under "Older Versions".
TreeSize now has a dark mode, i.e. a dark theme for the user interface. Its activation can either be linked to the Windows setting for the dark theme, or it can be switched on and off specifically.
TreeSize now supports the enumeration of ZIP files. To use a ZIP-file, you can use the path to the ZIP file just like a folder.
The option to copy the file list of a file type is now also available for file groups.
The option to generate an expandable Excel report ("File > Options > Export > Excel") now also affects the export of the list of file types, whose file groups are also fold-out. Analogously, such an option can be activated in the TreeSize File Search options for the Duplicate search.
Date values can now also be displayed in the internationally standardized ISO date format.
The File Operations dialog now has an option to preserve the timestamps (creation date, modification date, last access) of files when performing a copy or move operation on the file system.
File search: The new "Templates" function replaces predefined searches like "Oldest files", or "Largest files". A new drop-down list contains a variety of predefined templates that serve as a starting point for a new, fully customizable user-defined search.
File Search: A new "Simple Search" feature has been added to the file search, allowing quick and easy searching of search criteria, similar to the Windows Explorer search box. Benefit from the fast TreeSize search engine, the many supported search targets including the cloud, the numerous export formats for the results and the powerful file operations that can be applied to them.
File search: The user interface for search filters has been completely redesigned to improve appearance and usability. Search criteria such as file name, size, or age can now be freely defined in a central location and even combined as desired.
File search: A new option that allows to display the highest search hit per directory branch in the directory hierarchy has been added. Subfolders or files of a folder are no longer displayed as search results if the entire folder meets the search conditions.
Administrators can now define default settings for various options via the Windows Registry. These will then be used instead of the factory settings when TreeSize is started for the first time or when resetting the options. For easier configuration of these options, administrative templates are available for the Windows Group Policy Editor. More information and downloads can be found in the online help.
Inaccessible paths in the drive list are now shown disabled.
The suggested file name for the export file is now derived from the path to be exported.
TreeSize now displays a warning when moving files or folders from a system directory, as it does when deleting. This also applies to the File Operations dialog.
The batch rename dialog now uses the same sort order for sequentially numbered renames as the user interface.
Folders that are currently being scanned are now also marked with an hourglass icon in the Details list.
Multi-factor authentication (MFA) credentials for SharePoint scans can now be saved and reused without having to enter them again.
The command line option /HideSmallFolders for hiding smaller folders in exports can now be set independently of the expansion level (/Expand). (Professional Edition only)
When performing a Drag&Drop operation in the directory tree, it will now scroll automatically when reaching the top or bottom of the directory tree.
The support for Windows high contrast display mode has been improved.
Opening URL files by double-clicking them now works correctly.
A rare error when deleting files from the Top 100 list was fixed.
In rare cases, the used disk space was calculated incorrectly when scanning local drives. This problem has been fixed.
In certain cases, the file preview still showed the contents of a file that had just been deleted. This error has been fixed.
The redirection of standard and error output when TreeSize was started from the command line now works as expected.
File search: A possible error when searching SharePoint documents by file content has been corrected.
File search: A potential error when searching for file contents has been fixed. old .MSG files created under Windows XP could cause a crash.
Various minor corrections and improvements have been made.
Download TreeSize Professional Portable
Download – 16.1 MB
Mirror – 16.1 MB