Portable Ircam Lab TS2 2.2.2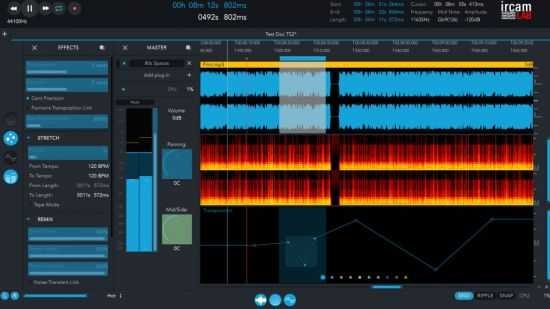 Based on Ircam's Super VP engine, the TS2 Portable sets a high standard in digital audio editing. It is a powerful audio toolbox application for professionals to edit or magically transform, time-stretch and manipulate audio files.
This plug-in has an accurate real-time sonogram display and handles full automation over the "Master Module" with multi-format plug-in insertion.
TS2 is a full mono/stereo editor. It can edit any audio regions (Copy, Cut, Paste), transpose, "Transient Design" and remix in a very precise manner. It covers an extensive variety of mastering situations.
The TS2 software comprises of a suite of very capable tools. Based on the acclaimed SuperVP Engine, it processes complex audio editing tasks. These include the full automation of parameters such as : Pitch, Transposition, Time Stretching, Remix Noise, Sinus & Transient. TS2 also supports the hosting of 3rd party external VST/AU effects from plug-in manufacturers.
Post-production professionals, audio engineers, sound designers, musicians and video editors alike use TS2 to transform recordings into production-ready audio files.
TS2 Portable also includes a creative Spectral Clipping effect with version 2.2 and above.
Spectral clipping is a dynamic filtering effect that performs an energy clipping process on the signal, retaining the spectral component corresponding to a specified energy range. This energy range is defined by a minimum and a maximum value in decibels.
Any spectral component with an energy below the minimum threshold is muted and the energy of the spectral components is clipped by the maximum threshold.
The spectral clipping effect is a creative tool, between a distortion and a musical filter effect. Experimentation is a good way to discover the new sonic territories offered by this process (for example; on drums, guitars, vocals, etc).
Download TS2 Portable