Portable USB Repair 8.1.3.1285 (x64) Multilingual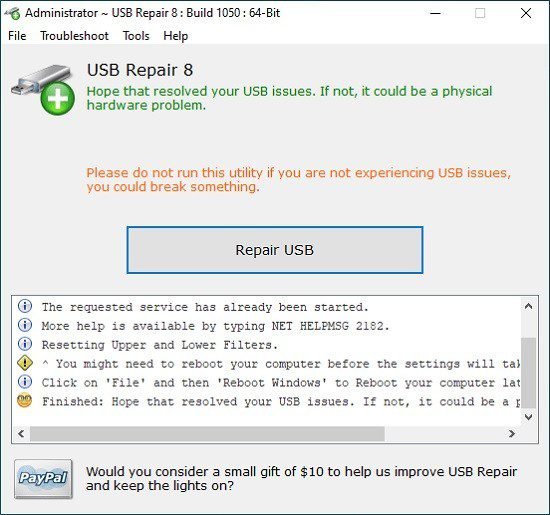 USB Repair Portable is an easy-to-use application that attempts to fix USB device errors or if an USB drive fails to install. It is also a likely solution to several other Device Manager error codes. These error codes include Code 19, Code 31, Code 32, Code 37, Code 39, and Code 41.
When experiencing USB device issues, you normally consider reinstalling Windows or restoring it to a previously functional version using System Restore. However, this might not be necessary when using this tool. Hopefully, it will solve your USB device issues, but it is not guaranteed to work. There are a thousand things that can go wrong with your USB devices, including physical hardware damage. This tool attempts to solve USB device configuration errors and nothing more.
Before running USB Repair Portable, please create a System Restore point first, just in case something goes wrong. You can create a System Restore Point by clicking on the Create a Windows Restore Point menu item under the Tools menu on the main program interface.
The interface is very simple and allows you to perform all actions with just one click. You do not have to edit registry keys or go through other complicated settings in order to fix USB device errors. To fix USB device errors in Windows, download and run the USB Repair tool. On the main interface, click on the Repair USB button. Reboot your computer and check to see if your problem is fixed. If not, there could be an issue with the physical hardware.
What's NEW:
Fixed: Info Tip Display.
Fixed: Second instance of the program closes all other instances.
Added: Korean Translation.
Fixed: translations encoding (Unicode (UTF-16) LE BOM).
Download USB Repair Portable