Portable WidsMob FilmPack 2021 v1.2.0.86 (x64)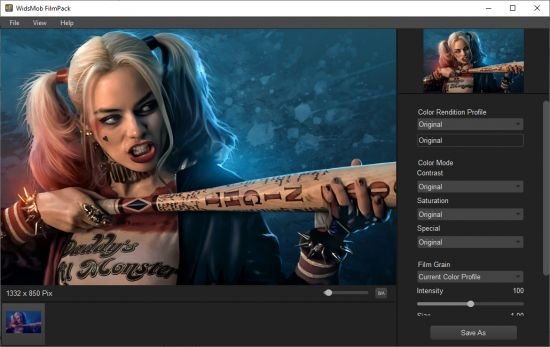 WidsMob FilmPack Portable offers your digital images color rendition profile, color mode setting (contrast, saturation, special effect), and up to 20 film grains to help you create visual beauty gallery.
Color Rendition Profile
WidsMob FilmPack provides you with various color rendering with analog film to give your photos unique styles.
Color Mode Setting
Change original photos's contrast, saturation and add special effect to make creative masterpiece.
Flim Grain
The film is developed by the world's most reputable processing laboratories and is then subjected to high-resolution digitization in order to measure the film response and to extract the grain matrices.
Analog Film Filters
WidsMob FilmPack applies stunning analog photo filters for photos of Digital cameras and smartphone. It helps photographers make analog photos more attractive with colors, contrast and gain. 4 different color rendition profiles, 28 types of camera profiles, 15 options for color modes, and 25 film gain profiles. Whether vintage rendering, or have fun with colors, you can always find a suitable photo filter.
Color Rendering for Digital Photos
Color rendering digital photos with Contrast, Saturation and Special color tones. Adjust the contrast will make the photographs more flexibility. It brings out the nuances in the color rendering photos, which photographs can select the classic one accordingly. Even for the Black and white photographs, WidsMob Filmsim is able to reproduce hundreds of results with different profiles and contrasts easily.
Reproduce Classic Films
Reproduce classic films, such as Kodak Ektachrome, Fuji Velvia 50, Fuji Superia, Ilford HPS 800 and more. It should be an all-in-one filmpack with 4 different color renditions, vibrant and dramatic color for Color Positive Film, classic and nostalgic for Color Negative Film, vintage-inspired Black and White Film, and special color rendering Cross Processed Film. It just rediscovers the stunning photo effects of analog film.
Analog Film Grain
Analog film grain is essential to give a vintage aspect for the digital images. What is more important, it also makes them looks in a different texture. Not only for the original Film Grains of the camera profiles, but also adjust the size and intensity to make the effects special. Just apply the film grains for the digital photos within one click to make everything different.
More Editing Features
Support RAW files of popular cameras. The Before-and-After mode enables photographs to enjoy an instant preview for the photo filters. Just need one click to restore the photos to default setting or original status. Zoom features to check the details for the stunning effects. You can find multiple features available for the Filmpack application.
Download WidsMob FilmPack Portable