Portable AMS PhotoWorks 16.5 Multilingual
Not quite happy with your photos? Tricky weather and lighting conditions or a stranger in the background have ruined a priceless shot? Vacation pictures don't look as vibrant as you hoped they would? With PhotoWorks Portable in hand, you'll get the tools that let you save a spoiled shot or turn an average picture into a photography masterpiece. This seemingly simple photo editing program has the latest image processing technology under the hood – for you, this means perfect pictures with a couple of mouse clicks!
Sometimes your memories look better than the pictures you took at a particular point in time, and if you want to make them reflect the same feeling, it is perhaps time you turned to an image editor so that you make all the adjustments you want.
PhotoWorks promises to help you with that by providing you with a balanced set of tools you can use in order to effortlessly enhance your pictures.
AMS PhotoWorks Portable is a powerful photo editing software that provides users with a comprehensive set of tools to enhance, manipulate, and adjust their digital images. This software is designed to be user-friendly, making it accessible to both amateur and professional photographers.
One of the most notable features of AMS PhotoWorks Portable is its intuitive interface, which allows users to quickly navigate through the various editing tools and options. The software provides a customizable workspace, allowing users to arrange their tools and menus according to their preferences. This feature makes the software more efficient and user-friendly, allowing users to focus on their creative process rather than struggling with the software.
The software provides a wide range of editing tools that can be used to manipulate digital images. Users can adjust the brightness, contrast, saturation, and hue of their images, as well as sharpen or blur specific areas. AMS PhotoWorks also provides users with a range of filters and effects that can be applied to their images, making it easy to create unique and eye-catching visuals.
One of the most impressive features of AMS PhotoWorks is its ability to work with multiple layers. This allows users to create complex and detailed designs by layering different elements on top of each other. The software also provides users with a range of selection tools, allowing them to select specific areas of an image and apply edits or effects only to those areas.
AMS PhotoWorks also provides users with a range of retouching tools, allowing them to remove unwanted elements from their images. This includes tools for removing blemishes, smoothing skin, and removing unwanted objects from the background of an image. These tools make it easy to create professional-looking images, even if the original photo is not perfect.
Another notable feature of AMS PhotoWorks is its ability to work with RAW image files. RAW files are uncompressed image files that contain a wealth of information about the original image. By working with RAW files, users can adjust the exposure, white balance, and other settings without losing any information or degrading the quality of the image.
AMS PhotoWorks also provides users with a range of tools for creating collages and photo albums. Users can easily create custom layouts and add text or other elements to their designs. The software also provides users with a range of templates and pre-designed layouts, making it easy to create professional-looking designs in a matter of minutes.
In addition to its editing tools, AMS PhotoWorks also provides users with a range of export options. Users can export their images in a variety of formats, including JPEG, PNG, and TIFF. The software also provides users with the ability to export their images in specific sizes and resolutions, making it easy to prepare images for print or online use.
Overall, AMS PhotoWorks is a powerful and versatile photo editing software that provides users with a comprehensive set of tools for enhancing and manipulating their digital images. Its intuitive interface and user-friendly design make it accessible to both amateur and professional photographers, while its range of editing tools and export options make it an essential tool for anyone looking to create high-quality digital images.
Well-balanced photo editor that comes with its own context menu item
Sporting a dark and stylish user interface, the application manages not to feel cluttered in any way, with a considerable portion of the main window being kept clear for preview purposes. What is also pretty convenient is that you can associate a context menu item with the program so that you can easily start editing your pictures.
As for the app's capabilities, they should cater to the needs of the average user. As such, you can adjust the saturation, clarity, tint, exposure, contrast, shadows, whites, and blacks. All sorts of modifications can be applied to the hue, luminance, and sharpness as well.
Provides you with various editing tools to enhance your pictures
What's more, cropping images is possible, as is the case of rotating them, stylizing them with color effects, trying out a film grain effect, and more. Various brushes and stamps are also available for you to employ in your quest, not to mention that vintage, toning, lightning, and other popular effects should enhance your photo in the blink of an eye.
Last but not least, it is worth pointing out that adding captions is possible, with multiple text styles being put at your disposal.
On an ending note, PhotoWorks Portable is a well put-together photo editor that shows you that breathing new life into your pictures could be a piece of cake. The program packs a decent set of editing tools that regular users would surely enjoy, and its characteristic ease of use make it a handy tool especially in times of crisis.
Retouch portrait photos with pro-level tools
Need to touch up a portrait or make a shiny avatar? The intelligent photo retouching tools inside PhotoWorks will hide any imperfections and add a glam finish to your picture. Get rid of pimples, freckles, and spots; smooth out wrinkles and create an even skin tone; whiten your teeth for a luminous smile. Feel like experimenting with your looks? Try changing the eye color – just one mouse click, and your grey eyes will turn green! Make sure to try the built-in photo filters, too – these will turn an ordinary shot into a studio-quality picture.
Create striking landscapes in a few clicks
Some of your valuable vacation photos were taken in gloomy weather? You can't go back to that place, but you can add some sunshine with an easy image editor! Discover the power of the graduated filter – this tool can work wonders for your landscapes, turning the grey sky blue and breathing life into a dull photo. Erase unwanted objects such as power lines, road signs, or passersby. Do some magic with artistic effects – there's an an array of presets like morning mist, winter frost, summer glow etc., ready to give your pics a rad new look.
Experiment with colors like a true artist
Have immense fun playing with hues and tones! One quick movement, and your red dress turns pink or orange; another one – and day becomes dusk. Play with the color hue, saturation and luminance to change the atmosphere of the shot. PhotoWorks Portable uses intelligent technology that lets you work with each color on the photo one by one, without you having to do any manual selection.
Play with dozens of one-click effects
Looking for instant photo effects? We've got you covered! PhotoWorks Portable comes with a huge variety of artistic filters – color toning, details enhancement, HDR, vignetting, retro, black & white photo, color splash, seasonal effects, and a lot more. A single click will create a certain mood, add some drama or a romantic vintage flair to your shot. Even if you are completely new to post-processing, our simple picture editing software will give your images a polished look in mere seconds.
More cool features of PhotoWorks Portable:
Captions & Watermarks
Add stylish captions, or watermark images to protect your work. Rotate text or make it semi-transparent if necessary.
Perspective Correction
Level out a wonky horizon, eliminate the "falling building" effect, correct lens distortions in a few clicks.
Magical Brushes
Use an array of brushes to work with any object on the photo – for example, fix small blemishes or accentuate a detail.
Convenient Crop
Improve the photo composition with crop presets – the Rule of Thirds, the Golden Ratio and other grids are there to help.
Instant Enhancement
Apply auto enhancement to fix the exposure and improve the color balance. Make your image awesome in one click!
Free Learning Resources
Discover professional secrets and master new image editing techniques with our series of online tutorials.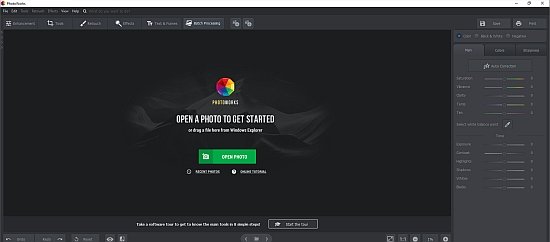 Download PhotoWorks Portable