Portable ACDSee Photo Studio Ultimate 2021 14.0.1.2451 (x64)
ACDSee Photo Studio Ultimate Portable is an all-in-one digital asset manager and layered photo editor, that ensures unparalleled number of creative graphic and image composition needs. Armed with a potent list of adjustment layers, working with layers just became non-destructive, giving you the complete flexibility to create the image composites, photo manipulations, and innovative graphics you've been envisioning.
ACDSee Photo Studio Ultimate Portable combines layers, image editing and management tools with new GPU-accelerated adjustment layers.
Supports 4k monitors, improved lens correction, a chronological view of your entire photo collection, tools for tracking and returning to various adjustments. As well as applying them to other sets of images, and much more.
The improved drawing tools in combination with adjustment layers makes easier to create original advertising, innovative graphics and art imagery.
With new ways to track your adjustments and apply them to batches. Development snapshots. Extended creative capabilities through Adobe Photoshop plugin support. New lighting and skin tone adjustments. Additional ways to compartmentalize, even more drawing tools, improved lens correction, high DPI support, and so much more, ACDSee Photo Studio Ultimate portable packs a valuable punch.
Managing with ACDSee Photo Studio Ultimate:
Classify with Collections
Easily Convert from Lightroom to ACDSee
Microsoft OneDrive Integration – Your All-Access Pass
See Clearly, Even into the Cloud with SeeDrive
Set and Walk Away with ACDSee's Smart Indexer
Organize photos using a combination of folders, keywords, ratings, color labels, metadata, and categories
Find photos fast. Build and store searches based on metadata, file properties, data, event, keyword, rating, location, and edited state
Create as many ACDSee databases as you like, and quickly and easily switch between them
Visually tag images with color labels
Customize and save workspace layouts, metadata views, file sort order, and shortcut keys
Selectively remove metadata to protect privacy and intellectual property
Conveniently access any metadata function in the new Metadata sub menu via Tools
Map view and reverse geocoding by selecting a pin on the map
Customize access to external editors
Speed up workflow with native 64-bit support for Windows operating systems
Improved color management with multi-monitor support
Fluid folder viewing with an improved Folder Tree and GUI enhancements
Editing with ACDSee Photo Studio Ultimate 2020:
ACDSee Actions – Automate with Ease
Extended Editing Capabilities with Photoshop Plugin Support
Skin Tune – Flawless and Radiant
Dehaze – Taking Your Murkiest Images Out of Obscurity
Painless Color Matching
Gradient Flexibility
A Finer (White) Balance
Performance Improvements
Selectively adjust pixels with a variety of Edit tools by targeting specific colors and tones within the image
1-Step EQ powered by ACDSee's patented LCE technology
Improved Selections tool, designed for efficiency
Use the Fill Tool to select a color and enrich your chosen background
View your adjustment history and return to a specific adjustment
The Navigator Window automatically takes the guesswork out of zooming into the smaller details
Instantly adjust exposure and remove color cast
Erase flaws and unwanted objects with Heal and Clone
Add text, custom borders, vignettes, drop shadows, matte, and edge effects
Draw freehand on images, or add lines and shapes
Batch edit groups of photos – rotate, crop, convert file type, watermark, and more
Quickly brush on any editing or special effect to selected areas of photos
Smooth out grain and noise patterns between edges with the Smart Blur filter
Apply a radial or linear gradient to any editing effect to subtly progress across your photo
Attain a realistic bokeh effect with the Lens Blur filter
Simulate the popular tilt-shift effect to transform your photo into a miniature-scale model
Support for 32-bit and 64-bit transparency
Layered Editor for additional effects
Use the Move tool to adjust layers
Trim out unwanted pixels by using the Eraser tool
Ability to hide layers as needed
.acdc file format for reopening images in Edit mode in the future
Blending modes and opacity adjustments for combined layers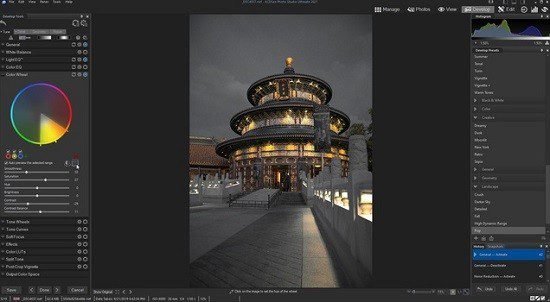 Download ACDSee Photo Studio Ultimate Portable
Uploadrar – 297.2 MB
Hexupload – 297.2 MB