Portable ACDSee Photo Studio Ultimate 2023 v16.0.3.3188 (x64)
ACDSee Photo Studio Ultimate Portable is an all-in-one digital asset manager and layered photo editor, that ensures unparalleled number of creative graphic and image composition needs. Armed with a potent list of adjustment layers, working with layers just became non-destructive, giving you the complete flexibility to create the image composites, photo manipulations, and innovative graphics you've been envisioning.
ACDSee Photo Studio Ultimate offers incredible time-saving tools such as the all-new Media mode for interacting with the ACDSee photo database; and People mode, an AI engine that seamlessly places a name to a face. Add a bevy of new selection tools to an already robust Layering Editor, and you have a secret weapon for building your photography empire in an overcrowded digital world.
Putting a Name to a Face just got Easier
People Mode is new to ACDSee Ultimate Portable and is born of a union between ACDSee's industry-leading Face Detection & Recognition feature and a keen application of machine learning. Photographers from all walks of life will enjoy the dedicated space for distinguishing by client, family member, or person of interest, allowing for the management of people by merging, renaming, or deleting faces, or taking labelling suggestions from the AI assistant for grouping similar unnamed people.
Channel Your Creativity
New for ACDSee is the paradigm-altering power to fine-tune a variety of selections that were previously impossible. Use Channel Selection and Channel Filtering in conjunction with a new Selection Basket to craft subtle or majestic selections that can be stored and unleashed with any whim. ACDSee's Layered Editor is a proven gateway to finding visions of magic in every shot and with added improvements to HDR and Focus Stacking, you will attract the eye of envy.
– Channel Selection
– Channel Filtering
– Selection Basket
– Improved High-Dynamic Range
– Improved Focus Stacking
– Adjustment Layers & Layer Masks
– Blend Modes, Layer Effects & Opacity
– Text Tool
ACDSee Photo Studio Ultimate Portable combines layers, image editing and management tools with new GPU-accelerated adjustment layers.
Supports 4k monitors, improved lens correction, a chronological view of your entire photo collection, tools for tracking and returning to various adjustments. As well as applying them to other sets of images, and much more.
The improved drawing tools in combination with adjustment layers makes easier to create original advertising, innovative graphics and art imagery.
With new ways to track your adjustments and apply them to batches. Development snapshots. Extended creative capabilities through Adobe Photoshop plugin support. New lighting and skin tone adjustments. Additional ways to compartmentalize, even more drawing tools, improved lens correction, high DPI support, and so much more, ACDSee Photo Studio Ultimate portable packs a valuable punch.
Easily Retouch Faces
There is no one-size-fits-all when it comes to portrait retouching – everyone is unique. That is why Ultimate's new Artificial Intelligence (AI) powered Face Edit analyzes faces and gives you full control over the edits. You can adjust the shape of facial features and much more to enhance your subject's natural beauty. Turn up the drama and push the sliders to the max, or add makeup. Are you retouching the same person on multiple photos? No problem! Save your adjustments as a custom preset and apply it to multiple images at the same time to speed up your workflow.
Simplified Photo Merging
Utilize the Photomerge tools to effortlessly combine multiple images into one. Use the new Panorama Stitching tool to make wide panoramic shots, run High-Dynamic Range (HDR) to produce highly detailed photos, or apply Focus Stack to create an image with unparalleled depth of field.
Select Your Subject, Sky, and More
Photo Studio Ultimate 2023's new AI Actions allow you perform complicated procedures like removing or blurring the background, selecting the subject or the sky, or giving your subject a black and white background with a single click.
Selections, Evolved
With curves like these, what other tool could you need? The Polygon Selection tool has evolved into the Shape Selection tool, giving you more refined selections. You'll be able to perfect curved and cornered selections, making it easier than ever to select and tweak your favorite images.
A Painless Search Pane
Make the challenge of hunting for files a thing of the past with the new Advanced Search feature. Choose from numerous search criteria, including ACDSee Metadata and EXIF & IPTC fields. Built-in logic for AND/OR states let you narrow down results to a microscopic level.
Find Photos Faster
Quick Search's all new search types allow you to quickly perform more complex searches. Select from a variety of search types such as Contains All, Contains Any, or Starts with and Ends with. Look back in your Quick Search history to find a list of all your recent searches, and spend less time waiting with its improved speed.
Layered Editing, Refreshed
With layers, you can easily modify and adjust your images. Place adjustments on different layers, add layer masks, and see changes in real-time by hiding and showing individual layers. Stage changes in a non-destructive way by saving your project as a layered file (.acdc). Get even more out of Edit mode with a whole suite of advanced Artificial Intelligence (AI) features. Make quick work of your editing with the new AI subject and sky detection, or retouch portraits with new AI Face Edit.
Non-Destructive RAW Photo Editing
With Develop mode, non-destructive editing has never been easier. ACDSee's industry-leading Light EQ™, Color and Tone Wheels, Noise Reduction, and local adjustments give you an edge over the competition. Create spectacular new looks in a single click with Develop presets. Choose from the 50+ customizable ACDSee Develop presets or make your own. Learn more about non-destructive parametric editing.
Managing with ACDSee Photo Studio Ultimate:
Classify with Collections
Easily Convert from Lightroom to ACDSee
Microsoft OneDrive Integration – Your All-Access Pass
See Clearly, Even into the Cloud with SeeDrive
Set and Walk Away with ACDSee's Smart Indexer
Organize photos using a combination of folders, keywords, ratings, color labels, metadata, and categories
Find photos fast. Build and store searches based on metadata, file properties, data, event, keyword, rating, location, and edited state
Create as many ACDSee databases as you like, and quickly and easily switch between them
Visually tag images with color labels
Customize and save workspace layouts, metadata views, file sort order, and shortcut keys
Selectively remove metadata to protect privacy and intellectual property
Conveniently access any metadata function in the new Metadata sub menu via Tools
Map view and reverse geocoding by selecting a pin on the map
Customize access to external editors
Speed up workflow with native 64-bit support for Windows operating systems
Improved color management with multi-monitor support
Fluid folder viewing with an improved Folder Tree and GUI enhancements
Editing with ACDSee Photo Studio Ultimate 2020:
ACDSee Actions – Automate with Ease
Extended Editing Capabilities with Photoshop Plugin Support
Skin Tune – Flawless and Radiant
Dehaze – Taking Your Murkiest Images Out of Obscurity
Painless Color Matching
Gradient Flexibility
A Finer (White) Balance
Performance Improvements
Selectively adjust pixels with a variety of Edit tools by targeting specific colors and tones within the image
1-Step EQ powered by ACDSee's patented LCE technology
Improved Selections tool, designed for efficiency
Use the Fill Tool to select a color and enrich your chosen background
View your adjustment history and return to a specific adjustment
The Navigator Window automatically takes the guesswork out of zooming into the smaller details
Instantly adjust exposure and remove color cast
Erase flaws and unwanted objects with Heal and Clone
Add text, custom borders, vignettes, drop shadows, matte, and edge effects
Draw freehand on images, or add lines and shapes
Batch edit groups of photos – rotate, crop, convert file type, watermark, and more
Quickly brush on any editing or special effect to selected areas of photos
Smooth out grain and noise patterns between edges with the Smart Blur filter
Apply a radial or linear gradient to any editing effect to subtly progress across your photo
Attain a realistic bokeh effect with the Lens Blur filter
Simulate the popular tilt-shift effect to transform your photo into a miniature-scale model
Support for 32-bit and 64-bit transparency
Layered Editor for additional effects
Use the Move tool to adjust layers
Trim out unwanted pixels by using the Eraser tool
Ability to hide layers as needed
.acdc file format for reopening images in Edit mode in the future
Blending modes and opacity adjustments for combined layers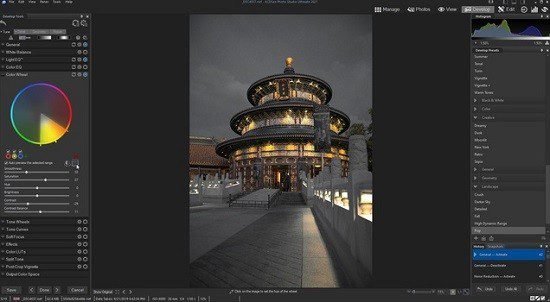 Download ACDSee Photo Studio Ultimate Portable