Portable Acme CAD Converter 2022 v8.10.4.1556 Multilingual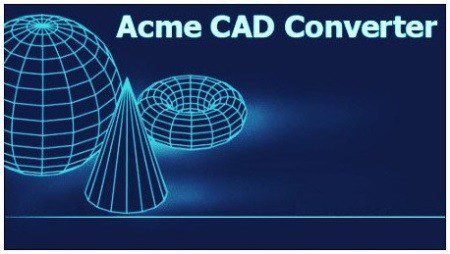 Acme CAD Converter Portable is a dwg dxf dwf format conversion software for batch and vector files. It can conveniently convert DXF,DWF and DWG files into WMF BMP, GIF,JPEG,TIFF,PNG,TGA, DXF, DWG, SVG , PDF, HPGL, CGM, EPS etc., and also enable the conversion between DXF and DWG file versions (R2.5-R2018).Supports replace font file. Supports eTransmit command like AutoCAD,and batch recover drawing files.
Comfortable navigation and color changing functions
The interface of the application is plain and uncomplicated. Opening a drawing can be done with the help of the file browser only, since the 'drag and drop' method is not supported. Working with multiple items at the same time is possible.
So, you can zoom in and out, convert the drawing to monochrome, grayscale or colored, switch to full screen mode, view layer and linetype properties, as well as change the point style and measurement units.
Add watermark and define the output file
But you can also alter the background color, replace the font, create additional user-defined paper sizes, apply watermarks, make file associations, and switch to a different language for the GUI. Plus, you can recover drawings in batch mode, separate layers from drawings, as well as convert multiple drawings to a PDF file.
Acme CAD Converter provides you with several customization features for the output files. Therefore, you can make the app overwrite existing files, select the image size, adjust the JPG quality, and remove the 3D hidden line, among others.
To end with
The software application requires a moderate amount of system memory and CPU, has a good response time, finishes a job briefly, and outputs images and PDFs with a good quality regarding graphics and the text layout. We have not encountered any issues during our testing. There is also a help file available. All in all, Acme CAD Converter Portable should please both first-time users, thanks to its intuitive layout, as well as skilled individuals, because of its wide range of configurable settings.
Characteristics:
– Supports to open various DWG,DXF formats ( R2.5-R2012 ) and DWF;
– Supports to save DWG and DXF into DWF format(Beta).
– Identify literal fonts and entity color correctly;
– Supports batched conversion of multiple files;
– Supports to select the printout of color or monochrome raster file; set background color freely;
– Print out raster mask file; be used as image channel (used in Photoshop etc.);
– Replaces font files.
– Sets the size of raster file to be printed out freely;
– Supports full-screen mode ( press F );
– Supports printing;
– Supports AutoCAD pen sets file (*.ctb).
– Supports the paper setting of each layout, can adjust the size of output pages with its layout automatically.
– Supports 3D objects Hidden line removal when convert DWG/DXF to other formats.
– Supports user-defined Watermark.
– Converts DWG to PDF;
– Creates PDF bookmark automatically with layout name and file name, and you can edit them.
– Supports PDF's security Options.
– Can export OLE entity to PDF file;
– Can export layer information and raster image in the dwg/dxf file to PDF file
– Batch recover DWG/DXF files;
– Can select a window area for conversion;
– Exports the arc/circle objects to true arc/circle objects of other vector file.
– Supports true color
– Supports pen width and destination colors settings, and can export/import these settings;
– SHX font, XRef and Image search path
– Supports to separate layers to drawings(one drawing per layer).
– What you see is what you get
– Supports command line parameters;
– Free DWG viewer;
– Register once and upgrade free permanently;
– Supports Windows95,98,ME,NT,2000,XP,Vista,Window7,without AutoCAD;
What can Acme CAD Converter do for you ?
– DWG DXF File version conversion.
– Converts DWG, DXF, DWF to PDF.
– Converts DWG, DXF, DWF to EPS, CGM, HPGL(*.PLT).
– Converts DWG, DXF, DWF to WMF, BMP, GIF, JPEG, TIFF, PNG, TGA, PCX.
– Converts DWG, DXF, DWF to SVG.
– Batch converts multi DWG DXF and DWF files to a single PDF.
– Inserts DWG DXF and DWF into MS Word.(converts DWG to WMF)
– Replaces the missing fonts.
– Batch recovers DWG and DXF files.
– Package multi-DWG or DXF drawings toge
What's NEW:
Supports AutoCAD 2020 format.
Download Acme CAD Converter Portable