Portable Corel AfterShot HDR 3.7.0.446 (x64)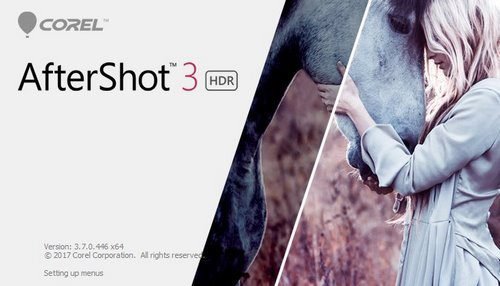 In photography, HDR refers to "high dynamic range". Dynamic range is the range of luminance that can be captured in a photo, from the darkest shadows to the brightest highlights. HDR processing lets you combine two or more RAW photos of the same scene that have been taken with different exposure settings. Best results are achieved when the photos are taken with a tripod or very steady hand. An auto-bracketing feature on your camera makes it easy to capture sets of photos at different exposures. For high contrast scenes, such as sunsets or a photo of a room interior with a large bright window, HDR processing merges photos and creates a more even exposure that lets you resolve details in the darkest areas without losing definition in the bright areas.
Corel Aftershot HDR Portable is a non-destructive, RAW photo management and editing tool that will have you pushing pixels faster than Buck Rogers. Filter and sort your best shots quickly and efficiently. Batch process effects and merge bracketed shots using the HDR functionality. Then present to your client in a professional slideshow or high quality print. So, whether you're a designer, photographer, signage pro, printer, or all of the above, you may want to give Corel Aftershot HDR Portable a whirl.
Corel AfterShot HDR has three components that let you achieve HDR results:
•
Exposure Merge
— lets you merge one or more photos to achieve an HDR effect. You have access to presets and custom controls to get the results you want.
•
Single RAW Photo
— lets you simulate an HDR effect from one RAW photo by using HDR tools.
•
Batch Merge
— lets you merge one or more sets of photos, normally captured on a camera that uses an auto-bracketing setting. This feature offers a fast way of merging multiple sets of photos. There are very few controls. It's a great way to identify sets of photos that you might want to fine-tune in Exposure Merge.
Even if the interface might seem intimidating at first, it is well organized and its structure allows beginners and experts alike to make the most of their photos. The left side tab allows browsing one's graphic files, whereas the right panel is the place where image details are presented.
This way, novices can preview their photos then crop or sharpen them with ease. Experimenting with Corel AfterShot Pro helps them discover other handy functions, such as applying presets that automatically enhance a picture without any additional user input – if the output is satisfactory, the file can be saved or printed with a single mouse click.
Experts can adjust the lens correction, remove the RAW noise, modify the photo exposure or customize the color balance. Changing the light level or the photograph's temperature can result in amazing landscapes or portraits, meant to emphasize the depicted scenery.
On the other hand, Corel AfterShot Pro can be used as a metadata viewer, detailing the camera model, shutter speed, exposure mode and GPS coordinates. It is also possible for users to choose the type of data that is displayed, depending on the information they are interested in.
Users can notice the effects of their changes onto the original image due to the real-time preview provided by Corel AfterShot Pro. A slideshow can be created, and a full-screen mode is also available for those who want to be distraction-free and focus on their editing.
What's NEW:
New camera support
NEW Camera Profiles are available from the Get More tab (on the right-side of the application window in Windows and macOS) or from the Get More menu (Linux). New camera profiles do not install automatically—you choose the profiles that you want to install.
Attention: For Canon CR3 format support, you must install Update 7 before installing the specific camera profiles within the application.
– Canon EOS R (*.CR3)
– Canon EOS RP (*.CR3)
– Canon EOS 90D (*.CR3)
– Canon EOS M50 (*.CR3)
– Canon EOS M6 Mark II (*.CR3)
– Canon EOS R5 (*.CR3)
– Canon EOS R6 (*.CR3)
– Canon EOS Rebel SL3 / EOS 250D (*.CR3)
– Canon EOS 850D (*.CR3)
– Canon PowerShot G3 X
– Nikon Z50
– Nikon Z5
– Nikon D780
– Nikon Z6 II
– Fujifilm X-T4
– Fujifilm X-S10
– Olympus E-M1 Mark III
– Panasonic Lumix DMC-ZS60 / TZ80
– Panasonic Lumix DMC-FZ80/FZ82
– Sony CyberShot DSC-RX100 VII
– Sony CyberShot DSC-RX10 IV
– Sony A6600/ILCE-6600
– Sony A9 II/ILCE-9M2
– Sony A7S III
New Lens support:
[Nikon Z series]
– Nikkor Z 24-200mm f/4-6.3 VR
– Nikkor Z 50mm f/1.8 S
– Nikkor Z 24-70mm f/2.8 S
– Nikkor Z 20mm f/1.8 S
– Nikkor Z 85mm f/1.8 S
– Nikkor Z DX 16-50mm f/3.5-6.3 VR
– Nikkor Z 24-70mm f/4 S
[Canon R series]
Canon RF 70-200mm F2.8L IS USM
Issues addressed
– Windows: The database no longer re-scans every time the application relaunches (performance enhancement).
– macOS: Warning message no longer appears when you install to macOS Catalina or later.
– Nikon Z6: Image and stability issues have been addressed.
– Zoom in/Zoom out issues (mouse wheel) have been addressed to provide consistent results when using multi-image view and lock position.
– Portrait JPEG display issues have been fixed.
– NEF and NRW Raw file deletion warning message has been added.
– Sony A6600: Can now detect lens model correctly.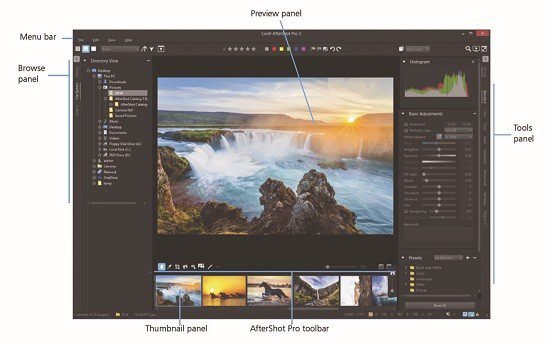 Download Corel AfterShot HDR Portable