Portable AnyToISO Professional 3.9.7.683 Multilingual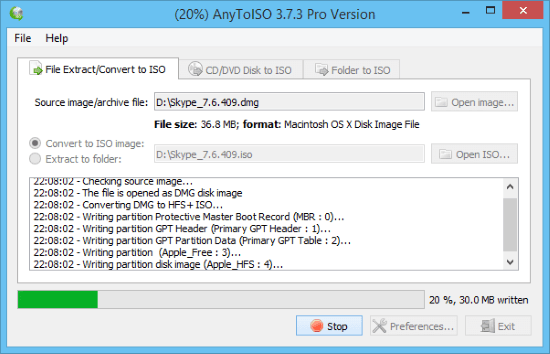 AnyToISO Portable is a simple application which allows users to convert their files into ISO images. The ultimate ISO Creator for Windows: can create ISO from almost everything including all CD/DVD images formats popular in Internet (NRG, MDF, UIF, DMG, ISZ, BIN, DAA, PDI, CDI, IMG, etc), CD/DVD/Blue-ray disks or simply from a local folder.
AnyToISO Portable is a handy software solution that allows you to convert files to ISO format or extract the content of an image with minimum effort.
The interface is well organized and very easy to navigate, as the main features of the app are grouped in tabs, making it easy to perform the task you want.
There are three tabs, so you can choose "File Extract/Convert to ISO", "CD/DVD Disk to ISO" or "Folder to ISO". As you can see, every single tab comes with self-explanatory names, again making everything quite easy even for the very beginners.
AnyToISO Portable can convert to ISO the most popular disk image formats on the market, including NRG, MDF, DMG, BIN, CDI, IMG and UIF.
Each of the aforementioned features come with minimum configuration options, so in most cases you have nothing more to adjust than the source and the destination folder.
The folder to ISO converter makes an exception though because it also lets you pick the volume label, configure the file systems and their settings.
The program performs all tasks pretty fast, without stressing up the CPU too much, using just a moderate amount of resources all the time.
Overall, AnyToISO Portable is undoubtedly a very handy piece of software, serving its purpose well and offering intuitive features especially addressed to beginners. All tools are fairly straightforward, but in case you need assistance when using the app, a comprehensive help file is also included in the standard package.
Key features
– Ability to convert a disk image of the formats BIN, MDF, PDI, CDI, NRG, B5I, IMG CD / DVD-ROM format ISO.
– Fast and simple technology.
Quick Facts
– AnyToISO supports all CD / DVD formats popular in Internet.
– AnyToISO works on Windows and Mac OS X.
– Most CD / DVD burning software works with ISO images and its native images only. Use AnyToISO for conversion before burning.
– With AnyToISO you can mount any CD / DVD image found in Internet to your Parallels / VMWare virtual machine.
* The program is free to convert CD images, Professional license allows to convert DVD images.
AnyToIso Portable Release Note:
Improved:
Multiple UI improvements and fixes
Turkish translation update
Fixed:
Download AnyToIso Portable