Portable USB Formatter for Car Stereo 2.01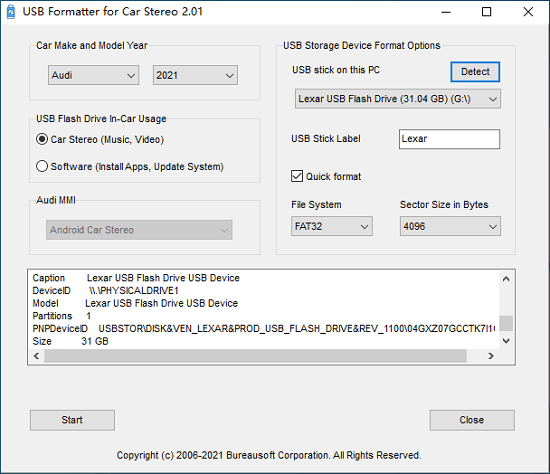 USB Formatter for Car Stereo Portable provides a built-in database for determining which file system is most suitable for your car's stereo.
Imagine that you bought USB flash drive 128GB the other day, and put music on it through your computer. You wanted to use it playing music in your car. However, when you put the USB in your car radio or car stereo or car audio system, the system does not recognize the USB storage device or an error displays when playing music. Is there a way you can fix this? The answer is definitely Yes, and you do not need to buy a different USB.
Without knowing what kind of radio/stereo/audio system your car has, what kind of car it is, what app you used to create the music, what OS the music app was run on, or how often you have created music flash drives for this car with this system, expert would have to say it's definitely a compatibility issue with the music and/or USB. The file format of the music really counts, and the file system of the USB flash drive does make a huge difference.
USB Formatter for Car Stereo software has a built-in database that helps you determine which file system works best for your car stereo, car radio, and car audio. All you have to do is to tell the software your car make and model year, and the software will do the rest for you. To solve music and video playback issue, you need a more advanced software namely Car USB Play Pro that exports and converts music and video files from PC to USB drive.
Car stereo plays a vital role in modern cars, as it not only reads contents on USB drive for entertainment, but also serves as a bridge for vehicle software/firmware upgrades. For instance, the infotainment system in a BMW can be upgraded, whenever a new version becomes available. The navigation and entertainment features in Ford Sync system can be upgraded immediately after an update pushed by Ford is available over the air. The file systems allowed by the car stereo and vehicle software/firmware upgrades might be different. USB Formatter for Car Stereo also prepare a ready-to-go USB flash drive for vehicle software/firmware upgrades. Some car manufacturers have a specific requirement for sector size of a USB drive to be 4 kilobytes so that the car stereo can read USB drive much faster thanks to the 4K alignment technology.
USB Formatter for Car Stereo software supports more than 50 car makes and thousands of car models in the powerful database of the software. The car makes include Acura, Alfa Romeo, Aston Martin, Audi, Bentley, BMW, Buick, Cadillac, Chevrolet, Chrysler, Citroen, Daewoo, Dodge, Fiat, Ferrari, Ford, Genesis, GM, GMC, Honda, Hyundai, Infiniti, Isuzu, Kia, Jaguar, Lamborghini, Land Rover, Lexus, Lincoln, Lotus, Maserati, Mazda, McLaren, Mercedes-Benz, Mini, Mitsubishi, Nissan, Opel, Peugeot, Porsche, Renault, Saab, Skoda, Smart, Subaru, Suzuki, Volvo, Tata, Tesla, Toyota, and Volkswagen.
USB Formatter for Car Stereo software have been tested with the following USB drive controller brands, Micron, Phison, SMI, Marvell, Intel, Samsung, Toshiba, Silicon Motion, PMC, Sierra, OCZ, JMicron, Maxiotek, Goke, Greenliant, Fusion-io, Realtek, SanDisk, Western Digital, Hyperstone, VIA, FADU, and Novachips.
What's new in version 2.01
32MB is added as a new option for sector size for ExFAT file system.
Updated database for cars of Model Year 2021.
FAT support now includes FAT16 file system for USB flash drive smaller than 2GB.
Download USB Formatter for Car Stereo Portable