Portable DVDFab Photo Enhancer AI 1.0.2.3 (x64) Multilingual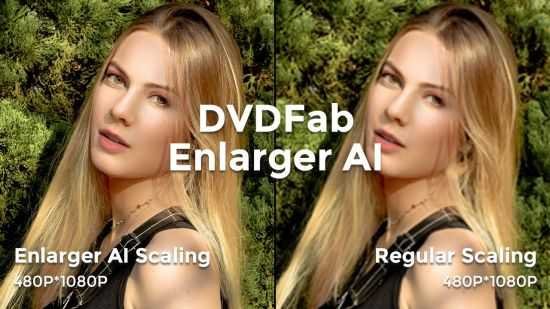 DVDFab Photo Enhancer AI Portable is the ultimate tool for making photos look better. Utilizing deep convolutional neural networks that are trained with millions of professionally enhanced samples, Photo Enhancer AI can upscale pixelated photos without losing quality. It can also apply cartoon effects to photos, reduce noise in photos without losing detail, sharpen photos that are blurry, as well as colorize black and white photos. Don't spend hours tweaking photos one by one – use Photo Enhancer AI and experience next-level photo enhancement technology.
They say a picture is worth a thousand words. That is, if we are talking about a good picture. Luckily, there is a variety of image processing tools out there that you can use to improve the quality of your photos. While there are different alternatives you can explore, a tool such as DVDFab Photo Enhancer AI has, as its name suggests, one important advantage: it relies on the power of artificial intelligence and advanced neural networks to make sure your photo is optimized to look at its best.
A collection of image editing tools 
The application features a simple interface where it bundles a list of all the available image processing tools, alongside a short description of each. In other words, the DVDFab Photo Enhancer AI Portable is, in fact, a collection of different graphic editors placed together under the same roof, for your convenience.   It is enough to click on any tool to have DVDFab Photo Enhancer AI Portable enter the editor mode, where you can open individual images or entire picture folders. No matter the tool you choose, the application displays both the original and the modified image side by side, so that you can compare them and preview the changes.
Various image processing tools available 
There might be details in some images that you want to check out, so DVDFab Photo Enhancer AI Portable comes with the enlarger tool, which can zoom in images up to 40x with super resolution to help you in this matter. It is worth mentioning that anime images can be enlarged with a dedicated tool that does not allow any detail loss., due to the AI engine.
There are also other image enhancement tools. The denoise tool can remove noise from images without affecting the detail level, while motion blurs and out-of-focus images can be corrected with the sharpen tool. There are also effects ready to help you turn a photo into a cartoon, colorize a black and white photo or make a colored photo look more vivid. And, if you simply don't want to make these adjustments yourself, then there is the so-called "PhotoPerfect" tool, which can optimize a photo with the click of a button.
AI Features
NEW Waifu
Upscale 2D/3D anime images up to 40x without losing any quality.
NEW Cartoonize
Apply cartoon effects to the photos in your gallery, and turn your shots into pop art.
Colorize
Turn black and white photos into color photos using fully automated, amazing AI technology.
PhotoPerfect
With one click, you can optimize your photos into amazing DSLR camera quality.
Enlarge
Upscale images by up to 40x the original size without losing any quality.
Denoise
Remove noise from photos to enhance image clarity and definition.
Sharpen
Fix blurry images, sharpen edges, and add more detail to make photos come to life.
Whats New
Fix: A failure problem when upscaling videos in certain cases.
Fix: Some minor GUI display problems.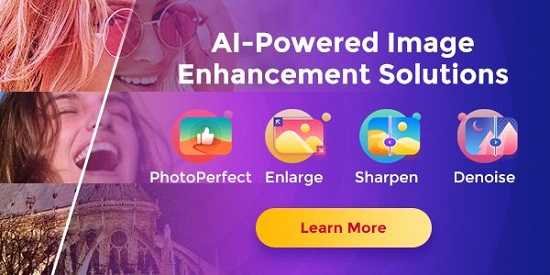 Download DVDFab Photo Enhancer AI Portable