Portable EaseUS Data Recovery Wizard Technician 16.0.0.0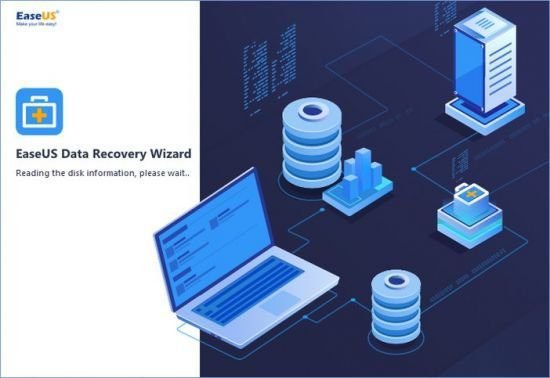 If you are dealing with different data loss scenarios and need to recover images, videos, songs, emails, documents, or other files, you can have a look at EASEUS Data Recovery Wizard Portable. The Best Windows Data Recovery Solution for Any Emergency. Recover lost data even when operating system fails to start or crashes. Safer data recovery mode to recover deleted files stored on system disk.
EASEUS Data Recovery Wizard Portable is a powerful and user-friendly data recovery software that helps users recover lost or deleted data from a variety of storage devices, including hard drives, USB drives, memory cards, and more. With its intuitive interface and advanced features, this software has become a popular choice for individuals and businesses alike who need to recover important files.
One of the key features of the EASEUS Data Recovery Wizard Portable is its ability to recover files from a variety of different scenarios. Whether data was accidentally deleted, lost due to formatting, virus attacks or even system crashes, this software can help users recover their lost data quickly and easily.
The software supports a wide range of file types, including documents, photos, videos, emails, and music files, making it an all-in-one solution for data recovery needs. This means that regardless of what type of data you may have lost, the EASEUS Data Recovery Wizard can help you recover it.
The software boasts an impressive recovery rate, which is made possible by its advanced scanning technology. The software uses both quick scans and deep scans to ensure that all recoverable files are found. Quick scans use basic algorithms to search for recently deleted files, while deep scans use more complex algorithms to search for files that may have been lost a long time ago.
In addition to its scanning capabilities, the EASEUS Data Recovery Wizard also includes a preview feature that allows users to see a preview of the recovered files before they are saved. This feature can be particularly helpful when recovering photos or videos, as it allows users to check whether the recovered files are the ones they were looking for.
Another great feature of the EASEUS Data Recovery Wizard is its ability to recover data from a variety of storage devices. This includes not only traditional hard drives, but also USB drives, memory cards, and even digital cameras. This means that no matter where your data was stored, the EASEUS Data Recovery Wizard can help you recover it.
The software is also available in a variety of different versions to suit different needs. For example, the free version allows users to recover up to 2GB of data, while the professional version includes advanced features such as the ability to recover data from RAID systems and support for Windows Server. There are also versions available for Mac users, as well as a Technician version that includes the ability to provide data recovery services to others.
Overall, the EASEUS Data Recovery Wizard Portable is an impressive and user-friendly software that offers a wide range of features for those who need to recover lost or deleted data. With its advanced scanning technology, support for a variety of storage devices, and intuitive interface, this software has become a popular choice for both individuals and businesses alike. Whether you are looking to recover photos, documents, or any other type of file, the EASEUS Data Recovery Wizard is definitely worth considering.
Wizard-driven interface
The program adopts a step-by-step approach and offers you guidance throughout the entire configuration process. Rookies may take advantage of this mode but power users cannot skip the wizard and configure the settings on their own.
Filters
EASEUS Data Recovery Wizard gives you the possibility to apply filters by graphics (e.g. JPG, PNG, BMP), audio (e.g. MP3, WMA), document (Word, Excel or PDF files), video, email (from Outlook or Outlook Express), or archive files. On the downside, you are not allowed to manually specify the file types that are included/excluded in/from the scanning process, so you are stuck with the aforementioned filter categories.
Scan the desired hard drive
The tool automatically detects the hard drives found present on your system and lets you choose the one that is included in the scan. Additionally, you may refresh the list with partitions with just one click and pause or stop the scan process.
Scan results
EASEUS Data Recovery Wizard  reveals a list with the recovered files and lets you view details about each one, such as name, date, type and size. Plus, you may filter the results by file path, type or date, preview files in a dedicated panel, select the items that you want to recover, perform search operations, as well as export the scan results to RSF file format.
Deep Scan mode and performance
The tool offers support for a Deep Scan mode which is built specifically for helping you thoroughly look for files in your system. However, you should take into consideration that this particular scan takes more time than the usual one and eats up CPU and memory.
Work in all data loss situations
EaseUS data recovery supports all data loss situations, including hard disk corruption, virus attacks, format and accidentally deletion, even if they have been deleted from your PC's recycle bin. It can be used to scan local as well as removable drives and memory cards.
Cost-effective solution for multiple systems
Technician version covers all data recovery features and it can be installed & activated on different systems. Available for company and service providers to provide data recovery service to your clients.
A technician license allows EaseUS data recovery software to be used on all of your business's machines. Enjoy multiple usages at a competitive price with no extra costs required.
Devices Supported
– PC/laptop
– Hard Drive
– External Disk
– SSD
– USB Drive
– Micro Card
– Camcorder
– Digital Camera
– Music Player
– Video Player
– RAID
– CF/SD Card
– Pen Drive
– Other Storage Devices
Only 3 Steps to Recover
It makes even urgent recovery work as easy as just a few clicks away.
100% safe and hassle-free
This data recovery program recovers lost or deleted files 100% safely from different data loss cases on various devices without overwriting original data.
Preview before recovery
Specify file types to recover before scanning, filter search results clearly and preview all recoverable files to make sure better recovery effects.
Note: If it reverts to Trial block it via Firewall…I tried my best to isolate it from internet and it works on my system but can't be sure it works for everyone.
Download EaseUS Data Recovery Wizard Portable