Portable EaseUS Key Finder PRO 4.0.0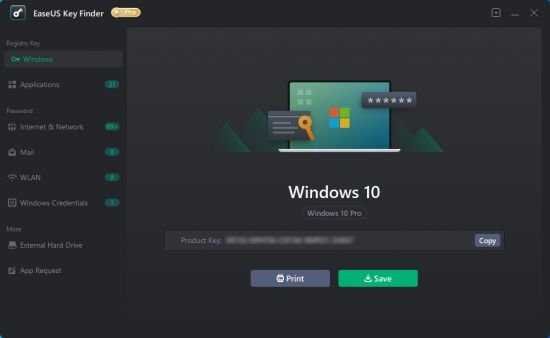 Restore Windows & Windows Server product keys. Retrieve product licenses when system or hard disk crash. Find product serials for over 10000+ most popular programs.
EaseUS Key Finder Portable can come in handy whenever you want to quickly retrieve the password to an online account or a serial key for an installed app.
User-friendly looks
The main window is intuitive and neatly organized, as all the data extracted from your installed software is grouped into aptly-called categories. This way, you know exactly why section to access when you want to quickly located the product ID of your operating system or a password to one of your accounts.
This utility also makes it possible to find the serial key to any of your installed software, without any action on your part. EaseUS Key Finder automatically examines the registry keys and you only need to explore the generated list to look for the required program.
Displays passwords saved in installed browsers
A very useful feature is that it can also extract and display all the credentials you used to login in your online accounts, provided you permitted the browsers to save them. More specifically, you can effortlessly view and save passwords stored in Chrome, Edge, Firefox and Internet Explorer, along with the URL where you need to enter it.
Moreover, you can view all the passcodes corresponding to the Wi-Fi networks you ever connected your machine to, together with their names.
Due to EaseUS Key Finder Portable, you also get to view the product ID of any Windows variant installed onto an external hard drive – you only need to connect it to the computer and allow the app to work its magic.
Lost Product Key?
Recover and Backup All Your Product Keys Instantly
When you replace your PC's hard drive, you will have to reinstall and reactivate Windows or Office on your new system. Finding activation keys is time-consuming! Is there any effective way to grab those product keys? Here is a powerful key finder software – EaseUS Key Finder. EaseUS Key Finder Portable is a smart utility that displays ProductIDs, and CD-Keys of Windows and SQL Server, Microsoft Office, Adobe, etc., installed on your computer. Find WiFi codes, browser accounts and passwords.
Retrieve Windows System Product Keys
Whether you want to perform a new install or transfer your Windows license to a new computer, your product key is an important asset you need to have. EaseUS Key Finder Portable allows you to find product key for Windows (Windows 11/10/8/7 and Windows Server) and SQL Server. No specific requirements.
Recover Office, Adobe Product Keys
The loss of product keys also happens occasionally. EaseUS Key Finder regains access to your Windows products key. It allows you to find and store serial numbers of Adobe and Office applications. You can export or copy a number to a secure location with a single click.
Recover Saved Passwords from Web Browser: Chrome, Edge, Firefox, and IE
This smart utility reveals the accounts and passwords stored in the following Web browsers: Internet Explorer, Mozilla Firefox, Google Chrome, and Edge.
Find WiFi Passwords
As laptops automatically log in to the WiFi network, most of us may forget our WiFi passwords without backup. EaseUS Key Finder Portable enables you to unveil your wireless network password on a Windows computer instantly.
Get 10000+ Software Serials
Besides finding Microsoft Office and Adobe product keys, you can also apply EaseUS Key Finder to recover serial numbers of 10000+ most popular software.
Recover Windows Credentials
It can back up your account credentials and related app settings. You can then use it to recover your information on a new device, potentially avoiding being locked out or having to recreate accounts.
Download EaseUS Key Finder PRO Portable