Portable EssentialPIM Pro Business 11.7.4 Multilingual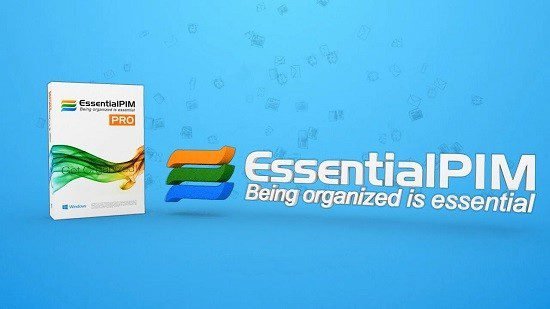 EssentialPIM Portable is ideal for small to medium-sized workgroups. The Business edition is all about sharing calendars, contacts, tasks, notes, password entries, and setting priorities. The Business edition includes all of the features of the EssentialPIM Pro edition as well as powerful network capabilities for workgroups. You already have all of the infrastructure required to run EssentialPIM Pro Business; no dedicated hardware is required. You already have the knowledge to install it – the quick start guide is simple and will have you up and running in 10 minutes.
EssentialPIM is a feature-rich notetaking utility that enables you to keep all important information into a single and secure place on the computer, whether we're talking about todo lists, notes, contacts, emails, passwords, or anything else.
Setting up this tool is a fast and simple task that doesn't need special input. Once finished, you are welcomed by a professional-looking interface with a neatly organized structure, where there are several samples displayed to give you a better idea of how the application works.
Create appointments, todo lists, and notes
For each new entry you can fill in as many details as possible. For example, when it comes to appointments, you can specify the location, start and end time, duration, whether it's exclusive or not, priority, completion status, category, notes, reminders, and repeat mode. Most of these attributes apply to todo lists too.
As far as notes are concerned, EssentialPIM puts standard text formatting options at your disposal, allowing you to insert pictures, hyperlinks, tables, symbols and horizontal lines, among others.
Manage contacts and passwords, export and synchronize data
It's possible to build and manage an address book for contacts by indicating personal and business information as well as by attaching any pictures or notes. Furthermore, you can write passwords to wireless network connections, email accounts, Windows logon or anything else, and preserve them in a safe place.
As previously mentioned, the software tool lets you password-protect the database to restrict other users' access. Moreover, it lets you consult a color-coded calendar to easily track down notes and events, synchronize data with Microsoft Outlook to swiftly view emails and send new messages, export information to various profiles (e.g. HTML, iCal, TXT, DOCX, RTF) or synchronize it with Android, iPhone or iPad , and so on.
Business Edition Features:
– EssentialPIM Pro Business runs on an industry standard database Firebird, ensuring integrity, security and adherence to open standards. Key features include:
– Easy installation which takes 10 minutes or less to set up
– No need for a dedicated server – EssentialPIM Pro Business Server can run on virtually any machine, and on any version of Windows, most Linux operating systems and MacOS X
– All features of EssentialPIM Pro available to Business users
– Easy sharing of calendars, contacts, tasks, password entries and notes
– Ability to work on the road and synchronize with the EPIM server later, to make all new data available to other users
– Unlimited number of users
– Flexible hierarchy of user rights, including read-only, and eyes-only items
EssentialPIM Portable Release Note:
Reminders now accurately display previously set times.
Enhanced synchronization with online services like Microsoft 365 and iCloud.
Addressed task attribute loss when copy-pasting tasks in Calendar.
Various minor bug fixes and stability enhancements.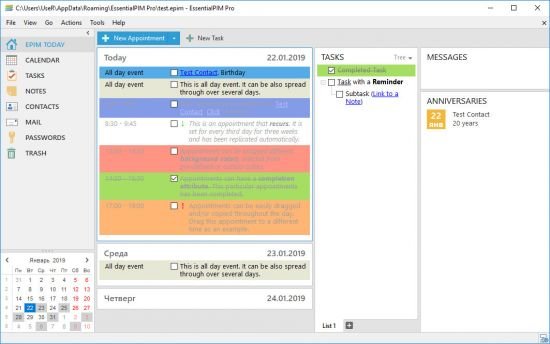 Download EssentialPIM Pro Portable