Portable FaceGen Artist Pro 3.10 (x64)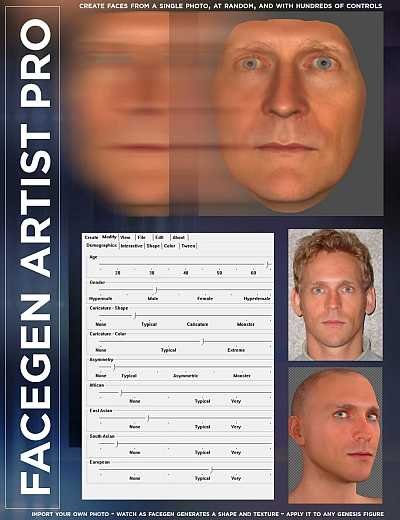 FaceGen Artist Portable – Create faces for Daz Studio (replaces FaceGen Exporter). Create a face from one or more photographs (or at random). Edit by ctrl-clicking and dragging, or with sliders for age, race and gender, and much more.
Import your own photo or multiple for even more accuracy to FaceGen. Then watch as FaceGen generates a shape and texture that you can easily apply right onto a Genesis, Genesis 2, Genesis 3, or Genesis 8 figure.
FaceGen Portable even analyzes your pictures to create an overall skin texture that can be applied to your entire figure to avoid transitions.
If you want to make your figure look like your pictures, that's all you need.
FaceGen Portable lets you take things even further. You can adjust skin tone and feature shape gradually as you dial up and down various ethnicity adjustments to your photo's face. Adjust its level of masculinity or femininity. Adjust age, color, shape, and even tween between multiple photos to combine more than one person's structure and skin tones.
The ultimate in control, FaceGen Portable even lets you modify the face with a pinch and pull style experience so you can mold and fine-tune features to meet your needs.
Faces can be applied to Daz Genesis, Genesis 2 Male and Female, Genesis 3 Male and Female, and Genesis 8 Male and Female meshes.
What's Included and Features
Windows 64bit only
Generates target shape morphs and texture images
Works with the latest versions of Daz Studio
What's NEW:
Supports Genesis 8 Female & Male
Combine with custom base texture in default UV layout
Minor fixes and enhancements
Add option to keep eyeball spherical
Fix body-color blending mismatch
Add Modify & Genetic interface
Add variance sliders to Create -> Random
Export face map at full resolution even when FaceGen detail texture is not present or high resolution.
Please uninstall your older version separately.
Create face shape from 3D scan mesh
Minor improvements and bug fixes
Pro Features
– Daz Genesis 1 mesh
– Daz Genesis 2 Female and Male meshes
– No logo on face
– Daz Genesis 3 Female and Male meshes
The easy way to create realistic faces
– 3D human faces & heads from 1 or more photographs or at random
– Adjust age, race, gender and 150 other controls
– Meshes for animation, 3D printing and use with other software
Download FaceGen Artist Portable