Portable Claris FileMaker Pro 20.3.1.31 (x64) Multilingual
Claris FileMaker Portable is a robust and versatile software application that has revolutionized the way businesses manage their data and streamline their operations. With its powerful database management capabilities and intuitive user interface, Claris FileMaker Portable is the go-to choice for businesses of all sizes seeking to create custom solutions to meet their specific data management needs.
Unleashing the Power of Custom Database Solutions
At the core of Claris FileMaker Portable is its ability to empower users to create custom database solutions tailored to their unique business requirements. The software provides a comprehensive set of tools and features that allow users to design, develop, and deploy custom database applications without the need for extensive coding knowledge.
Claris FileMaker Portable's user-friendly interface and drag-and-drop functionality make it easy for users to create databases, design layouts, and define business logic. With its robust scripting capabilities, users can automate workflows, enforce business rules, and create sophisticated interactions within their database solutions.
The software's flexibility and scalability enable businesses to adapt and evolve their database solutions as their needs change, making it a valuable asset for long-term business growth and development.
Seamless Integration and Compatibility
Claris FileMaker Portable seamlessly integrates with a wide range of platforms, including Windows, macOS, iOS, and the web, ensuring that users can access and interact with their database solutions across multiple devices and operating systems. This cross-platform compatibility makes it an ideal choice for businesses with diverse technology ecosystems.
Moreover, Claris FileMaker Portable's ability to integrate with external data sources, such as SQL databases, REST APIs, and web services, allows businesses to leverage their existing data assets and incorporate them into their custom database solutions. This capability enables users to create unified and comprehensive database solutions that encompass data from various sources, providing a holistic view of their business operations.
Advanced Security and Data Protection
In today's digital landscape, data security is of paramount importance. Claris FileMaker Portable offers advanced security features to ensure the protection of sensitive business data. The software provides robust authentication and access control mechanisms, allowing businesses to define user privileges, restrict access to sensitive information, and monitor user activities within their database solutions.
Claris FileMaker Portable also supports data encryption at rest and in transit, safeguarding data from unauthorized access and ensuring compliance with industry regulations and best practices. Furthermore, the software's audit logging capabilities enable businesses to track and review user actions, providing accountability and transparency in data management.
Empowering Collaboration and Productivity
Collaboration is key to driving business success, and Claris FileMaker Portable excels in facilitating seamless collaboration and productivity. The software enables teams to work together on database solutions in real time, fostering collaboration and knowledge sharing among team members.
With features such as multi-user access, concurrent editing, and record locking, Claris FileMaker Portable empowers teams to collaborate on database solutions without the risk of data conflicts or inconsistencies. The software's ability to host solutions on-premises or in the cloud further enhances accessibility and collaboration, enabling teams to work from anywhere, at any time.
Scalable and Extensible Solutions
Claris FileMaker Portable is designed to grow alongside businesses, offering scalability and extensibility to accommodate evolving data management needs. Whether businesses are looking to expand their database solutions, integrate with third-party applications, or connect with external systems, Claris FileMaker Portable provides the flexibility and extensibility to meet these demands.
The software's robust API capabilities enable seamless integration with third-party applications and services, allowing businesses to extend the functionality of their database solutions and create comprehensive ecosystems that drive operational efficiency and innovation.
Moreover, Claris FileMaker Portable's modular architecture and support for custom add-ons and extensions enable businesses to enhance their database solutions with additional features and functionalities, ensuring that their solutions remain aligned with their evolving business requirements.
Unparalleled Support and Community
Claris FileMaker Portable is backed by a vibrant and supportive community of developers, partners, and users who actively contribute to its growth and success. The software's extensive documentation, forums, and user groups provide valuable resources for users to learn, share best practices, and seek assistance from the community.
Additionally, Claris FileMaker Portable offers comprehensive support and training resources, including online tutorials, webinars, and certification programs, enabling users to enhance their skills and expertise in database development and management.
In conclusion, Claris FileMaker Portable is a game-changing software application that empowers businesses to create custom database solutions that drive efficiency, collaboration, and innovation. With its advanced database management capabilities, seamless integration, and robust security features, Claris FileMaker Portable is the ultimate choice for businesses seeking to elevate their data management practices and achieve operational excellence. Whether you're a small business, a mid-sized enterprise, or a large corporation, Claris FileMaker Portable is the definitive solution for all your database management needs.
FileMaker Portable is an application created to help its users build custom databases and design them to fit their activity and business profiles.
As far as applicability goes, FileMaker Portable can be used for both home and business data management. At home, you can keep track of contacts, events, medical records, budgets, inventory, receipts and catalog almost all formats of multimedia files.
While in a work environment, FileMaker Portable can be used to manage expense reports, purchase orders, product catalogs, research notes, personnel records, resource scheduling and faculty staff.
The list though doesn't have to stop there. The key feature of FileMaker Portable is that it offers a wide range of database templates that novice users can customize and experts perfect.
Going into details, you can take a template and reposition its elements, reshape objects, add pictures, change text field names and everything you can think of in terms of designing what is the interface of the database.
Having that covered, you can define sub-scripts for tasks and then create a script that performs the sub-scripts. It sounds complex and indeed it is but this ensures that you are capable of fully optimizing and enhancing the functionality of the database.
The application provides you with four work modes: Browse, Find, Layout and Preview, which enable you to customize data in detail, search and replace particular records and design the way information is displayed before printing.
If by any chance the existing templates don't match your needs, you are completely free to import data from an Excel file and create a database from scratch. With FileMaker Portable you can also link two databases together.
With FileMaker Portable create and grant account privileges to share the database content over the Internet. This enables you to access and modify data from a web browser that is opened in a PC or mobile device.
It's safe to say that FileMaker Portable is a highly versatile product if you're looking for an all-in-one database solution but you have to study it well to be able to access its full potential.
Why choose the FileMaker Platform?
More than a million people around the world use the FileMaker Platform every day to get things done faster and more efficiently at work. See why you should too:
Anywhere access
Use one unified platform to create apps that work seamlessly together on mobile devices, computers, and the web. Real time updates allow all users to access the latest information at the same time.
Flexible
Create precisely the app you want using the intuitive graphical interface, flexible design tools, built-in Starter apps, and ready-to-use themes. Use built-in scripts steps to automate tasks and workflows. Deploy on-premise or in the cloud.
Out-of-the-box security
Centralize your information and safely access data using proven encryption standards. Manage group or individual user privileges — even for a single field.
Built-in reporting tools
Create reports on the fly, make colorful charts, and easily build custom reports with a step-by-step assistant.
Easy integration
Connect to existing data and systems with live, 2-way connections to external SQL data. Integrate with other popular apps and web services through powerful REST APIs.
Scalable
Securely share data with your small, large, or growing team. FileMaker Server supports up to 500 simultaneous users on-premise. FileMaker Cloud supports up to 100 simultaneous users via the AWS Cloud.
Affordable
The FileMaker Platform fits most budgets and is a great value compared to expensive enterprise applications or complex programming projects.
Proven platform
FileMaker, Inc. is an Apple subsidiary and has a proven track record of delivering high-quality software that delights customers year after year.
Global partners and trainers
Access a large global network of vetted partners to build your custom apps or to provide in-person training.
Comprehensive learning tools
Choose from a wide variety of resources – including documentation, videos, an online community, and an annual developer conference – to help you create custom apps or troubleshoot issues.
New features and enhancements
The Loop script step now includes the Flush option which determines when relationships are updated. Flush includes the following three values:

Always: When setting a field within a loop, the relationship is flushed along with the join data.
Minimum: When setting a field within a loop, minimal data is flushed.
Defer: When setting a field within a loop, data and relationship data are flushed only after exiting the loop.

Layout calculations now let you to specify the data type for the result in the Specify Calculation dialog.
The new FMDeveloperTool command-line tool is now available.
Secure connection tunneling can now be enabled over port 443 instead of port 5003 for FileMaker Pro and FileMaker Server for Linux. HTTPS tunneling can be enabled in the following locations:

FileMaker Pro preferences: Choose Edit > Preferences (Windows) or FileMaker Pro > Settings (macOS), then on the General tab, select HTTPS Tunneling.
Assisted Install.txt file: AI_USE_HTTP_PROTOCOL_NETWORK=1

Notes:

HTTPS tunneling may only be enabled for FileMaker Server for Linux installed on Ubuntu 22.

The Get(NetworkProtocol) function now returns "HTTPS" when HTTPS tunneling is enabled on the FileMaker client or FileMaker Server where the calculation is performed.
OmniOrb has been updated to version 4.3.0.
To improve performance, the database engine now caches relationships to evaluate dependencies.
FileMaker Pro also includes optimized memory allocation for relationship changes.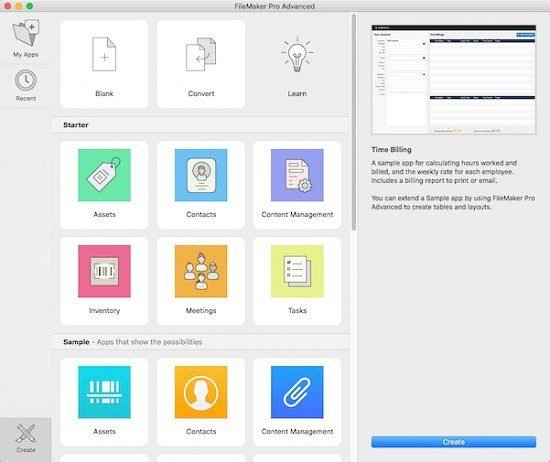 Download FileMaker Portable