Portable FileMaker Pro 19.2.2.234 (x64) Multilingual
Share information over the network or the Internet, easily manage databases, contacts, projects and inventory data, and create reports. FileMaker Portable is an application created to help its users build custom databases and design them to fit their activity and business profiles.
FileMaker Pro is an application created to help its users build custom databases and design them to fit their activity and business profiles.
As far as applicability goes, FileMaker Pro can be used for both home and business data management. At home, you can keep track of contacts, events, medical records, budgets, inventory, receipts and catalog almost all formats of multimedia files.
While in a work environment, FileMaker Pro can be used to manage expense reports, purchase orders, product catalogs, research notes, personnel records, resource scheduling and faculty staff.
The list though doesn't have to stop there. The key feature of FileMaker Pro is that it offers a wide range of database templates that novice users can customize and experts perfect.
Going into details, you can take a template and reposition its elements, reshape objects, add pictures, change text field names and everything you can think of in terms of designing what is the interface of the database.
Having that covered, you can define sub-scripts for tasks and then create a script that performs the sub-scripts. It sounds complex and indeed it is but this ensures that you are capable of fully optimizing and enhancing the functionality of the database.
The application provides you with four work modes: Browse, Find, Layout and Preview, which enable you to customize data in detail, search and replace particular records and design the way information is displayed before printing.
If by any chance the existing templates don't match your needs, you are completely free to import data from an Excel file and create a database from scratch. With FileMaker Pro you can also link two databases together.
With FileMaker Pro create and grant account privileges to share the database content over the Internet. This enables you to access and modify data from a web browser that is opened in a PC or mobile device.
It's safe to say that FileMaker Pro is a highly versatile product if you're looking for an all-in-one database solution but you have to study it well to be able to access its full potential.
Why choose the FileMaker Platform?
More than a million people around the world use the FileMaker Platform every day to get things done faster and more efficiently at work. See why you should too:
Anywhere access
Use one unified platform to create apps that work seamlessly together on mobile devices, computers, and the web. Real time updates allow all users to access the latest information at the same time.
Flexible
Create precisely the app you want using the intuitive graphical interface, flexible design tools, built-in Starter apps, and ready-to-use themes. Use built-in scripts steps to automate tasks and workflows. Deploy on-premise or in the cloud.
Out-of-the-box security
Centralize your information and safely access data using proven encryption standards. Manage group or individual user privileges — even for a single field.
Built-in reporting tools
Create reports on the fly, make colorful charts, and easily build custom reports with a step-by-step assistant.
Easy integration
Connect to existing data and systems with live, 2-way connections to external SQL data. Integrate with other popular apps and web services through powerful REST APIs.
Scalable
Securely share data with your small, large, or growing team. FileMaker Server supports up to 500 simultaneous users on-premise. FileMaker Cloud supports up to 100 simultaneous users via the AWS Cloud.
Affordable
The FileMaker Platform fits most budgets and is a great value compared to expensive enterprise applications or complex programming projects.
Proven platform
FileMaker, Inc. is an Apple subsidiary and has a proven track record of delivering high-quality software that delights customers year after year.
Global partners and trainers
Access a large global network of vetted partners to build your custom apps or to provide in-person training.
Comprehensive learning tools
Choose from a wide variety of resources – including documentation, videos, an online community, and an annual developer conference – to help you create custom apps or troubleshoot issues.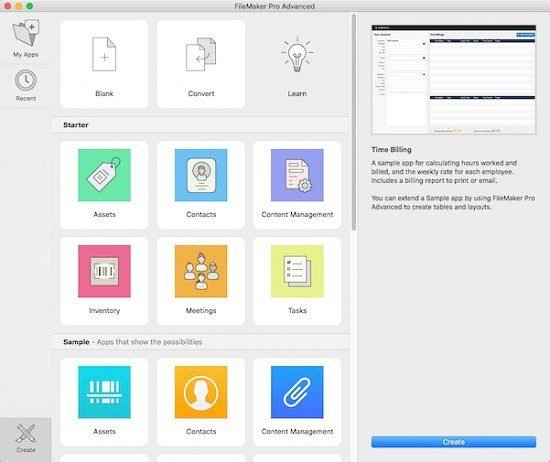 Download FileMaker Portable