Franzis DENOISE Projects Professional 2.27.02713 (x64)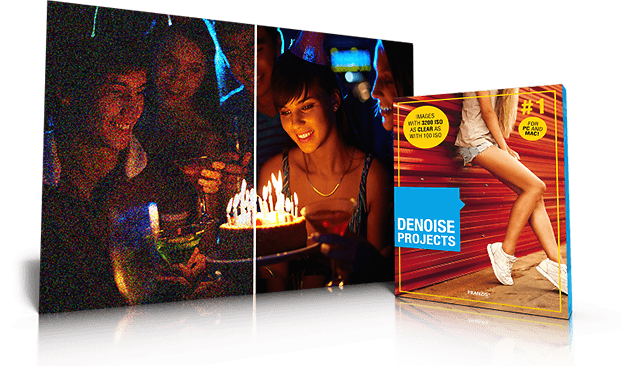 DENOISE projects is currently the only available software that removes all seven forms of image noise: luminance noise, colour noise, banding, colour clouds, hot pixels, salt & pepper as well as holes. The completely newly developed Smart Pattern Matching noise technology perfectly removes noise from your images while still keeping the colours, sharpness and finest details.
Use Your Camera's complete ISO Scope!
With wildlife photography, you need to take fast photo series to be sure that you have captured the right moment. On top of that, zooming is often necessary to properly depict the animal. That's often the moment of truth. At this point, if it hasn't happened sooner, interfering noise, JPEG artefacts and loss of detail appear, making the image usually unusable. DENOISE projects lets you go down a different route and use all of your camera's ISO range, and everything remains without noise and super crisp!
DENOISE projects 2 professional improves your images with a noise reduction precisely adapted to your recording. DENOISE projects is the only software to remove all seven types of image noise. You can now relax in environments that have not yet allowed a sensible photo.
New in Version 2:
– More beautiful photos without noise
– Removes exclusively all kinds of picture noise
– Lightest operation without prior knowledge in image processing
– Natural Grain for natural dumming
– With Noise Stacking Module: recommended for professional astrophotography
– Up to ISO 4,000,000
– RAW, JPG and Tiff support
Exclusively in the professional version:
– Includes plug-in for Adobe® Photoshop & Lightroom
– Including noise stacking module for astro photography
DENOISE projects 2 professional is the professional in the noise!
Within seconds DENOISE projects 2 professional analyzes your photos and calculates dozens of pictures for snapshots, party, event or astro photography.
DENOISE projects 2 professional removes image noise of any kind
Image noise is a problem that is amplified rather than disappearing because of the increasing sensitivity. And picture noise can really spoil the photographer's day.
DENOISE projects 2 professional turns your noisy pictures into photographs that you are proud of.
– More beautiful photos without noises also in the high-ISO range, up to ISO 4 million
– Worldwide unique; Removes all 7 known types of picture noise
– New: Naturally noisy with the Natural Grain Engine
– Calculates the optimal noise reduction for each photo individually
– Batch processing
New in DENOISE projects 2 professional: Natural noise
Fire is fought with fire! Entract photos perfectly without destroying their natural look. The brand-new Natural Grain Engine from DENOISE projects 2 uses a physical trick: the image is first as far as it is technically feasible. In a second step, the program calculates film grain precisely. The image look created by this is incomprehensibly realistic – naturally noise-free and with fine sharpness.
No more noise
Within seconds DENOISE projects 2 analyzes your photos and calculates dozens of pictures. You do not need to operate a single switch, do not have to adjust a knob, and do not try any functions. You want to remove noise as quickly as possible and without stress? Then DENOISE projects is your program! Thanks to Smart Noise Prediction, it is now also 40 percent faster.
New: Includes Photoshop Filter & Lightroom plug-in
Adobe Photoshop users also do not have to do without the best possible noise-free photos. They simply install the free-of-charge filter plug-in for Photoshop or Lightroom and enjoy the new comfort in de-noiseing images. DENOISE works as a stand-alone version as well as as a plug-in. Maximum flexibility, maximum performance!
https://uploadrar.com/ri546sio0sz8/X-22702713FDPPx64.rar