Portable GiliSoft Formathor 6.0.0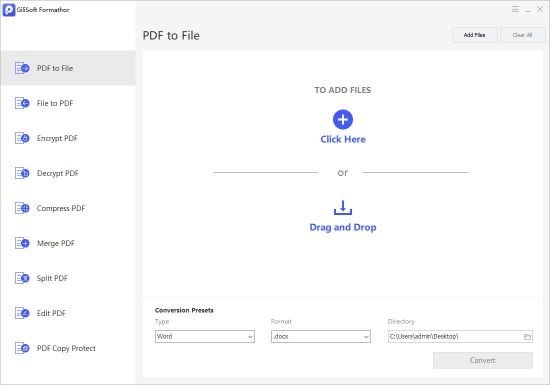 GiliSoft Formathor Portable is a powerful file format conversion tool that enables users to convert files between various popular formats with ease. Whether you need to convert PDFs to Word documents, JPEGs to PNGs, or any other combination of file types, GiliSoft Formathor has got you covered.
It supports converting PDF to Word, Excel, PowerPoint, Image, TXT and HTML formats, as well as converting other file formats to PDF. Besides, it also has powerful encryption and decryption features to protect your PDF files, reduce PDF file size to save space, merge multiple PDF files into one transparent document, split Shrink large PDF files into smaller and more manageable files. Document. Even better, it allows you to easily edit PDF documents, allowing you to edit text, images, and formatting without requiring special software or technical knowledge.
One of the standout features of GiliSoft Formathor Portable is its user-friendly interface. The software is designed with simplicity in mind, making it easy for even novice users to navigate and perform conversions quickly and efficiently. The intuitive interface allows you to select the files you want to convert, choose your desired output format, and initiate the conversion process with just a few clicks.
Another key advantage of GiliSoft Formathor Portable is its extensive file format support. The software can handle a wide range of file types, including popular formats like PDF, DOC, DOCX, XLS, XLSX, PPT, PPTX, JPG, PNG, BMP, GIF, and many more. With such broad compatibility, GiliSoft Formathor is a valuable tool for professionals and casual users alike, allowing you to convert files without worrying about compatibility issues or format limitations.
In addition to its core conversion functionality, GiliSoft Formathor also offers several useful features that enhance the user experience. For example, the software includes a batch conversion mode that enables you to convert multiple files at once, saving you time and effort. You can also use the software to merge multiple files into a single document, split a large file into smaller parts, or add watermarks and other customizations to your converted files.
Another noteworthy aspect of GiliSoft Formathor is its speed and efficiency. The software utilizes advanced algorithms and optimization techniques to ensure that conversions are performed quickly and accurately. Whether you're converting a single file or a batch of files, GiliSoft Formathor delivers fast and reliable results every time.
Of course, no software is perfect, and GiliSoft Formathor is no exception. One potential drawback of the software is its price. While it's certainly not the most expensive file conversion tool on the market, it's also not the cheapest, and some users may find the cost prohibitive. However, considering the software's comprehensive feature set and robust performance, many users will likely feel that the price is worth it.
Another potential downside of GiliSoft Formathor is its lack of cloud integration. While you can certainly convert files that are saved locally on your computer, the software doesn't offer any built-in support for cloud storage services like Google Drive or Dropbox. This means that if you need to convert files that are stored in the cloud, you'll first need to download them to your local machine before proceeding with the conversion process.
In conclusion, GiliSoft Formathor Portable is an excellent file format conversion tool that offers a range of powerful features and capabilities. Whether you're a professional who needs to convert files on a regular basis or a casual user who just needs to convert the occasional document, GiliSoft Formathor has everything you need to get the job done quickly and efficiently. With its user-friendly interface, broad file format support, and advanced optimization techniques, GiliSoft Formathor is a must-have tool for anyone who frequently works with digital files.
Features:
• Convert PDF to file
• Convert files to PDF
• Encrypt PDF
• Decrypt PDF
• Compress PDF files
• Combine PDF files
• Split PDF
• Edit PDF
Download GiliSoft Formathor Portable