Portable GIMP 2.10.20 Multilanguage
The GIMP Portable is a multiplatform photo manipulation tool. GIMP is an acronym for GNU Image Manipulation Program. The GIMP is suitable for a variety of image manipulation tasks, including photo retouching, image composition, and image construction. It has many capabilities. It can be used as a simple paint program, an expert quality photo retouching program, an online batch processing system, a mass production image renderer, an image format converter, etc.
GIMP Portable 2.10 is the result of six years of work that originally focused on porting the program to a new image processing engine, GEGL. However the new version ships with far more new features, including new and improved tools, better file formats support, various usability improvements, revamped color management support, a plethora of improvements targeted at digital painters and photographers, metadata editing, and much, much more.
Updated user interface and initial HiDPI support
One thing immediately noticeable about GIMP 2.10 is the new dark theme and symbolic icons enabled by default. This is meant to somewhat dim the environment and shift the focus towards content.
There are now 4 user interface themes available in GIMP: Dark (default), Gray, Light, and System. Icons are now separate from themes, and we maintain both color and symbolic icons, so you can configure GIMP to have System theme with color icons if you prefer the old look.
Moreover, icons are available in four sizes now, so that GIMP would look better on HiDPI displays. GIMP will do its best to detect which size to use, but you can manually override that selection in Edit > Preferences > Interface > Icon Themes.
Features of GIMP Portable
Painting:
Full suite of painting tools including Brush, Pencil, Airbrush, Clone,
etc.
Sub-pixel sampling for all paint tools for high quality anti-aliasing
Extremely powerful gradient editor and blend tool
Supports custom brushes and patterns
System:
Tile based memory management so image size is limited only by available disk space
Virtually unlimited number of images open at one time
Advanced Manipulation:
Full alpha channel support
Layers and channels
Multiple Undo/Redo (limited only by diskspace)
Editable text layers
Transformation tools including rotate, scale, shear and flip
Selection tools including rectangle, ellipse, free, fuzzy and intelligent
Advanced path tool doing bezier and polygonal selections.
Transformable paths, transformable selections.
Quickmask to paint a selection.
Extensible:
A Procedural Database for calling internal GIMP functions from
external programs as in Script-fu
Advanced scripting capabilities (Scheme, Python, Perl)
Plug-ins which allow for the easy addition of new file formats and new
effect filters
Over 100 plug-ins already available
Animation:
Load and save animations in a convenient frame-as-layer format
MNG support
Frame Navigator (in GAP, the GIMP Animation Package)
Onion Skin (in GAP, the GIMP Animation Package)
Bluebox (in GAP, the GIMP Animation Package)
File Handling:
File formats supported include bmp, gif, jpeg, mng, pcx, pdf, png, ps, psd, svg, tiff, tga, xpm, and many others
Load, display, convert, save to many file formats
SVG path import/export
What's NEW:
Basic out-of-canvas pixels viewing and editing
Optional editing of layers with disabled visibility
Foreground Select tool: new Grayscale Preview Mode
Newly added Normal Map filter
27 old filters ported to use GEGL buffers
HEIF, TIFF, and PDF support improvements
Better loading of corrupted XCF files
Grayscale workflows order of magnitude faster
macOS Catalina compatibility
45 bugfixes, 22 translation updates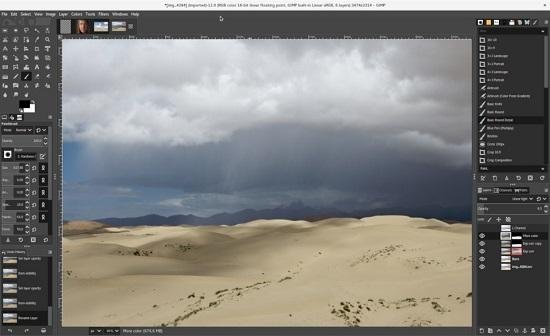 Download GIMP Portable Software
Uploadrar – 264.7 MB
Hexupload – 264.7 MB