Portable Google Web Designer 15.0.2.1005 Build 11.1.0.0 (x64)
As we know by now communication and advertising campaigns have moved a lot to the web and there is an increasing need for tools that facilitate and direct us to create multimedia content. This is why Google Web Designer was born, a free Google application aimed at building campaigns and advertisements in HTML5.
Specifically, it is a comprehensive visual tool, capable of providing experienced developers, as well as beginners, with all the tools needed to create graphically attractive, animated banner ads and web pages, with support even for 3D animation and fully responsive, i.e., able to adapt to the screen size of the user viewing them. All this with an HTML 5 language.
Today's web is no longer what it was 15 years ago, where websites were structured with few pages and lots of text, few images and very few videos; connections were slow, bandwidth was expensive, so lightweight sites were designed with little multimedia.Now the internet is within everyone's reach, we have broadband, youtube was born, we play games online, and with the advent of social networks, images have become essential for web communication.
HTML5 is the result of this evolution, it was created to integrate seamlessly with this multimedia thinking and increasingly linked to mobile applications.
HTML 5 therefore is nothing more than the latest evolution of the well-known Hypertext Markup Language (HTML), the language used to give form and structure to web pages. The first version was conceived and developed in the early 1990s by Tim Berners-Lee, the man who spurred the development of the World Wide Web.
It is necessary to emphasize that when we talk about HTML5, we are not referring to a markup language but a set of different technologies that are presented at the marketing level under the common HTML5 logo. In fact, under the same umbrella are included all innovations related to web development and web app creation.
Therefore, Google web designers could not but take advantage of this innovative language that has now become a fundamental pillar for programming, allowing the development of simple, clear, clean and lightweight code. Moreover, a key aspect is that thanks to the integration of HTML5 with Google Web Designer, applications can be developed to be responsive: this means that they automatically change the way they display information based on the size and orientation of the screen of the device being used.
Google Web Designer facilitates a modern and comfortable working environment for creating interactive ad banners to be used in the Google results page. It includes rich features in user-friendly form.
The main application window has a streamlined look which blends with the Windows 8 appearance, providing quick access to options and configuration parameters.
You can create a new banner by selecting the environment (e.g. AdMob, Generic), dimensions, HTML file name, location, and animation mode (quick or advanced).
It is also possible to establish expanded dimensions and the banner orientation mode, as well as to point out the CSS, JavaScript and XML file locations on the disk.
Google Web Designer puts at your disposal numerous image manipulation tools for objects found in each keyframe of the timeline, such as selection (e.g. transform control, alignment, distribution), 3D object rotation and translation, tagging (div, image, video or custom element), pen (e.g. add anchor point), text (edit font settings), rectangle and line.
As far as customization is concerned, you can modify colors, positions, sizes and styles, create a 360-degree or carousel gallery, as well as edit style sheets. The viewing mode can be toggled between design and code.
Before exporting the project, you can view it in the preferred web browser. Publishing options allow you to create ZIP archives, enable polite loading mode, and implement CSS prefix for Mozilla, among others.
Google Web Designer uses a surprisingly low amount of CPU and RAM. It has a good response time and runs smoothly, without causing the OS to hang, crash or show error messages. All in all, Google Web Designer comes equipped with the essential toolkit for creating Google banners seamlessly.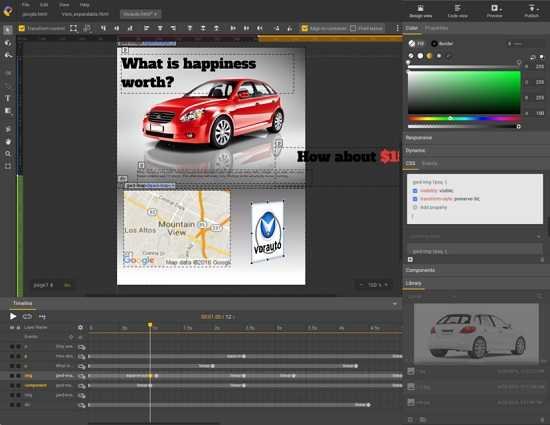 Download Google Web Designer Portable